P082 The relationship between onset days and clinical characteristics of pouchitis after ileal pouch-anal anastomosis in Ulcerative Colitis
Y. Okita*, T. Araki, M. Kawamura, Y. Nagano, S. Kondo, M. Inoue, Y. Toiyama, K. Tanaka, Y. Inoue, K. Uchida, Y. Mohri, M. Kusunoki
Mie University Graduate School of Medicine, Gastrointestinal and Pediatric Surgery, Tsu, Japan
Background
Pouchitis, a nonspecific inflammatory condition of the ileal pouch reservoir, is the most common long-term complication in patients who have undergone ileal pouch-anal anastomosis (IPAA), and it significantly affects patients' quality of life.
It is known the first episode of pouchitis occurred within 6 months of restoration of gastrointestinal continuity in almost half of patients who developed pouchitis
However, no previous studies have examined the relationship between onset days and clinical characteristics of pouchitis.
We compare the difference between early and late-onset pouchitis and aim to reveal the characteristics of early-onset pouchitis.
Methods
This retrospective study involved 244 consecutive patients from January 2000 to January 2013 who underwent ileal pouch-anal anastomosis for ulcerative colitis with a minimum follow-up of 12 months. Early-onset pouchitis was defined as pouchitis developing within one year of restoration of gastrointestinal continuity. Patients with pouchitis were divided into early-onset pouchitis and late-onset pouchitis groups for comparison. Pouchitis was defined as a modified Pouchitis Disease Activity Index (PDAI) score of ≥ 5 points. Antibiotic-dependent, antibiotic-refractory, and relapsing pouchitis were categorized as chronic pouchitis.
Results
Two hundred thirty-one patients met the inclusion criteria. Sixty-six (28.5%) patients developed pouchitis. Twenty-seven (40.9%) patients developed early-onset pouchitis(Figure).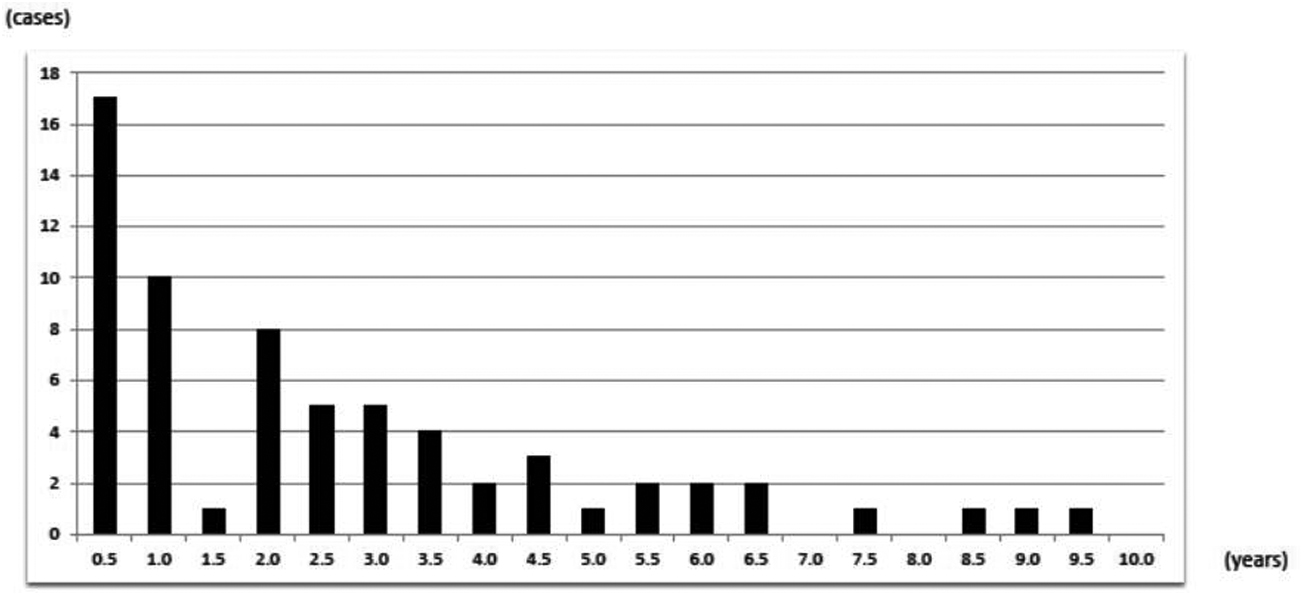 "Distribution of onset days in patients with pouchitis"
Overall pouchitis was finally classified into 35 acute pouchitis and 31 chronic pouchitis cases. Univariate and multivariate revealed no difference between two groups in clinical factors such as gender, age at initial surgery, disease duration, type of disease, extent of colitis, severity of colitis, extraintestinal manifestation. The total modified PDAI, symptom, and endoscopy scores are higher in early-onset pouchitis than late-onset pouchitis respectively (p=0.017, 0.048, 0.011). Proportion of chronic pouchitis was higher in early-onset pouchitis, compared to late-onset pouchitis (62.9% vs 35.9%, p=0.030).
Conclusion
Early-onset pouchitis may be more severe and refractory than pouchitis that occurs >1 year after restoration of gastrointestinal continuity. Understanding the characteristics of early-onset pouchitis may enable us to detect refractory conditions early and alleviate them by active prophylactic or treatment measures in high-risk patients.