P083 Low-grade Dysplasia in Ulcerative Colitis: Risk Factors associated with Progression to High-grade Dysplasia or Colorectal Cancer
C.H.R. Choi*1, A. Ignjatovic Wilson1, M. Rutter2, M. Moorghen1, S. Thomas-Gibson1, J. Warusavitarne1, B. Saunders1, T. Graham3, A. Hart1
1St Mark's Hospital, Department of IBD, Colorectal Surgery and Wolfson Unit of Endoscopy, London, United Kingdom, 2University Hospital of North Tees, Department of Gastroenterology, Stockton-on-Tees, Teesside, United Kingdom, 3Queen Mary University of London, Centre for Tumour Biology, Barts Cancer Institute, London, United Kingdom
Background
One of the most challenging aspects of managing low-grade dysplasia (LGD) in ulcerative colitis (UC) is the identification of patients who will progress to high-grade dysplasia (HGD) or colorectal cancer (CRC). The aim of this study was to identify risk factors associated with progression to HGD or CRC in UC patients diagnosed with LGD.
Methods
This was a retrospective cohort study. Patients with histologically confirmed long-standing extensive UC who were diagnosed with LGD between 1990 and 2011 were identified from the UC surveillance database of a large tertiary centre in the UK and followed up to 1st January 2013. Data on patient demographics, endoscopic and histological variables at the time of the first LGD episode were collected and correlated with progression to HGD or CRC, our primary outcome measure. Time to event analysis was performed using Cox proportional hazards Methods with a Bonferroni adjusted significance level (p=0.0022).
Results
A total of 189 patients were evaluated during 1,100 patient-years of follow-up from the date of the initial LGD diagnosis (median, 53 months; interquartile range, 19 - 92 months). Overall, 38 (20.1% of study population) had progressed to HGD (16 patients) or CRC (22 patients). Table 1 demonstrates the variables significantly associated with progression to HGD or CRC on univariate analysis.
"Table 1. Variables associated with progression to HGD or CRC in univariate analysis"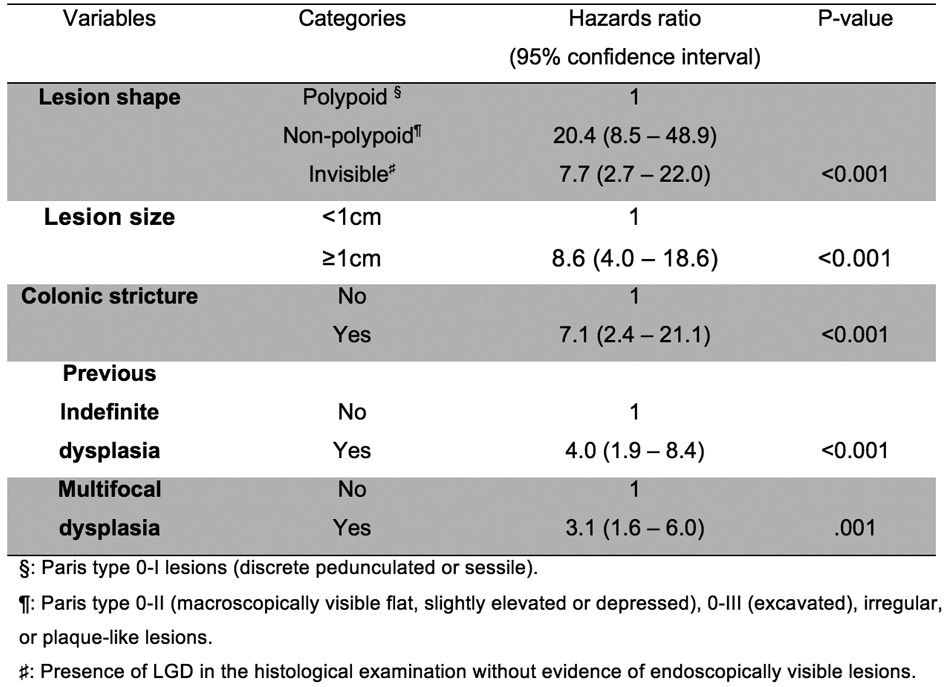 In addition, a statistically non-significant trend towards the progression to HGD or CRC was observed in those patients with history of primary sclerosing cholangitis (hazard ratio (HR), 3.5; 95% confidence interval (CI), 1.2–10.1; p=0.02), a shortened colon (HR, 2.8; 95% CI, 1.1–6.6; P=0.02), metachronous dysplasia (HR, 2.6; 95% CI, 1.3–5.0; P=0.005), and histological active inflammation in the segment of LGD (HR, 2.30; 95% CI, 1.1–4.9; P=0.02). At multivariate level, macroscopically non-polypoid (HR, 12.1; 95% CI, 4.0 - 36.8; P=0.001) or invisible (HR, 6.0; 95% CI, 1.8 - 19.7; P=0.003) lesions, lesions 1cm or larger in size (HR, 3.3; 95% CI, 1.4 - 8.2; P=0.008), and a previous history of "indefinite for dysplasia" diagnosis (HR, 3.0; 95% CI, 1.4 - 6.8; P=0.007) remained significant contributory factors for developing HGD or CRC.
Conclusion
Lesions that are large (1cm or larger), non-polypoid, and endoscopically invisible or proceeded by "indefinite for dysplasia" diagnosis are independent risk factors for the development of HGD or CRC in UC patients with LGD. Patients with these risk factors require careful counseling of management options including colectomy.