P089 Disease course, phenotype, and medication use in elderly-onset Crohn's disease patients - A population-based IBD-SL cohort study
S. Jeuring*1, 2, T. Van den Heuvel1, 2, M. Zeegers3, 4, W. Hameeteman1, M. Romberg-Camps5, L. Oostenbrug6, A. Masclee1, 2, D. Jonkers1, 2, M. Pierik1, 2
1Maastricht University Medical Center+, Internal Medicine - Division Gastroenterology-Hepatology, Maastricht, Netherlands, 2Maastricht University Medical Center+, NUTRIM, School for Nutrition, Toxicology and Metabolism, Maastricht, Netherlands, 3University of Birmingham, Public Health, Epidemiology and Biostatistics, Birmingham, United Kingdom, 4Maastricht University Medical Center+, Complex Genetics, Cluster of Genetics and Cell Biology, Maastricht, Netherlands, 5Orbis Medical Center, Gastroenterology and Hepatology, Sittard, Netherlands, 6Atrium Medical Center, Internal Medicine and Gastroenterology, Heerlen, Netherlands
Background
Population ageing is a demographic phenomenon seen in many Western countries. This may result in an increased prevalence of elderly-onset Crohn's disease (CD) patients in our outpatient clinics. For optimal patient information and treatment, insight in the disease course of elderly-onset CD is mandatory. However, data are scarce and often derived from small, selected populations. Therefore, we aimed to study the disease course of elderly-onset CD compared to adult-onset CD in our population-based IBD-SL cohort.
Methods
Since 1991, incident IBD cases in the South-Limburg (SL) area are included in our population-based IBD-SL cohort, with over 93% completeness. CD patients were divided in two groups, based on their age at diagnosis: adult-onset (AO) CD (<60 years at diagnosis) and elderly-onset (EO) CD (≥ 60 years at diagnosis). Disease behaviour was classified according to the Montreal classification as B1 (non-stricturing, non-penetrating), B2 (stricturing), or B3 (penetrating). The disease course of CD was compared between groups for progression to B2 or B3 phenotype, need for immunomodulators or biologicals, hospitalisation and surgery. Data were analysed with a Kaplan-Meier survival curve, and hazard ratios (HR) were calculated using a Cox regression model.
Results
In total, 136 EO and 1026 AO CD patients were included. Mean follow-up was 6.4 (SD 4.9) and 9.0 (SD 5.8) years, respectively. At diagnosis, B1 phenotype was most common in both groups (79.4% and 77.2%) and no difference was found in behaviour distribution (p=0.49). More EO patients than AO patients underwent surgery at diagnosis (14.7% vs. 5.9%, HR 2.49; 95%CI 1.40-4.43). During follow-up, the risk of progression from B1 to B2 or B3 phenotype (47.8% vs. 49.7%, HR 0.92; 95%CI 0.68-1.26), hospitalisation (71.4% vs. 73.1%, HR 0.99; 0.77-1.29) and two or more hospitalisations (36.5% vs. 39.1%, HR 0.87; 95%CI 0.56-1.35) did not differ between groups, nor did the risk of surgery during follow-up (33.1% vs. 37.3%, HR 0.91; 95%CI 0.58-1.43). EO patients were less often treated with immunomodulators (61.8% vs. 77.1%, HR 0.71; 95%CI 0.54-0.95) and biological agents (25.1% vs. 55.2%, HR 0.59; 95%CI 0.37-0.93).
Conclusion
In this population-based IBD cohort, disease presentation was different in elderly-onset CD patients as more surgery was performed at diagnosis. Although elderly-onset CD patients less often used immunomodulators and biologicals, rates of disease progression, hospitalisation and surgery during disease course were similar to adult-onset CD.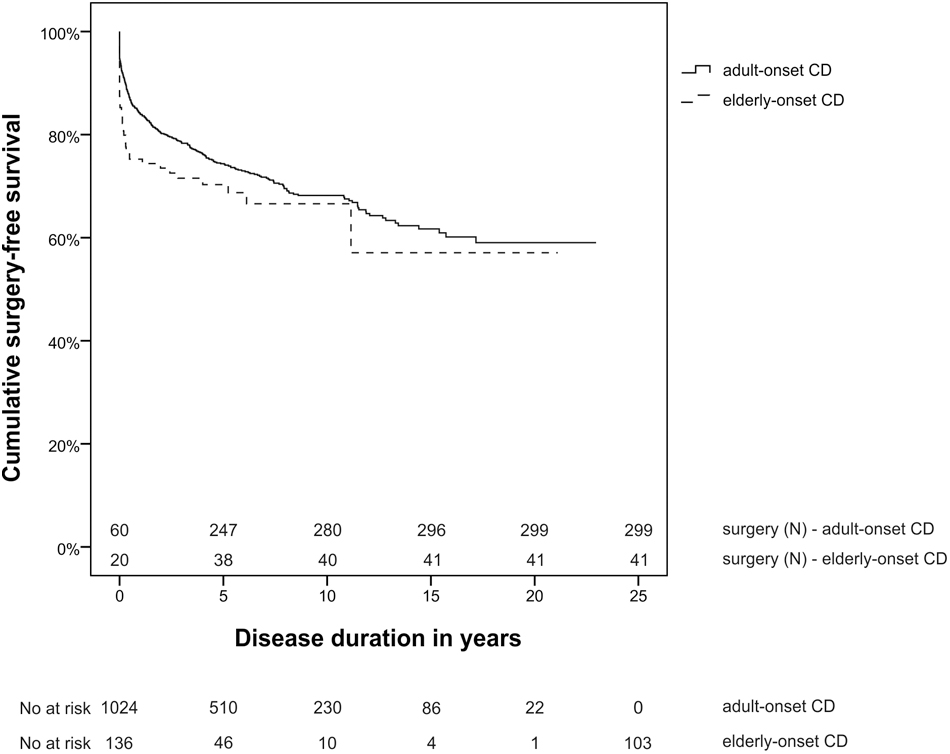 "Risk of surgery in elderly-onset and adult-onset Crohn's disease patients"