P100 Motivational interviewing in Inflammatory Bowel Disease patients counselling: Data from a case-control study
F. Mocciaro*1, R. Di Mitri1, F. Bossa2, D. Scimeca2, G. Russo1, G.M. Pecoraro1, G. Biscaglia2, G. Martino2
1ARNAS Civico-Di Cristina-Benfratelli Hospital, Gastroenterology and Endoscopy Unit, Palermo, Italy, 2Casa Sollievo della Sofferenza Hospital, IRCCS, Division of Gastroenterology, San Giovanni Rotondo (FG), Italy
Background
Motivational interviewing (MI) is a patient-centered counselling also proven useful in inflammatory bowel disease patients. Some skills are at the base of a successful MI: the ability to ask open ended questions, the ability to provide affirmations, the capacity for reflective listening, and the ability to periodically provide summary statements to the patients. We report data from a case-control study (1:2 ratio) on MI applied to IBD patients.
Methods
Between June 2014 and October 2014 we collected data from 2 IBD referral centers both with knowledge on MI skills but only one of these (case group) currently applied this technique during the visits. At the end of visit all patients filled out an anonymous questionnaire.
Results
150 patients (85 males [57%]) with a mean age of 41.3 ± 15.3 years were evaluated. Sixty-eight patients were affected by Crohn's disease (45%), 70 by ulcerative colitis (47%), and 12 by indeterminate colitis (8%). In table 1 are summarized all patients' characteristics.
At final analysis 132 patients (88%) were previously evaluated by a gastroenterologist with an high satisfaction rate (77%) which significantly decreased in those at the first outpatient visit (61%, p<0.001). Satisfaction rate on general practitioner was low both in all patients and in those at the first visit (57% and 39%). The lowest satisfaction rate was reported in patients at the first visit (p<0.001), in patients affected by indeterminate colitis (p=0.007), in patients with long disease duration (p=0.002); 83% of patients would have liked the use of explanatory pictures. Patients already followed-up in the referral centers reported a good overall satisfaction rate (98%) which reached 100% in those at the first visit. Nevertheless in the latter group, on a scale from 1 to 5, "5" (100% satisfied) was reported by 98% of patients on MI-group (case group) compared to 54% of controls: p<0.001. No differences in terms "physician's communication skills", "perceived empathy" and duration of visits (41.4±8.2 vs. 40.1±9.2 minutes) were observed.
Patietns' characteristics"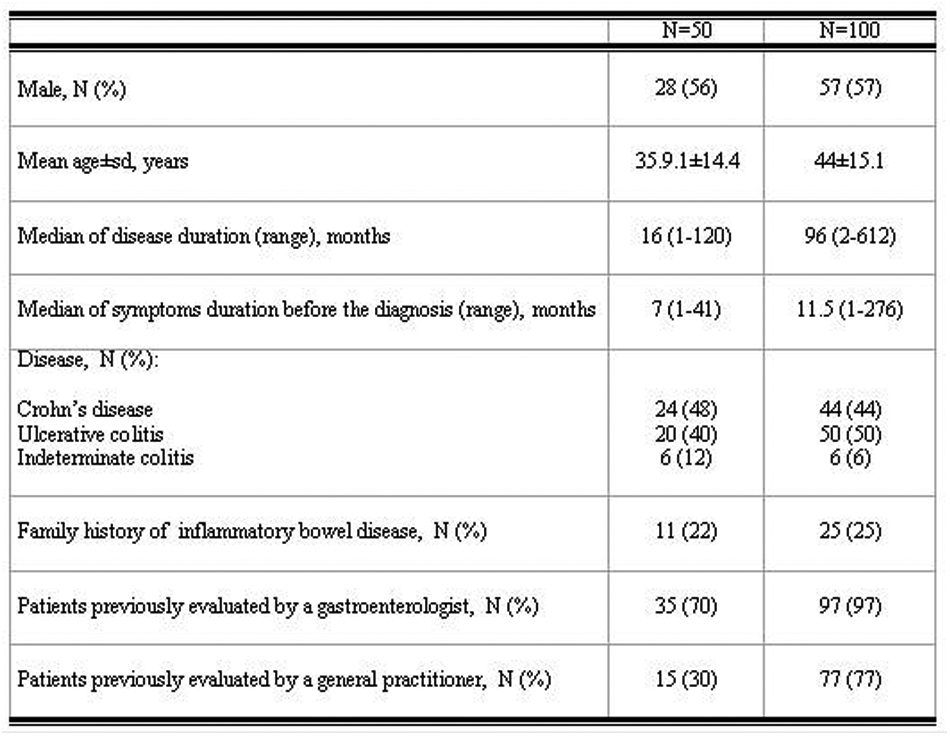 Conclusion
Our study showed as IBD patients followed-up in referral centers are satisfied of their physician rather than gastroenterologists without experience on IBD. MI is a communication tool very well appreciated by IBD patients and can help "IBD experts" to reach the best communication skills especially in pts at the first visit. Explanatory pictures should be used to help patients to better understand their clinical condition.