P102 Hemophagocytic lymphohistiocytosis in Crohn's Disease associated to citomegalovirus (CMV) or Epstein-Barr virus (EBV)
Y. Sanchez*, C. Trigo, C. Marquez, E. Leo, j.L. Marquez
Hospital Universitario Virgen del Rocio, Aparato digestivo, Sevilla, Spain
Background
Infection by CMV or EBV is the most frequent cause of hemophagocytic lymphohistiocytosis (HLH) in patients with Inflammatory Bowel Disease (IBD). We want to know the clinical, epidemiological and analytical characteristics of the appearance of HLH in our patients (for an early diagnosis) and assessing the response to treatment.
Methods
Series of three cases of patients with Crohn's disease (CD), diagnosed with HLH between 2010 and 2014. We analyse basal features of the patient and the IBD. The way of presentation clinical-analytic, diagnostic Methods used and response to treatment.
Results
The three patients with HLH were males with an average age of 35 years old and CD. Two of them were treated with azathioprine and the rest with infliximab.
The three patients presented high fever (39-40ºC), hepatosplenomegaly (slight hipertransaminasemia), cytopenia, hypertriglyceridemia and high levels of ferritine when they came in (see table1). The bone marrow aspiration was positive in two of them. Macrophagic activation and erythrophagocytosis were appreciated. Low levels of NK cells were also observed in two of the cases.
Microbiological diagnosis was performed using PCR techniques in blood. In two of the patients the PCR was positive for CMV and the third, positive for EBV. In two patients it was produced for a primoinfection (cases 1 and 2) while the other one for CMV reactivation.
The three patients were treated with ganciclovir (in an empirical way in case 1 for EBV) as well as standard treatment with corticotherapy, ciclosporine and etoposide, beginning in the fourth, third and fifth day respectively from the day of entry to hospital.
The three patients evolved favourably after the start of the treatment. The clinical symptoms diminished and the cytopenia (progressive improvement) in 2-4 weeks, without requiring hematopoietic cell transplantation.
Table 1. Summary of clinical and laboratory manifestations (diagnostic criteria)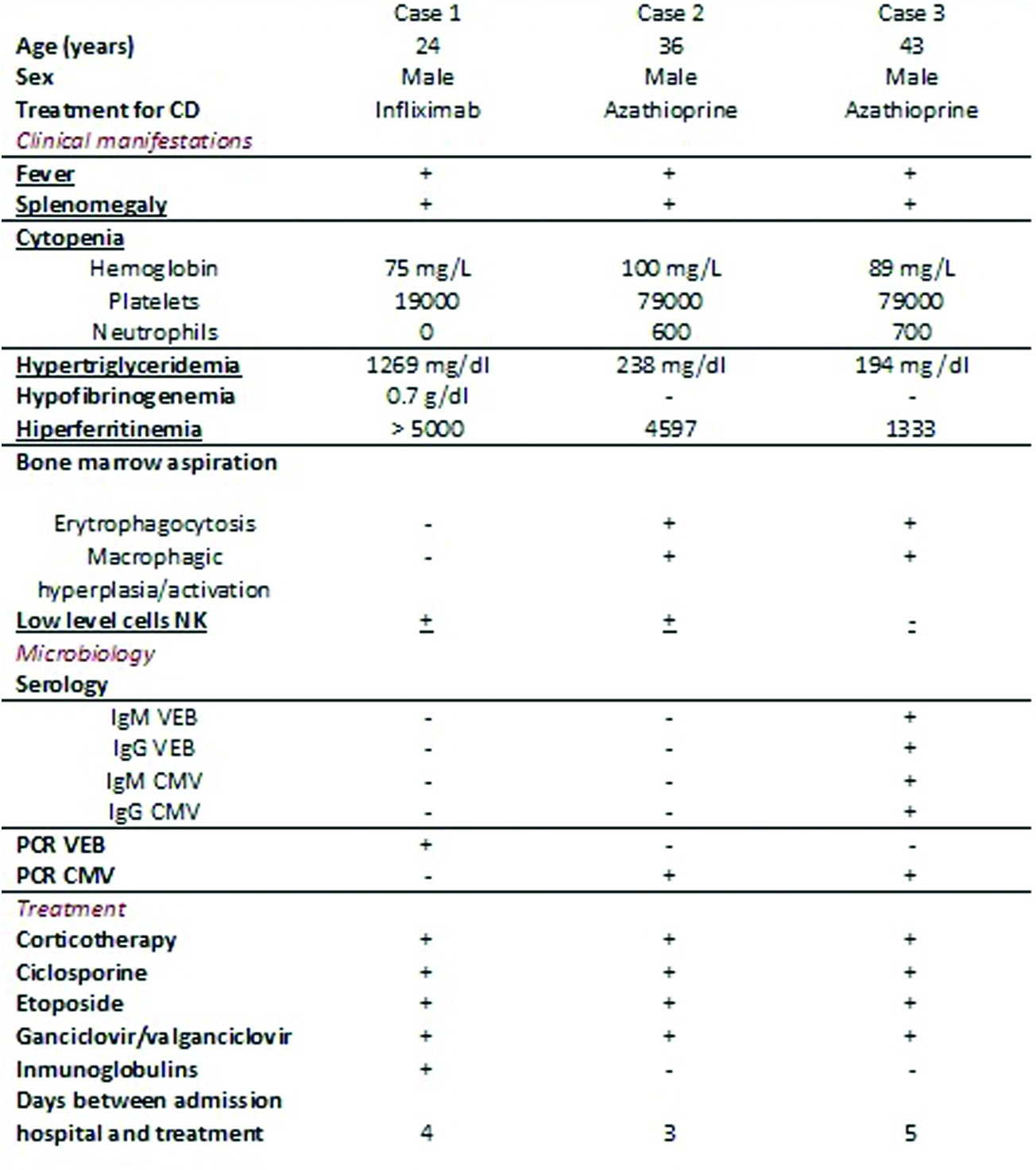 Conclusion
All patients who have IBD with immunosuppressive treatment who show high fever and cytopenia should be monitored for HLH, the diagnostic criteria for which are in the enclosed table. The early treatment influences the prognosis of this disease (sometimes fatal), may check in these cases that showed good performance thanks to the early establishment of it. We believe it is important to perform a serum bank of the main viruses (including EBV/ CMV) before treatment for IBD, in order to be able to suspect primoinfeccions /reactivations thereof.