P118 Incidence and Severity of Pre-pouch Ileitis: A Distinct Disease Entity or a Manifestation of Refractory
D. de Jong*1, M. Samaan2, 3, S. Sahami4, S. Morgan2, K. Fragkos2, S. Subramaniam2, K. Kok2, J. Makanyanga2, I. Barnova2, H. Saravanapavan2, I. Parisi2, S. Di Caro2, F. Rahman2, S. McCartney2, S.L. Bloom2, G. van den Brink1, M. Lowenberg1, C. Ponsioen1, C.J. Buskens4, P.J. Tanis4, A. de Buck van Overstraeten5, A. D'Hoore5, W. Bemelman4, G.R. D'Haens1, 3
1Academic Medical Center, Inflammatory Bowel Disease Centre, Amsterdam, Netherlands, 2University College London, Gastroenterology, London, United Kingdom, 3Robarts, Robarts Clinical Trials Inc., Amsterdam, Netherlands, 4Academic Medical Centre, Department of Surgery, Amsterdam, Netherlands, 5University Hospitals Leuven, Department of Surgery, Leuven, Belgium
Background
Pre-pouch ileitis (PI) is a complication that can occur after panproctocolectomy and ileal pouch-anal anastomosis (IPAA) for ulcerative colitis (UC). It is characterised by inflammation of pre-pouch ileum in the afferent limb of the pouch. The development of PI has been noted to be associated with the presence of primary sclerosing cholangitis (PSC) in previous studies. Our aims were to assess the prevalence of PI as well as to identify predictive factors and investigate the medications needed for its management.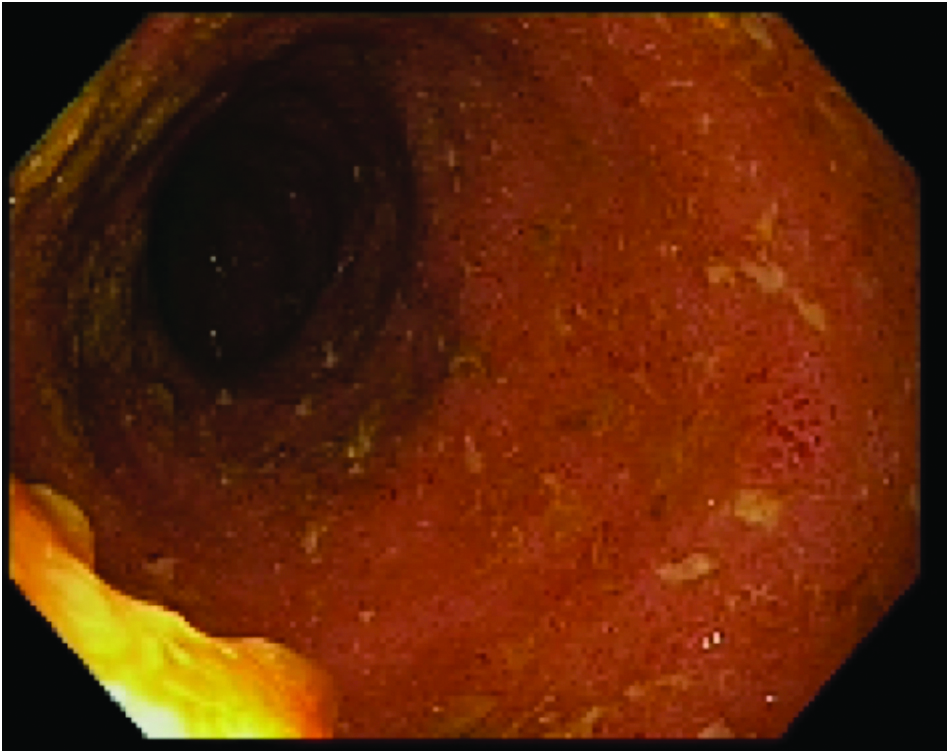 "Image demonstrating pre-pouch ileitis with erythema, erosions and ulcerations seen in the afferent limb of the pouch"
Methods
Data on 546 patients who underwent IPAA for UC was retrospectively collected from three tertiary inflammatory bowel disease (IBD) referral centers. Data was collected from sites in the Netherlands (Academic Medical Centre, Amsterdam), Belgium (Leuven University Hospital) and England (University College London Hospital). PI was considered present if there was endoscopic, as well as histological inflammation in the afferent limb. Wherever possible, Crohn's disease was excluded by assessing the histology of colectomy resection specimens.
Results
PI was present in 33/546 (6%) UC patients, all of these had concurrent pouchitis. 144 (26%) patients had pouchitis without PI. 369 (68%) patients did not have any inflammatory pouch problems. Of the 33 patients with PI: 6 (18%) did not require treatment, 9 (27%) responded to antibiotics and 18 (54%) required escalation in therapy, to include steroids/immunomodulators or anti-TNF agents. Rates of requiring potent immunosupressive treatment were higher amongst patients with PI than those with pouchitis alone. Patients who went on to develop PI were significantly younger at the time of their UC diagnosis. PSC was significantly more common in patients with PI than those with pouchitis alone.
"Table comparing the demographics, disease characteristics and treatment of the pouchitis group with the pre-pouch ileitis group"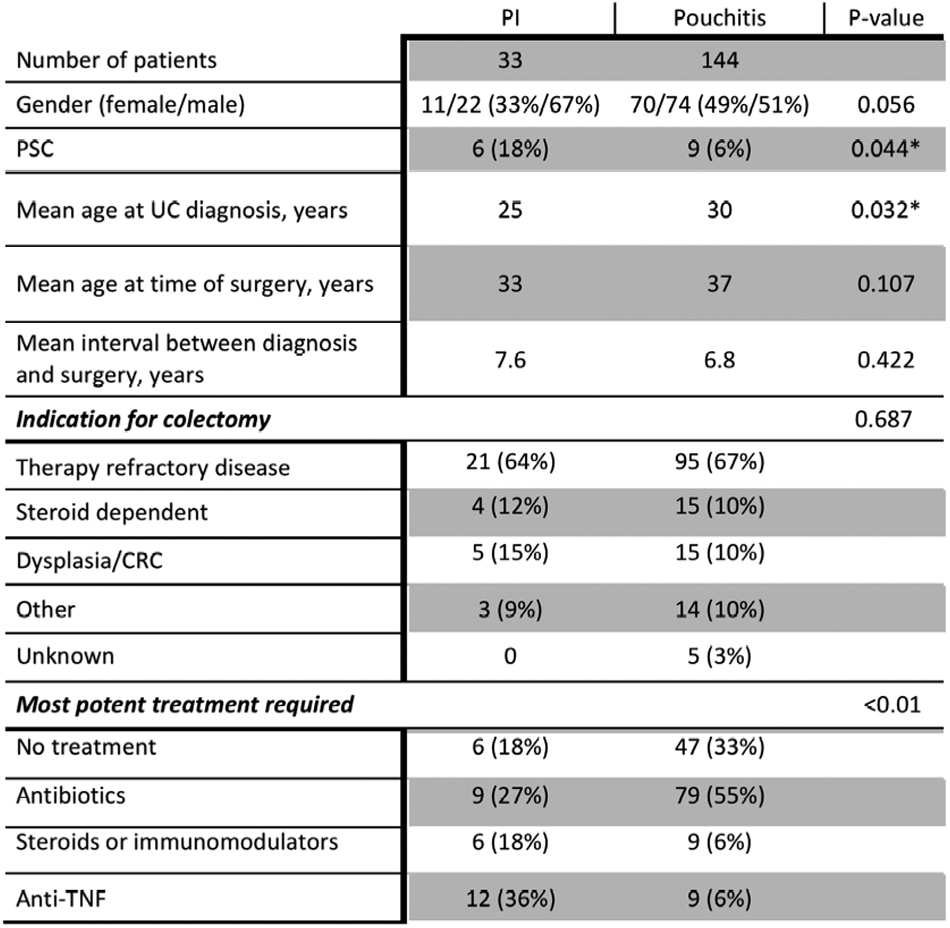 Conclusion
PI is a much less common and more treatment refractory condition than pouchitis alone. Pouchoscopy should be considered in any patient with symptoms of pouchitis. This should include careful endoscopic evaluation of the afferent pouch limb as well as biopsies of the pre-pouch ileum. Once a diagnosis of PI is made, clinicians should commence immunomodulatory therapy early in the disease course and consider escalating to an anti-TNF if this proves ineffective.