P130 Persistent Enhancement in Contrast Ultrasound Studies of Severe Crohn's Disease: Stuck Bubbles?
R. Wilkens*1, 2, 3, 4, A. Wilson1, P.N. Burns5, S. Ghosh2, S.R. Wilson1, 2
1University of Calgary, Department of Radiology, Calgary, Canada, 2University of Calgary, Department of Medicine, Division of Gastroenterology, Calgary, Canada, 3Regional Hospital Silkeborg, University Research Clinic for Innovative Patient Pathways, Diagnostic Center, Division of Gastroenterology, Silkeborg, Denmark, 4Aarhus University Hospital, Department of Hepatology and Gastroenterology, Aarhus, Denmark, 5University of Toronto, Department of Biophysics and Imaging Research, Toronto, Canada
Background
Our aim is to describe a unique observation on contrast-enhanced ultrasound (CEUS), seen in a small population of patients with severe Crohn Disease (CD) in whom contrast enhancement does not show typical decline over time. Clinical significance is assessed. We hypothesize the non-targeted microbubbles adhere to the site of inflammation, [1] as previously shown in animal models with induced inflammation. [2] [3]
Methods
From an existing CD study cohort examined with CEUS for determination of disease extent and activity, 17 patients show high peak enhancement (PE), over 23 dB, consistent with severe active disease, but with minimal decline over a 3 minute interval. From the same cohort, a matching control group of 19 patients with the same PE but typical washout were selected. Original cineloop files were retrieved for detailed time intensity curve (TIC) analysis. Patient outcomes were assessed. Variables were compared between the study and control groups using the Paired T-test, Mann-Whitney U Test and the Fisher Exact Test, where appropriate.
Results
TICs showed similar PE in both groups, but significant higher area under the curve, washout time and intensities at 60s and 120s in the study population, p<0.0001.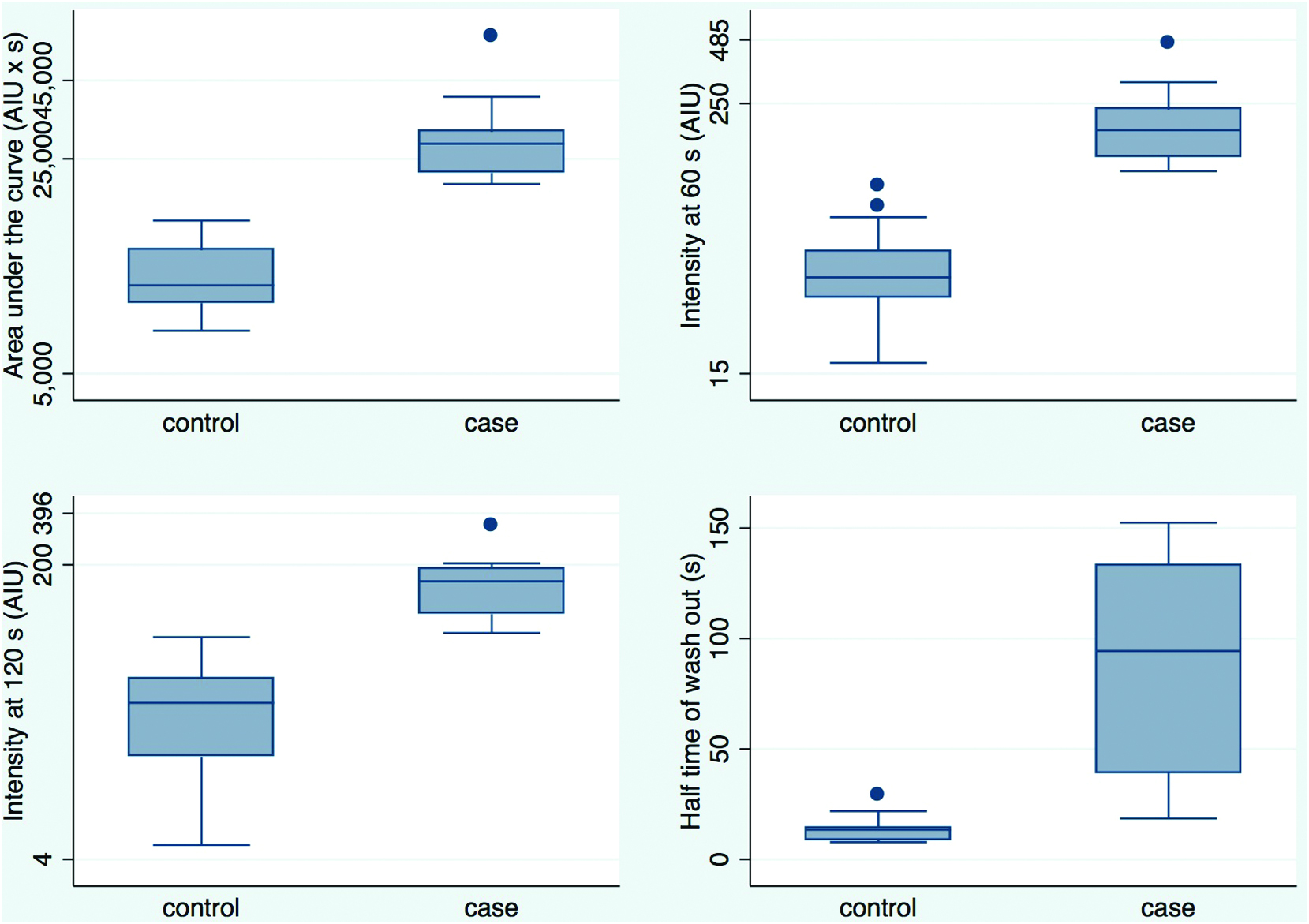 "Box plot differences in time intensity curve details between study patients (cases) and control patients."
Study patients had a worse overall outcome and failed biological therapy more often p<0.001 and p<0.05 respectively. A trend towards higher surgery frequency and change in medication were observed.
Conclusion
Heightened enhancement with a lack of decline on CEUS suggests that microbubbles remain stuck within the inflamed bowel wall for an extended period. This observation occurs in patients with a bad outcome
References:
[1] Yasu T, Greener Y, Jablonski E, Killam AL, Fukuda S, et. al, (2005), Activated leukocytes and endothelial cells enhance retentioni of ultrasound contrast microspheres containing perfluoropropane in inflamed venules, International Journal of Cardiology, 245-252
[2] Wang H, Machtaler S, Bettinger T, Lutz AM, Luong R, et. al., (2013), Molecular Imaging of Inflammation in Inflammatory Bowel Disease with a Clinically Translatable Dual-Selectin-targeted US Contrast Agent: Comparison with FDG PET/CT in a Mouse Model, Radiology, 818-829
[3] Deshpande N, Lutz AM, Ren Y, Foygel K, Tian L, et. al., (2012), Quantification and Monitoring of Inflammation in Murine Inflammatory Bowel Disease with Targeted Contrast-enhanced US, Radiology, 172-180