P157 A randomised, assessor-blinded, multicentre trial (OPTIMA) investigating the efficacy, safety and tolerability of a novel tailored split-dosing schedule for colon cleansing in preparation for colonoscopy
R. Kiesslich*1, C. Angelin2, M. Stoltenberg3, A. Falahati4, J. Masure5
1Dr. Horst Schmidt Clinic, Department of Gastroenterology, Wiesbaden, Germany, 2Ferring Pharmaceuticals A/S, International PharmaScience Center, Clinical Operations, Copenhagen, Denmark, 3Ferring Pharmaceuticals A/S, International PharmaScience Center, Clinical R&D Gastroenterology, Copenhagen, Denmark, 4Ferring Pharmaceuticals A/S, International PharmaScience Center, Global Biometrics, Copenhagen, Denmark, 5Ferring International Center SA, Gastroenterology & Endocrinology, St Prex, Switzerland
Background
An effective, well-tolerated bowel cleansing schedule is instrumental in ensuring safe and successful colonoscopy, as well as in improving detection rates of dysplastic lesions as precursors of colorectal cancer. Some currently approved bowel cleansers recommend an intake on the day before the scheduled colonoscopy. The European Society of Gastrointestinal Endoscopy and recent consensus guidelines,1 suggest 4 h and 3-8 h, respectively, between last dose of the bowel preparation and colonoscopy procedure to improve quality of bowel preparation. There is a broad consensus of a need for improvement in both cleansing regimen efficacy, but also patient convenience. Herein we report the design of an ongoing trial to assess the efficacy and safety of a novel tailored PICOPREP® (sodium picosulphate, magnesium oxide, citric acid) versus the day-before PICOPREP® dosing schedule.
The dose timing will be determined by the timing of the colonoscopy instead of a fixed recommendation. This will allow split dosing for morning colonoscopies and even same-day dosing for afternoon procedures.
Methods
198 eligible subjects (≥18 years; scheduled for elective colonoscopy; ≥3 spontaneous bowel movements/week for preceding month) will be enrolled in this phase 3, assessor-blinded, multicentre trial across 10-15 sites (Germany, France and the Netherlands) and randomised (2:1) to tailored and day-before dosing schedules.
In the tailored dosing schedule the first and second doses are administered 10-18 and 4-6 h, respectively, before the colonoscopy (Figure 1). In the day-before dosing schedule the first dose is administered on the day prior to colonoscopy, before 08.00 h, and the second dose 6-8 h later.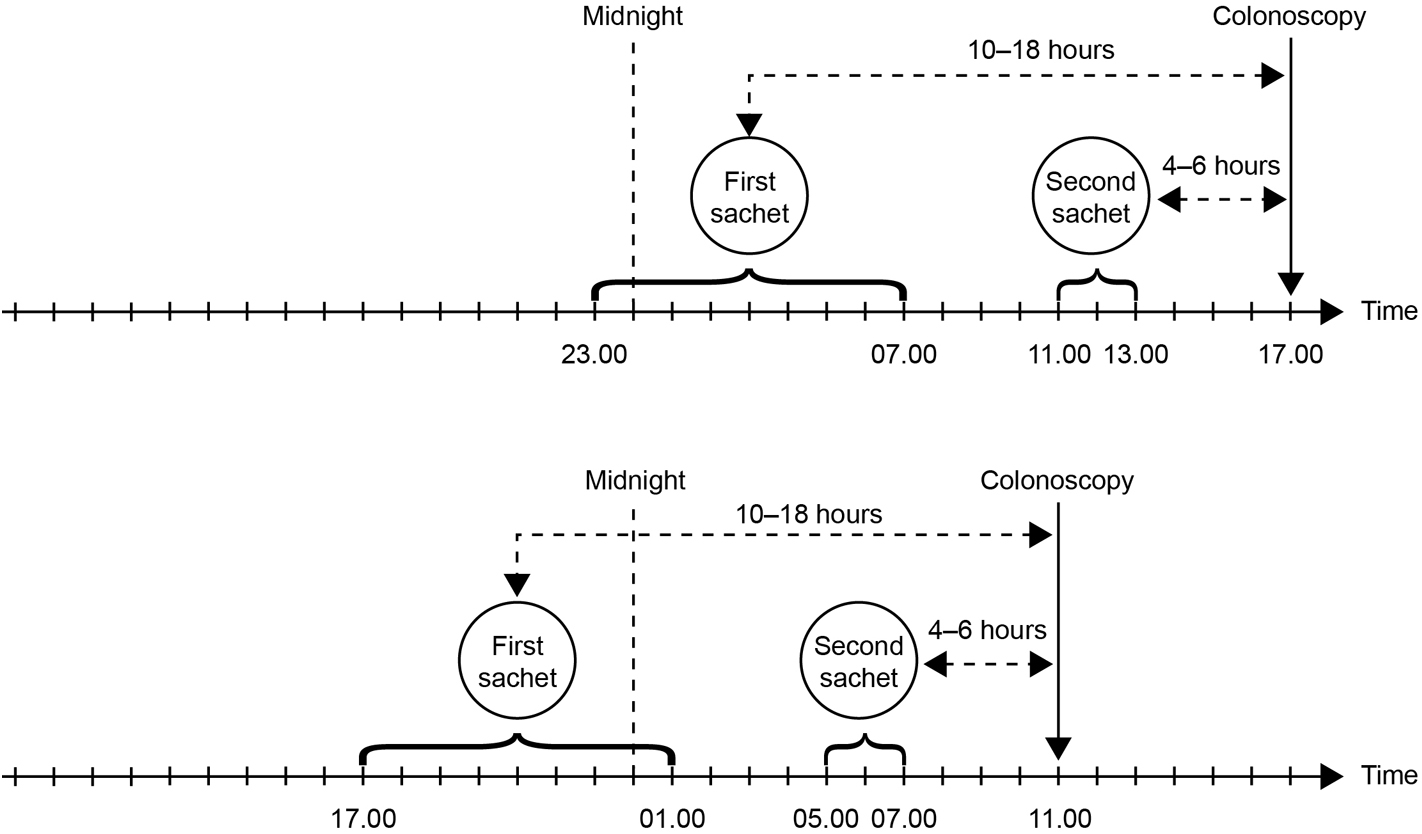 "Figure 1. Examples of tailored PICOPREP® dosing schedules"
The primary endpoint assesses the overall colon cleansing efficacy using the total Ottawa scale score. The key secondary endpoint is the ascending colon cleansing by percentage of subjects classified as successful (excellent or good scores). Both endpoints are evaluated per site by a colonoscopist blinded to the dosing schedules. Safety signals include the frequency and intensity of adverse events, clinically significant changes in vital signs and laboratory values.
Results
Patients are currently being recruited.
Conclusion
It is anticipated that this tailored PICOPREP® dosing schedule may improve the quality of bowel preparation, as well as offer increased convenience to patients by minimising the impact on work schedules and daily activities.
clinicaltrials.gov identifier: NCT02239692
References
1. Mathus-Vliegen E et al. Curr Med Res Opin 2013;29:931-945