P176 Irritable bowel syndrome frequency in Inflammatory Bowel Disease during both clinical and deep remission and its association with fecal calprotectin
B. Boztepe*1, O. Sezgin2, E. Altintas3, D. Ovla4
1Kesan State Hospital, İnternal Medicine, Edirne , Turkey, 2Mersin , Gastroenterology, Mersin, Turkey, 3Mersin, Gastroenterology, Mersin, Turkey, 4Mersin, Biostatistics and Bioinformatics, Mersin, Turkey
Background
Inflammatory bowel diseases (IBD) are chronic inflammatory diseases that may involve any part of the gastrointestinal tract and have a clinical course of remissions and exacerbations. Abdominal pain occurs in 20-50% of the IBD patients that are in clinical and/or endoscopic remission [1]. Irritable bowel syndrome (IBS) is among the causes [2]. IBS patients even if in clinical remission, may not be in endoscopic and histopathologic remission, and these symptoms that appear in cases in remission may be indicators of randomly occurring IBS or clinically undetectable low-grade inflammation [3]. The aim of this study was to identify the frequency of IBS in patients with IBD in remission, to investigate the association of clinical remission with endoscopic and histopathologic remission and the association of these with IBS and fecal calprotectin.
Methods
A total of 163 cases were included in this study, among who were 43 ulcerative colitis (UC) cases, 38 Crohn's Disease (CD) cases clinically in remission for at least 6 months, 42 IBS patients and 41 healthy control subjects. All of the UC and CD patients in remission underwent colonoscopy and biopsy specimens were taken to evaluate histopathologic remission. All of the cases were administered a questionnaire questioning Roma III criteria for IBS and fecal samples were obtain to measure fecal calprotectin.
Results
IBS frequency was 20.9% among UC cases and 28.9% in CD cases in clinical remission, and this rate did not vary by the presence of endoscopic or histopathologic remission (Figure 1).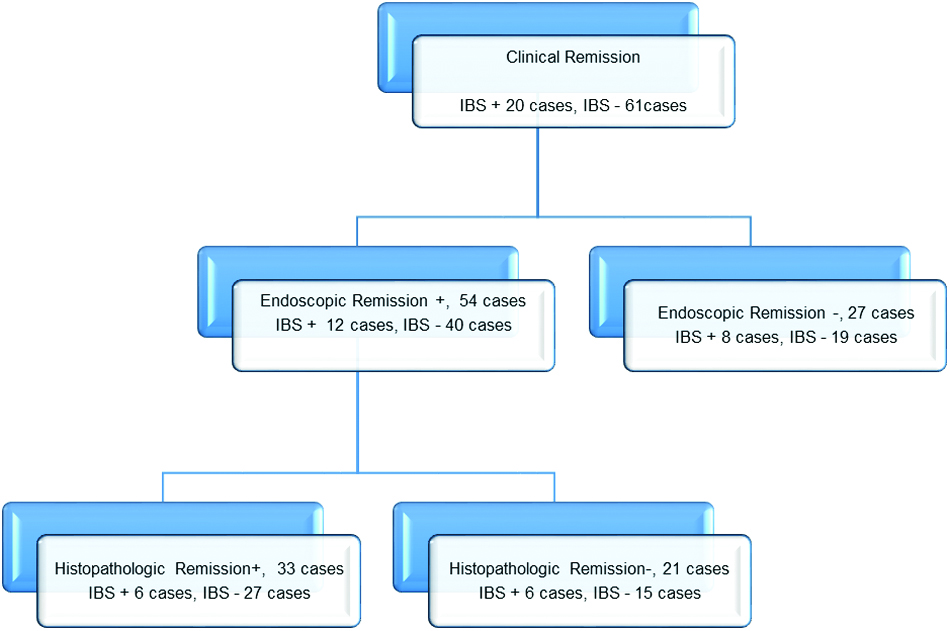 "Figure 1. Clinical, endoscopic, and histopathologic remissions and number of IBS cases"
Fecal calprotectin, while found to be higher in UC and CD groups compared to IBS cases and control subjects,its levels did not vary by the presence of IBS(Figure 2).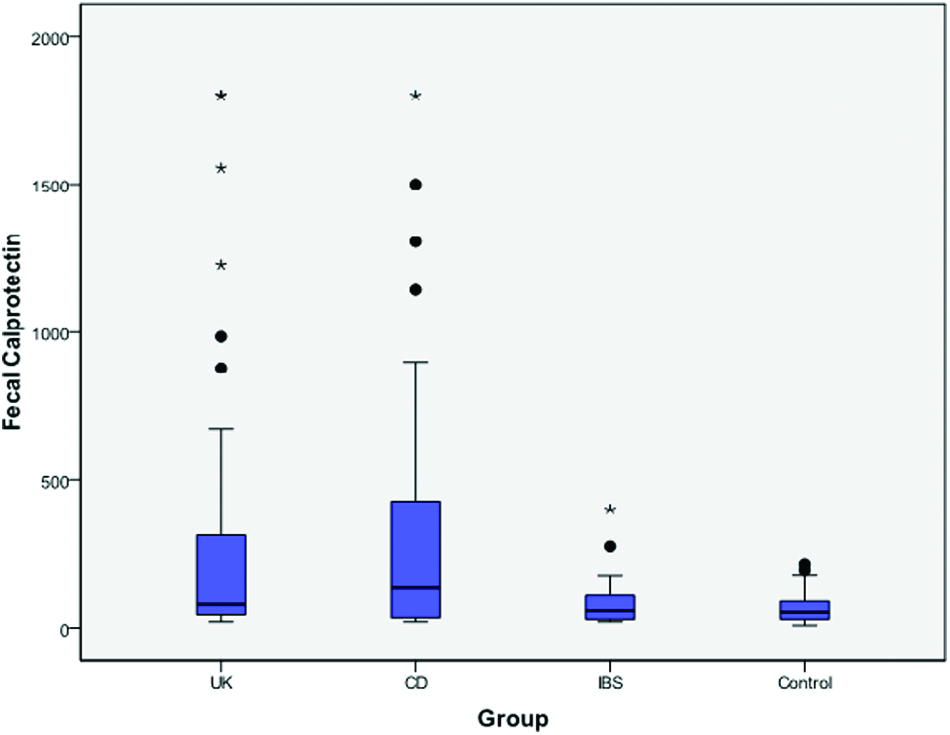 "Figure 2. Fecal calprotectin levels in UC, CD in clinical remission, IBS, and control groups"
In this study, fecal calprotectin at levels >150 μ /g was found to be a better predictive factor in identifying inflammation.
Conclusion
IBS frequency was 21-29% among IBD patients in remission, which did not vary by the presence of endoscopic or histopathologic remission or by fecal calprotectin levels. This suggests that IBS may not be associated with the subclinical inflammation that continues in IBD during remission and that other factors may have a role in the pathogenesis.
Keywords: inflammatory bowel disease, irritable bowel syndrome, fecal calprotectin
References:
[1] Minderhoud I.M., , (2004), IBS-like symptoms in patients with inflammatory bowel disease in remission; relationships with quality of life and coping behavior.
[2] Grover M., (2009), Pain management in IBD. Inflamm Dis Monitor
[3] Isgar B, (1983), Symptoms of irritable bowel syndrome in ulcerative colitis in remission