P193 Temporal change in phenotypic behaviour in patients with Crohn's Disease
R. Kalaria*, D. Desai, P. Abraham, A. Joshi, T. Gupta, S. Shah
P D Hinduja Hospital, Veer Savarkar Marg, Mahim, Mumbai, 400016, India, Gastroenterology, Mumbai, India
Background
Studies from the West suggest that one-third patients have aggressive disease behaviour at presentation and half of all patients will progress to complicated disease behavior in 20 years
Methods
Data of patients with Crohn's disease were taken from Inflammatory Bowel Disease database. Their baseline details were recorded and Montreal class was entered. The patients' baseline phenotype was compared to the disease phenotype at 5, 10 and 15 years to look for the temporal change in disease behaviour
Results
One hundred and seventy-eight patients (Median age 35 years, 97 Men,81 women) were included for analysis.
"Table showing the temporal change in phenotype of Crohn's disease"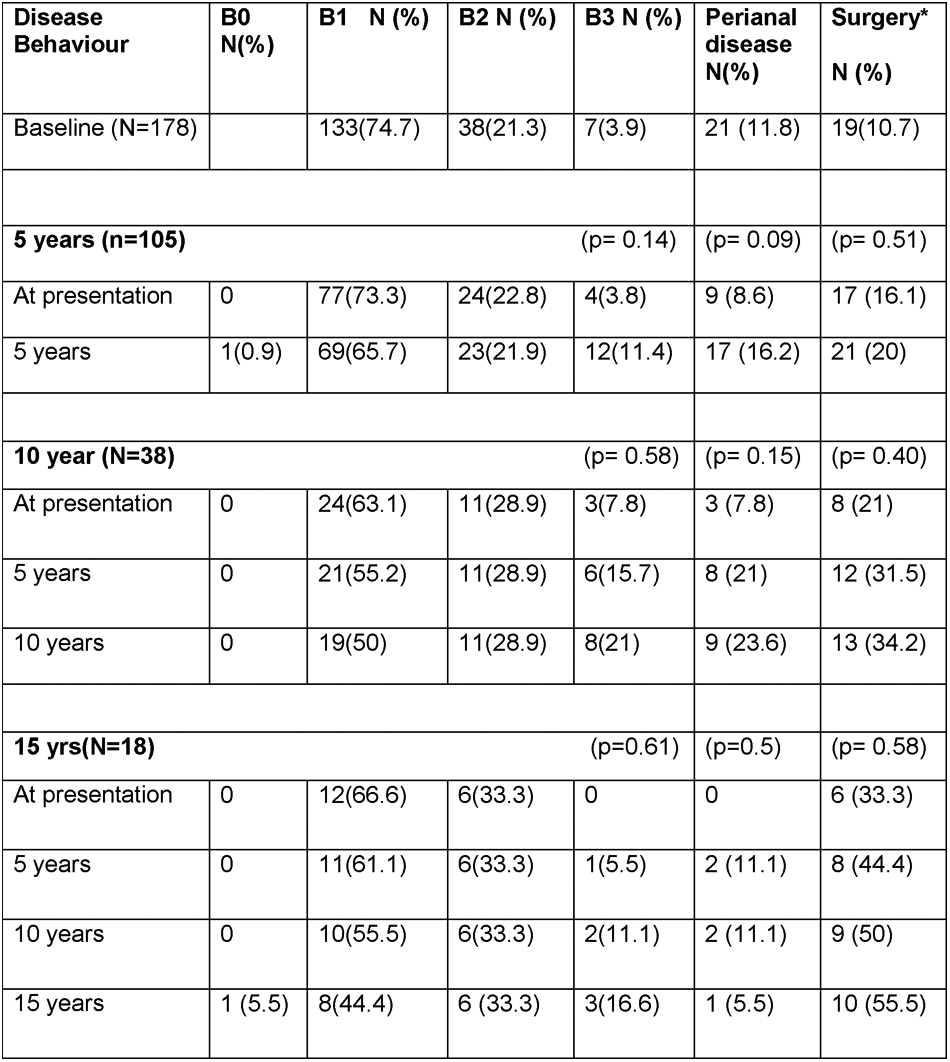 (Surgery refers to bowel surgery; surgery for perianal disease is not included)
At 5 years 7% patients, at 10 year 13.1% and at 15 years 16.6% patients changed to aggressive disease behaviour (B2 or B3).
In the cohort of 105 patients with 5 years follow up, 17(16.1%) and 21(20%) patients underwent intestinal surgery at baseline and at 5 years respectively. Seven (6.6%) patients underwent more than one surgery.
In 10 year cohort of 38 patients, 8 (21%), 12 (31.5%) and 13 (34.2%) underwent surgery at diagnosis, at 5 years and at 10 years with 7(18.4%) patients undergoing more than one surgery.
In 15 year cohort of 18 patients; 6(33.3%), 8(44.4%), 9(50%), 10(55.5%) underwent surgery at diagnosis, at 5 years, at 10 years and at 15 years respectively.
Eighty six patients received Azathioprine and 21(11%) patients received TNF α inhibitors.
Conclusion
In Indian patients with Crohn's disease, one fourth of patients showed aggressive disease at diagnosis but tendency to change their behavior towards more aggressive disease over period of time (15 years) was less than that in western patients.