P246 Intracavitary contrast-enhanced ultrasound in evaluating fistula of Crohn's Disease: a preliminary study
Y.-j. Chen*1, R. Mao2, Y. He2, B.-l. Chen2, Z.-r. Zeng2, X.-y. Xie1, M.-h. Chen2
1First Affiliated Hospital of Sun Yat-sen University, Department of Medical Ultrasonics, Guangzhou, China, 2First Affiliated Hospital of Sun Yat-Sen University, Department of Gastroenterology, Guangzhou, China
Background
Fistula is a common complication of Crohn's disease (CD), and accurate detection of fistula is of great clinical significance for guiding treatment. The aim of our study was to evaluate intracavitary contrast-enhanced ultrasound in detecting fistula of Crohn's disease using surgery as reference standard.
Methods
Six CD patients who were suspected to have fistula were enrolled in the preliminary study. The patients underwent intracavitary contrast-enhanced ultrasound by injecting the contrast agent into the cavity through percutaneous needle. The result were compared with CT enterography and gastrointestinal barium . The reference standard was surgical fingding.
Results
Among these six patients which were confirmed to have fistula intraoperatively, five fistulas were detected by intracavitary contrast-enhanced ultrasound including 3 cases with intestinal fistula and 2 cases with intestinal-bladder fistula (Figure.intestinal-bladder fistula was delineated by intracavitary contrast-enhanced ultrasound,the contrast agent perfused into the bladder after injection,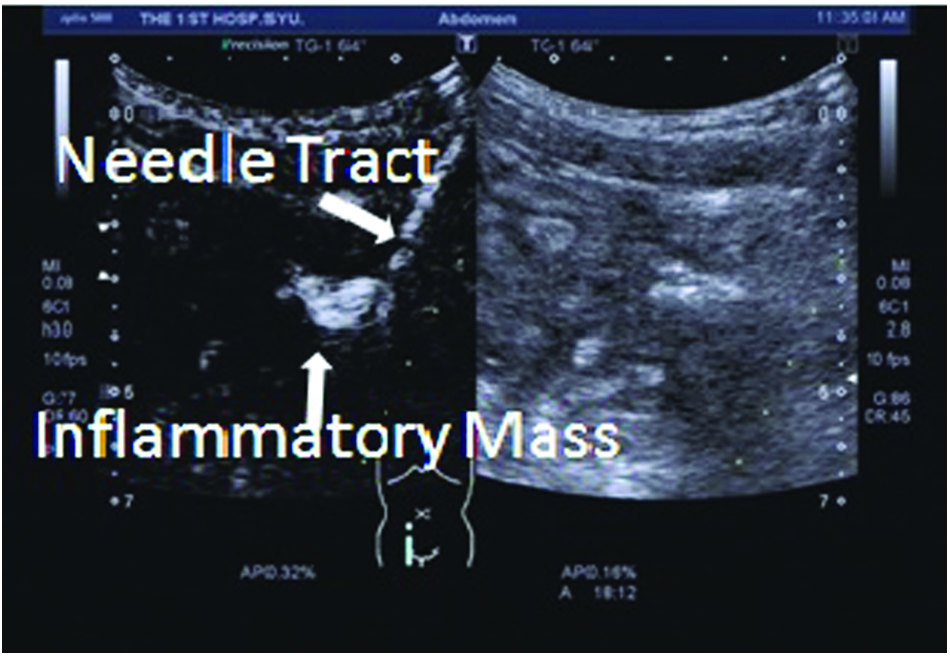 "The Early Stage"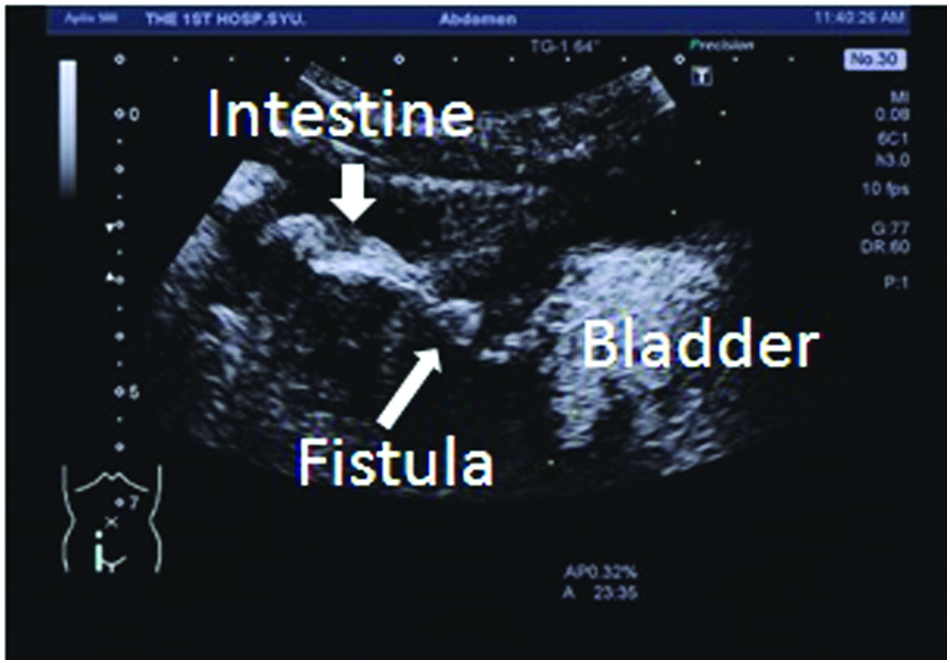 "The Late Stage"
the remaining one intestinal fistula was missed. All these six fistulas were not detected neither by CT enterography or gastrointestinal barium.
Conclusion
Our preliminary study showed that intracavitary contrast-enhanced ultrasound is feasible and accurate in detection of fistula. Because of non-ionizing radiation , it could be used as a novel method in evaluating disease behavior of CD.