P268 Hospitalisation and surgery risk in Crohn's disease in the biological era - Results from the Dutch population-based IBD-SL cohort
S. Jeuring*1, 2, T. Van den Heuvel1, 2, M. Zeegers3, 4, W. Hameeteman1, M. Romberg-Camps5, L. Oostenbrug6, S. Breukink7, L. Stassen7, A. Masclee1, 2, D. Jonkers1, 2, M. Pierik1, 2
1Maastricht University Medical Center+, Internal Medicine - Division Gastroenterology-Hepatology, Maastricht, Netherlands, 2Maastricht University Medical Center+, NUTRIM, School for Nutrition, Toxicology and Metabolism, Maastricht, Netherlands, 3University of Birmingham, Public Health, Epidemiology and Biostatistics, Birmingham, United Kingdom, 4Maastricht University Medical Center+, Complex Genetics, Cluster of Genetics and Cell Biology, Maastricht, Netherlands, 5Orbis Medical Center, Gastroenterology and Hepatology, Sittard, Netherlands, 6Atrium Medical Center, Internal Medicine and Gastroenterology, Heerlen, Netherlands, 7Maastricht University Medical Center+, General Surgery, Maastricht, Netherlands
Background
Many patients with Crohn's disease (CD) require hospital admission or surgery for CD-related complications or refractory inflammatory disease. As from biological availability, more aggressive treatment strategies (e.g. early use of immunomodulators and biologicals, and combination therapy) are advised for patients with expected poor prognosis to improve long-term outcome. Its effect on disease outcome is yet unknown, mostly due to lack of data before and after biological availability from the same source population. Therefore, we aimed to compare disease outcome of CD patients diagnosed in the pre-biological era to CD patients diagnosed in the biological era in a population-based cohort.
Methods
Since 1991, incident IBD cases in the South-Limburg (SL) area are included in our population-based IBD-SL cohort, with over 93% completeness. All CD patients were divided in two time cohorts. The pre-biological cohort comprised patients diagnosed between 1991 and 1998, followed until 1999 (registration of biological therapy for CD). The biological cohort comprised patients diagnosed between 1999 and July 2011, followed until 2014. Disease outcome, in terms of hospitalisation and surgery risk, was analysed with a Kaplan-Meier survival curve, and hazard ratios (HR) were calculated using a Cox regression model.
Results
In total, 342 patients in the pre-biological and 820 patients in the biological era were included, with a mean follow-up of 4.0 (SD 2.5) and 6.4 (SD 3.6) years, respectively. At diagnosis, patients in the biological era were less often hospitalised (21.1% vs. 36.8%, HR 0.45; 95%CI 0.34-0.60) and less often operated (3.8% vs. 14.4%, HR 0.23; 95%CI 0.15-0.38). During disease course, patients in the biological era had a 2.2-fold lower risk of surgery (HR 0.46; 95%CI 0.34-0.63) (Figure). In particular, less surgery for inflammatory disease (5.9% vs. 11.7% HR 0.41; 95%CI 0.25-0.68) was observed, but not for stricturing (9.4% vs. 12.3%, HR 0.73; 95%CI 0.48-1.11) or penetrating disease (5.0% vs. 8.3%, HR 0.58; 95%CI 0.33-1.02). We also observed a lower hospitalisation risk during follow-up in the biological era (51.4% vs. 34.4%, HR 0.65; 95%CI 0.49-0.87).
Conclusion
In this population-based CD cohort, the risk of hospitalisation decreased 1.5-fold and the risk of surgery for inflammatory disease was 2.2-fold lower in the biological era as compared to the pre-biological era. These findings indicate an improvement in disease outcome in more recently diagnosed CD patients.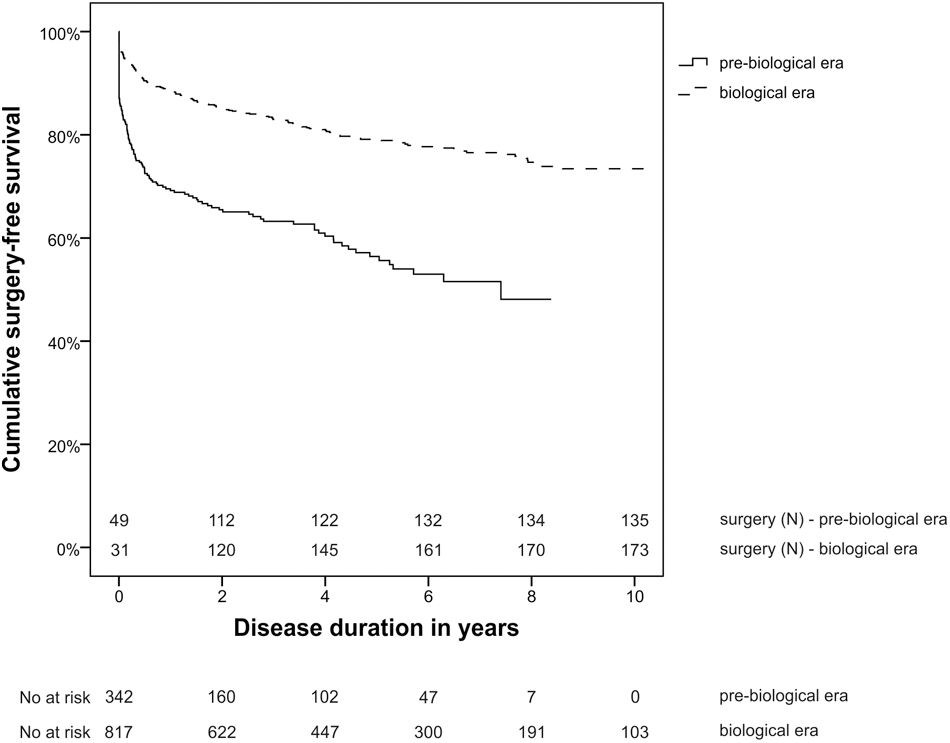 "Risk of surgery in the pre-biological and biological era"