P279 Fecal calprotectin is elevated with clinical disease activity during pregnancy in women with Inflammatory Bowel Disease
V.W. Huang*, J. Bal, R. Foshaug, L. Ambrosio, K.I. Kroeker, L. Dieleman, B. Halloran, R.N. Fedorak
University of Alberta, Gastroenterology, Edmonton, Canada
Background
Women with inflammatory bowel disease (IBD) often have gastrointestinal symptoms during pregnancy. Fecal calprotectin (FCP) is a non-invasive biomarker that detects intestinal inflammation and therefore can be used to determine if patients with IBD have symptoms due to active disease. However, the validation of FCP as a biomarker in pregnant women with IBD who have gastrointestinal symptoms has not been studied.
The objective of this study was to determine if an elevated FCP is associated with clinical disease activity during pregnancy among women with IBD.
Methods
Female IBD patients (18-45yrs) were enrolled pre-conception (PC) or at each trimester of pregnancy (T[n]). At each visit, women were grouped by clinical disease activity using the modified Harvey Bradshaw Index (mHBI) for Crohn's disease, and the partial Mayo score for ulcerative colitis. Women with a mHBI>5 or a partial Mayo score >2 were identified as having clinically active disease. FCP on a first morning stool was determined using the Quantum Blue High Range reader. To examine the association of FCP with clinical disease activity, we compared, at each visit, the median FCP of the women with clinically active disease to those with clinically inactive disease.
Results
Seventeen patients (median age 33.0 (IQR 28.0 - 37.0) years were seen over 19 visits. There were 7 women with Crohn's disease (7 data sets) and 10 with ulcerative colitis. There were 4 PC visits, 2 T1 visits (median gestational age 10.50 weeks), 6 T2 visits (median gestational age 23.36 weeks), and 7 T3 visits (median gestationla age 30.37 weeks). The median FCP of the women with clinically active disease was numerically higher than the median FCP of women with inactive disease at all time points: PC (950 vs 438 mg/kg; p=1.00), T1 (no active vs 973 mg/kg), T2 (1200 v. 140 mg/kg; p=0.40), T3 (1510 v. 134 mg/kg; p=0.486), respectively. Women with ulcerative colitis had higher FCP throughout pregnancy than women with Crohn's disease (Figure 1).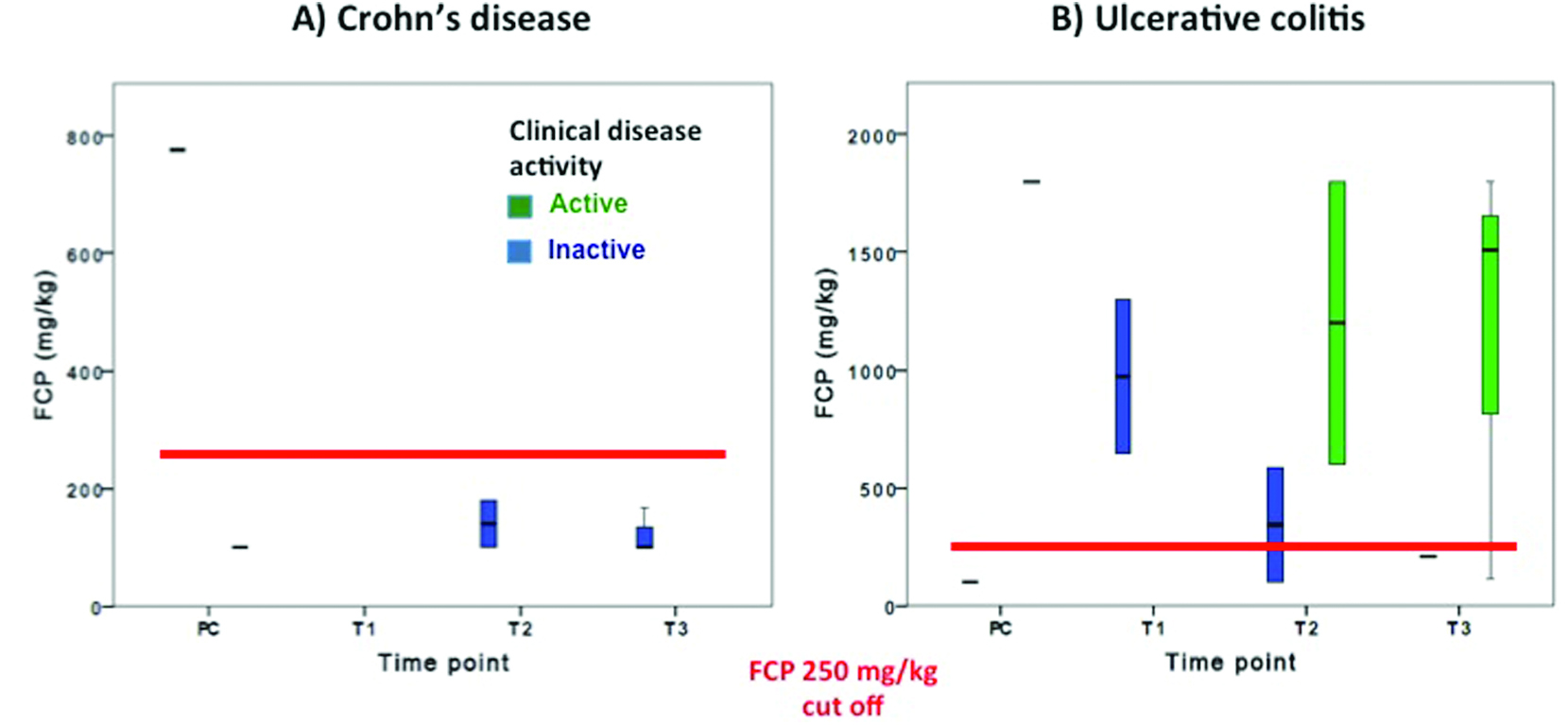 "Figure 1. Fecal calprotectin and disease activity during preconception and pregnancy in women with IBD"
Conclusion
Women with IBD who had clinically active disease during preconception and pregnancy had higher fecal calprotectin levels than women who had clinically inactive disease. Fecal calprotectin has the potential to be used as a biomarker for assessing disease activity during pregnancy in women with IBD.