P294 Is the tuberculin skin test alone accurate in modeate-to-severe BCG vaccinated patients with Inflammatory Bowel Disease treated with immunosuppressives to test for latent tuberculosis?
Z. Kurti*1, K. Gecse1, A. Balint2, K. Farkas2, B. Lovasz1, A. Szabo1, M. Mandel1, A. Gyurcsanyi1, K. Kristof3, Z. Vegh1, A. Mohas1, T. Molnar2, L. Kiss1, P.A. Golovics1, P. Lakatos1
1Semmelweis University, 1st Department of Medicine, Budapest, Hungary, 2University of Szeged, 1st Department of Medicine, Szeged, Hungary, 3Semmelweis University, Institute of Medical Microbiology, Budapest, Hungary
Background
There are few data available on effect of immunomodulator/biological therapy on the accuracy of tuberculin skin test (TST, Mantoux skin test) and interferon-gamma release assay (IGRA) in BCG vaccinated immunosuppressed IBD patients. Our aim was to define the accuracy of the TST and IGRA tests in a BCG vaccinated referral IBD cohort treated with immunosuppressives and/or biologicals.
Methods
Data of 166 consecutive moderate-to-severe IBD (122 CD, 44 UC) patients were analyzed (male/female: 86/80, median age at diagnosis: 24.0; IQR: 18-31 years, duration: 7.0; IQR: 4-13 years). Patients were treated with immunosuppressives (azathioprine, steroids) and/or anti-TNF therapy. Blood samples for IGRA were collected during routine laboratory testing parallel with TST. The result of TST was determined according to international guidelines. Both in- and outpatient records were collected and comprehensively reviewed.
Results
TST positivity rate was 23.5%, 21.1%, 14.5% or 13.9% with cut-off values of 5, 10, 15 and 20mm. IGRA positivity rate was 8.4% with indeterminate result in 0.6%. Chest X-ray was suggestive in only 2 patients. The correlation between TST and IGRA was significant, with moderate-to-good kappa values if TST Results were >15mm (kappa: 0.39-0.41, p<0.001). In addition, a TST of 14 and 17mm was also identified as best cut-off value in a ROC analysis (AUC: 0.76, p=0.003).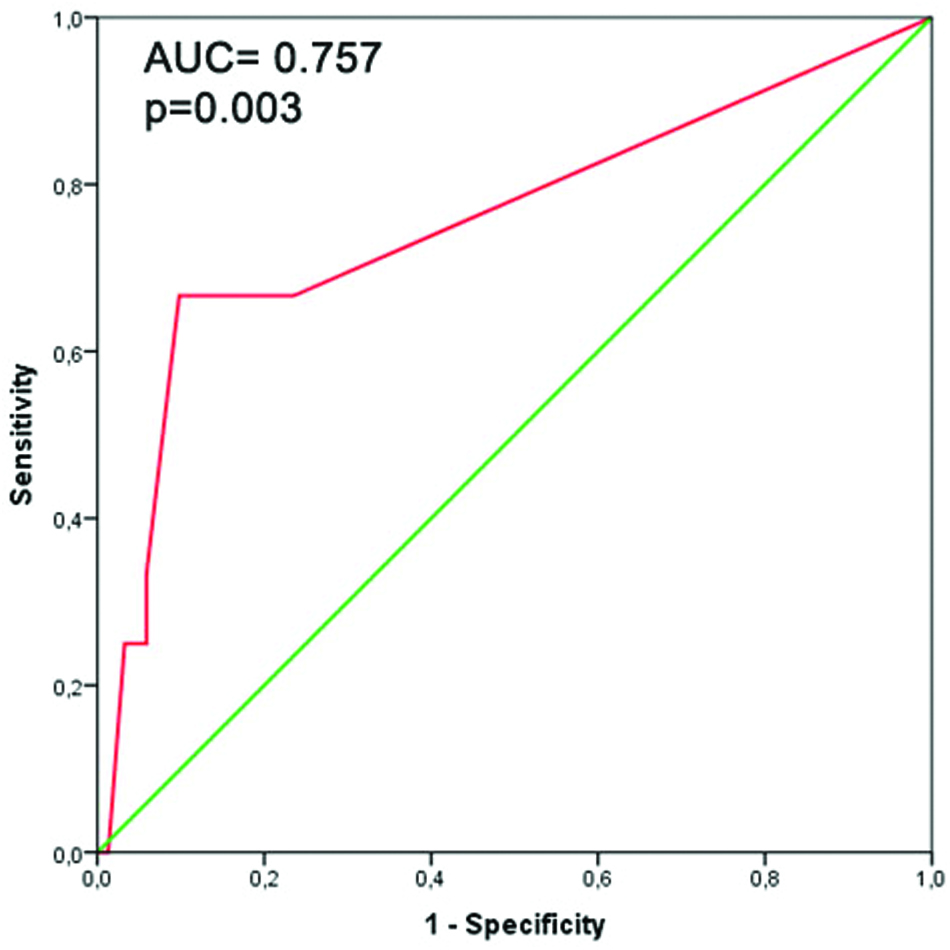 "Figure 1 Association between tuberculin skin test and Quantiferron positivity"
There was no association between the type and number of medications (szteroid, immunosupressives, aTNF or combination) used or any disease phenotype characteristics and the TST or IGRA results. Importantly, smoking was identified as a risk factors for TST but not IGRA positivity in the full cohort (OR: 2.70, 3.14, 5.02 and 4.62, p<0.007, for TSTcut-off 5, 10, 15 and 20mm) and in CD (OR: 4.07, 4.84, 9.92 and 9.05, p<0.001, for TSTcut-off 5, 10, 15 and 20mm).
Conclusion
The TST and IGRA are partly complimentary Methods and accuracy is acceptable also in BCG vaccinated and immunosuppressed IBD patients. A TST of >15mm should be used as a cut-off to identify patients at risk for latent TB in these patients. Smoking is a risk factor for TST positivity.