P300 Effect of vedolizumab on health-related quality of life (HRQoL) in patients with Crohn's disease
W. Sandborn*1, W. Reinisch2, E.V. Loftus Jr3, R. Panaccione4, H. Doll5, H. Patel6, J. Xu7, K. Lasch8, A. Green9, B. Abhyankar10, R. Mody11
1University of California San Diego and UC San Diego Health System, Gastroenterology, San Diego, California, United States, 2McMaster University, Gastroenterology, Hamilton, ON, Canada, 3Mayo Clinic, Gastroenterology and Hepatology, Rochester, Minnesota, United States, 4University of Calgary, Medicine, Alberta, Canada, 5ICON plc, Patient Reported Outcomes, Oxford, United Kingdom, 6Immensity Consulting, Inc., Health Economics and Outcomes Research, Chicago, IL, United States, 7Takeda Pharmaceuticals International Co., Biostatistics, Cambridge, Massachusetts, United States, 8Takeda Pharmaceuticals International Inc., Medical Affairs, Deerfield, IL, United States, 9Takeda Global Research & Development Centre (Europe) Ltd., Statistics, London, United Kingdom, 10Takeda Global Research and Development Centre (Europe) Ltd., Clinical Science, London, United Kingdom, 11Takeda Pharmaceuticals International Inc., Global Outcomes and Epidemiology Research, Deerfield, IL, United States
Background
Vedolizumab (VDZ) is an α4β7 integrin antagonist for the treatment of Crohn's disease (CD). In the GEMINI 2 trial (NCT00783692),[1] VDZ resulted in statistically significant improvements in clinical endpoints versus placebo (PBO). Here, the effect of VDZ on health-related quality of life (HRQoL) at week (wk) 52 and its relationship with response and remission are analysed.
Methods
In GEMINI 2, responders to VDZ induction therapy at wk 6 were re-randomised to PBO or VDZ every 8 or 4 wks (Q8W or Q4W) (maintenance ITT population). Exploratory endpoints included the change from wk 0 to 52 in the European Quality of Life-5 Dimension (EQ-5D) visual analogue scale (VAS), Inflammatory Bowel Disease Questionnaire (IBDQ), and 36-item Short-Form Health Survey (SF-36) physical/mental component score (PCS/MCS). In post hoc analyses, the mean changes were stratified by baseline disease severity and prior tumour necrosis factor antagonist (anti-TNF) failure. Percentages of patients (pts) with a clinically meaningful improvement (CMI) in IBDQ total score (≥16-point increase from wk 0) or score >170 and improvements in HRQoL by responder or remission status at wk 52 were assessed. All pts in these analyses received 2 VDZ doses (half-life 25 days) during induction.
Results
Mean changes in IBDQ and SF-36 PCS and MCS from wk 0 to 52 were numerically greater with VDZ than with PBO; EQ-5D VAS scores were significantly greater with VDZ (Figure 1A). Similar trends were observed in pts stratified by disease severity or prior anti-TNF failure. In pts without prior anti-TNF failure, the differences between VDZ Q4W and PBO in IBDQ, EQ-5D VAS and SF-36 PCS were statistically significant. Rates of CMI in IBDQ total scores and of IBDQ scores >170 were generally higher with VDZ than with PBO (CMI: 64% Q8W, 74% Q4W, 63% PBO and score >170: 39% Q8W, 47% Q4W, 35% PBO). Responders and remitters showed statistically significant improvements in all scores (vs non-responders and non-remitters, respectively; Figure 1B,C).
Conclusion
These data indicate that HRQoL benefits accompanied the clinical improvement experienced with VDZ treatment. Treatment differences appear modest because of VDZ exposure during induction and potential carryover effect in pts re-randomised to PBO during maintenance.
The clinical studies were funded by Millennium Pharmaceuticals, Inc. (d/b/a Takeda Pharmaceuticals International Co.). Medical editing was provided by inVentiv Medical Communications and supported by Takeda Pharmaceuticals International, Inc.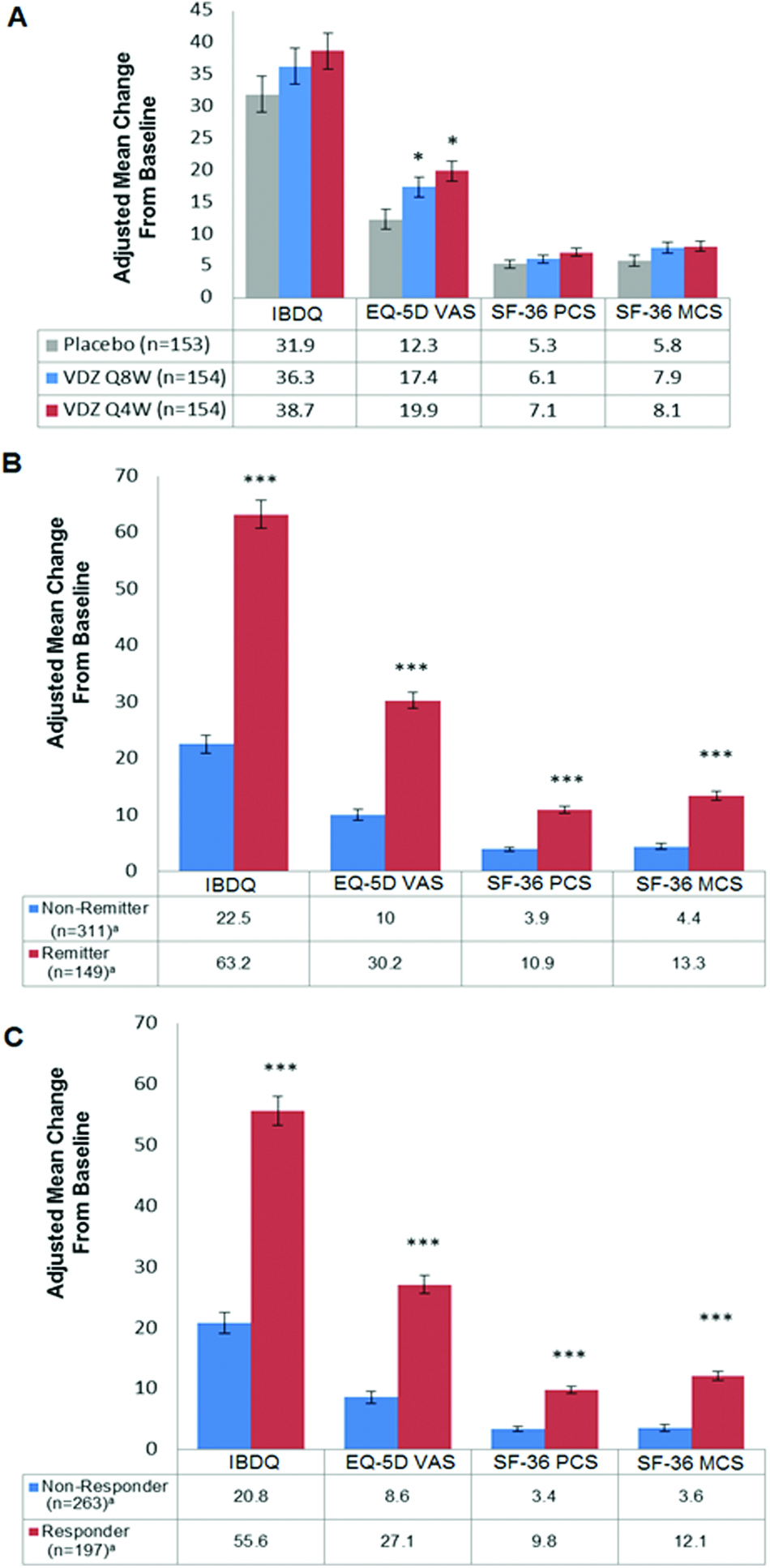 References:
[1] Sandborn WJ, (2013), Vedolizumab as induction and maintenance therapy for Crohn's disease, N Engl J Med, 711-721