P317 Clinical value of routine therapeutic anti-TNF drug monitoring (TDM) in Inflammatory Bowel Disease (IBD) patients in clinical practice
M. Guirgis1, D. Bianchetti2, G. Dorta3, P. Michetti1, M. Maillard*3
1Crohn's and Colitis Centre, Gastroenterology, Lausanne, Switzerland, 2University of Lausanne, Gastroenterology and Hepatology, Lausanne, Switzerland, 3Centre Hospitalier Universitaire Vaudois, Gastroenterology and Hepatology, Lausanne, Switzerland
Background
In light of emerging data demonstrating that therapeutic anti-Tumour Necrosis Factor alpha (anti-TNF α) levels are associated with better clinical outcomes, various treatment algorithms incorporating TDM have been proposed. Many studies have focused on the utility of TDM in the management of non-response or loss of response to TNF α - inhibitors, fewer on the use of routine assay. Our primary objective was to evaluate routine use of TDM for three TNF α inhibitors and observe physician response in clinical practice.
Methods
A retrospective study was conducted on all IBD patients treated with TNF α -inhibitors who attended two IBD referral centres (2013-2014). Infliximab, adalimumab or certolizumab pegol trough levels and anti-drug antibody (ADA) were measured using a commercially available ELISA (Lisa Tracker Premium Kit). Patient demographics, details of disease, subsequent clinical management and outcomes were retrieved from patient records.
Results
180 anti-TNF α and ADA assays were performed in 103 patients. Patient demographics are reported in Table 1. 88% of patients were treated with infliximab, 8% adalimumab and 4% certolizumab pegol. A change in management as a result of TDM occurred in 29% of the patients. 41% of the total numbers of assays were in the subtherapeutic range. The prevalence of ADA was 10%. Focusing on the sub therapeutic subgroup (n=73), 55% had no change in management, 15% had an increase in dose while 3% had an increase in frequency. 14% of the subtherapeutic group had detectable ADA. 80% of the ADA positive assays lead to change TNF inhibitor, 10% ceased due to anaphylaxis and 10% resulted in the addition of azathioprine. In the assays performed for routine medical follow up, 40% were in subtherapeutic range. Modification in management as a result of routine TDM occurred in 34% of cases.
"Patient Demographics"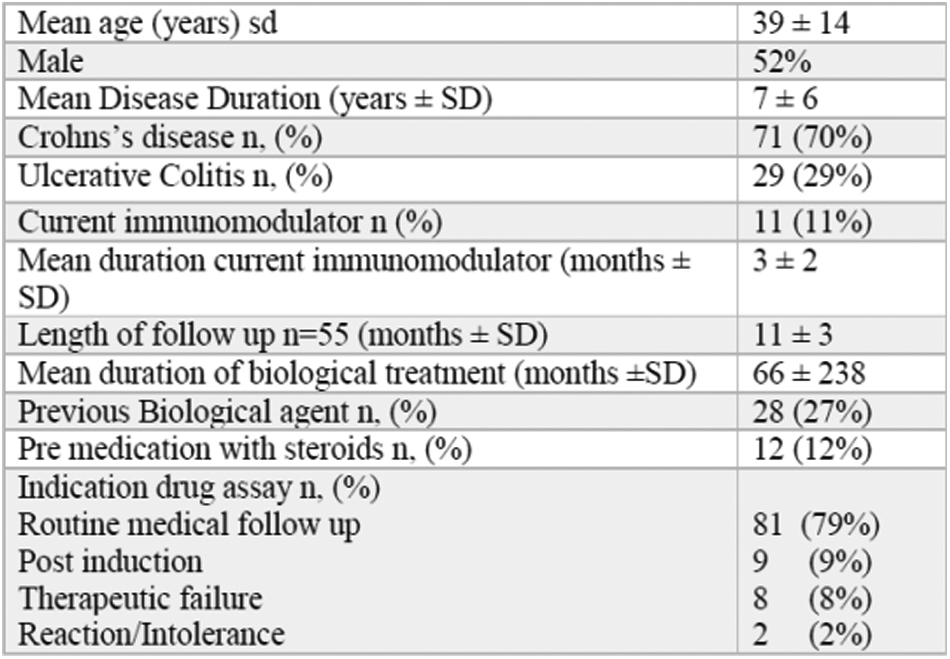 Conclusion
This is the first study to evaluate utility of anti-TNF α TDM in Switzerland. In this cohort TDM altered management in 29% of cases. TDM ordered for routine medical follow up revealed subtherapeutic levels in 41% of cases and led to a change in clinical management in one third of cases. The approaches to subtherapeutic levels and presence of ADA varied between physicians. Further studies are required to develop consensus on approaches to subtherapeutic levels and presence of low level ADA and further evaluate the use of TDM in routine clinical care.
References:
[1] Vande Casteele N, Gils A, Ballet V, et al. Presentation at UEG Week 2013. Abstract UEG13 - ABS - 2468, (2013), Randomised controlle d trial of drug level versus clinically based dosing of infliximab maintenance therapy in IBD: final Results of the TAXIT study.