P318 Management of loss of response to infliximab. Results of a descriptive study of a cohort of inflammatory bowel disease patients.
E. Ferrand1, D. Ternant2, L. Picon1, D. Moussata1, A. Aubourg*1
1CHRU Tours, Hepatogastroenterology, Tours, France, 2CHRU Tours, Pharmacology, Tours, France
Background
Infliximab has profoundly modified the treatment of inflammatory bowel disease. Nevertheless, 30 to 50 % of patients present loss of response, and treatment alternatives are limited. Understanding the mechanism of loss of response and defining its management is essential.
Methods
We report the Results of a retrospective study in a cohort of patients treated by infliximab for inflammatory bowel disease, between January 2009 1st and December 2012 31th. Patients following an episodic or induction treatment only were excluded. The data collected was: demographic data, disease characteristics, initial albumin and C-reactive protein sera concentrations, corticoresistance at the start of the treatment, week 14 infliximab serum concentration. For patients presenting loss of response we also collected: infliximab serum concentration at the time of loss of response (T0), 2 infusions (T-1, T-2) before loss of response and 4 infusions (T+1 to T+4) after. Infliximab serum concentrations were measured by ELISA test. Anti-drug anti-bodies were tested by ELISA double antigen.
Results
Eighty-one patients were included. Thirty-four patients presented loss of response to infliximab (42%) and forty-seven maintained clinical remission. All patients presenting loss of response were firstly optimised by a dose increase or interval shortening. Fourteen patients (41%) did not respond to the first optimisation. They were treated either by adding or switching immunomodulator (n=8), by switching for another anti-TNF (n=5), or by surgery (n=1).
A significant correlation was found between initial corticoresistance and ulterior loss of response (OR=2,9 [1,1-7,9], p=0.035). Week 14 infliximab serum concentration was significantly associated to albumin serum concentration (p=0.003).
Methotrexate was used in 6 patients as a second optimisation and helped in 5 out of 6 patients to regain clinical response and a quick increase in infliximab serum concentrations (fig.1).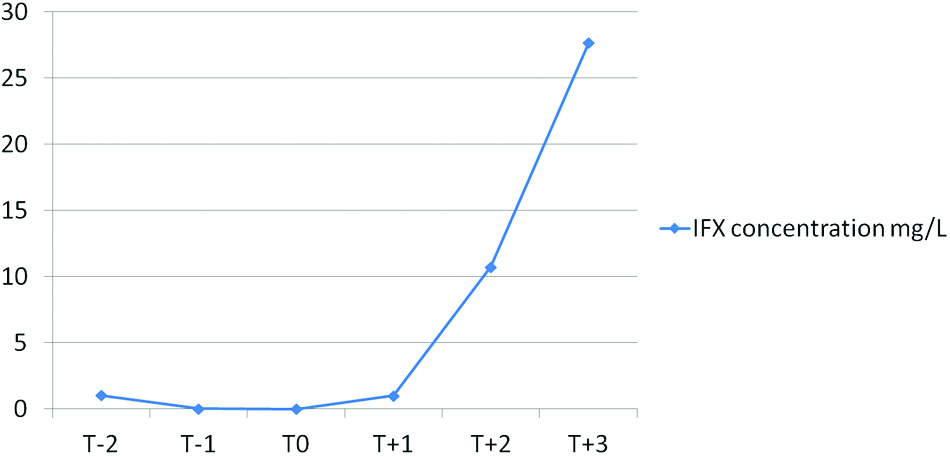 "Example of infliximab concentration evolution after adding methotrexate."
Conclusion
Our study confirms the high frequency of loss of response to infliximab in inflammatory bowel disease. It helps us to identify several high-risk situations, especially severe clinical and biological diseases, which would benefit from early pharmacological monitoring. Adding methotrexate seems to be a good strategy to regain clinical and biological response.