P320 Clinical relevance of faecal calprotectin variability in Inflammatory Bowel Disease
V. Kristensen*1, 2, G.H. Malmstrøm1, V. Skar1, B. Moum2, 3
1Lovisenberg Diakonale Hospital, Unger-Vetlesen`s Institute, Oslo, Norway, 2University of Oslo, Institute of Clinical Medicine, Oslo, Norway, 3Oslo University Hospital, Department of Gastroenterology, Oslo, Norway
Background
Faecal (f-) calprotectin is a biomarker of intestinal inflammation. Former studies have described intra-individual day to day variability of this biomarker in patients with inflammatory bowel disease (IBD) http://planner.smart-abstract.com/ecco2015/submission/en/abstract/400110/content# http://planner.smart-abstract.com/ecco2015/submission/en/abstract/400110/content#. The variability is however of uncertain clinical relevance. With this project we aimed to investigate if day to day variability was clinically relevant, and if this variability differed from diurnal variability.
Methods
51 patients with IBD submitted three faecal samples taken successively morning - evening - morning on two consecutive days. The faecal samples were analysed for f-calprotectin (ELISA, Bühlmann Laboratories AG, Switzerland) in duplicates. Coefficient of variation (CV) was calculated for all three f-calprotectin values for each patient, representing intra-individual variability. CV was also calculated for the duplicated f-calprotectin levels, representing variability within the assay. Wilcoxon signed ranks test was used to compare the different values of calprotectin. For case reliability measure, kappa statistics were applied.
Results
The mean CV of the duplicated f-calprotectin analyses was 3.4% (95% confidence interval 2.5%-4.3%). In contrast, there was a large intra-individual variation in the three f-calprotectin samples, with a mean CV of 39% (95% confidence interval 31%-48%). There were no significant diurnal variation (p=0.97) or day to day variation (p=0.07). The kappa statistic for the two morning samples` reliability of detecting mucosal inflammation as defined by a f-calprotectin level > 250 μ g/g, was substantial at 0.73. The kappa statistic for the reliability of the two samples from the same day (morning - evening) was also substantial at 0.77.
"Scatterplot of the f-calprotectin values from the first and the second morning, with the 250 microgram/gram cut-off levels marked. Triangles represent patients with values on both side of this cut-off"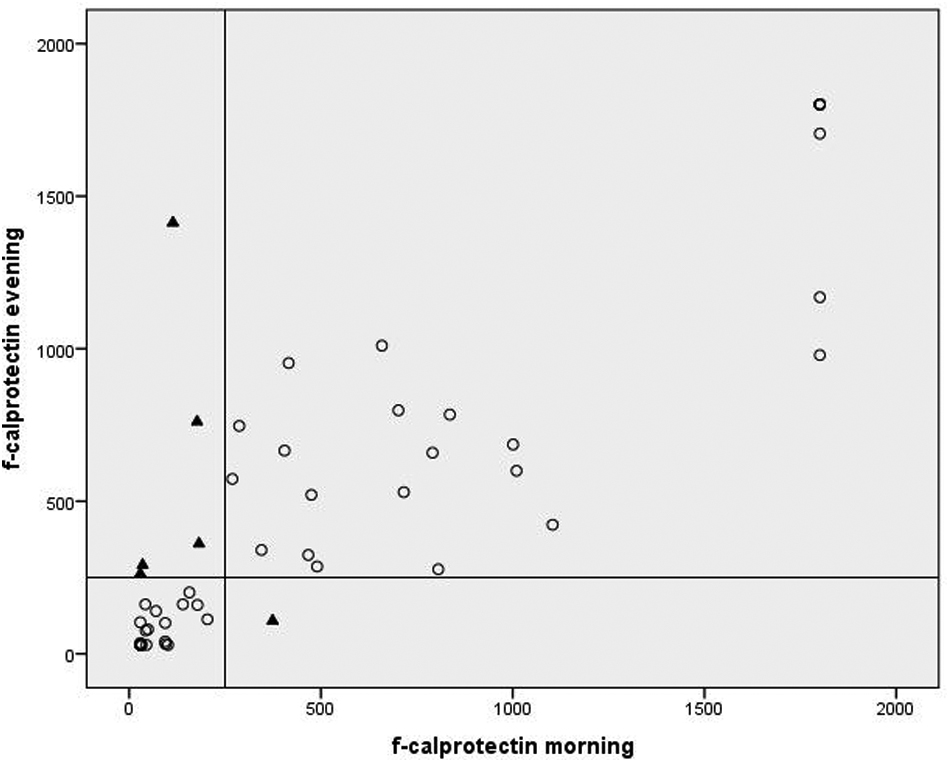 Conclusion
Although considerable intra-individual variation in f-calprotectin values within IBD patients, this variation seem to be of low clinical relevance. The reliability of morning samples is equal to the reliability of evening samples.
References:
[1] Moum B, Jahnsen J, Bernklev T. , (2010), Fecal calprotectin variability in Crohn's disease.
[2] Lasson A, Stotzer PO, Ohman L, Isaksson S, Sapnara M, Strid H. , (2014), The intra-individual variability of faecal calprotectin: A prospective study in patients with active ulcerative colitis.