P351 Does failure to respond to one anti-TNF agent in Ulcerative Colitis predict treatment failure with other anti-TNF agents?
F. AlAlawi*, D. Keegan, K. Byrne, H. Mulcahy, G. Cullen, G. Doherty
Centre for Colorectal Disease, St Vincent's University Hospital & School of Medicine and Medical Science, University College Dublin, Gastroenterology, Dublin, Ireland
Background
Anti-TNF therapy is an effective maintenance treatment for ulcerative colitis (UC) of moderate severity with inadequate response to standard therapy. In clinical practice, there is uncertain clinical benefit of trying a second biologic in UC patients who failed to respond adequately to the first anti-TNF agent. Our aim is to evaluate the response to a second anti-TNF agent in UC patients who failed to respond to initial biologic treatment.
Methods
A retrospective study was performed using a prospectively maintained electronic database of 3,200 patients with IBD attending a single centre. Patients with histologically confirmed ulcerative colitis who received sequential treatment with two anti-TNF agents were identified. Patients who switched treatment due to secondary loss of response, adverse reaction to the first agent were excluded. The Results were analysed on the basis of whether patients received an intravenous agent (e.g. infliximab) first followed by a subcutaneous agent (IV to SC) or vice versa (SC to IV). Treatment failure is defined as inevitable colectomy, steroid dependence, or enlisting into new clinical trials.
Results
n=63 UC patients were identified who had received at least two biologics over a 10 years period. n=7 patients were excluded as they did not meet inclusion criteria (n=3 were diagnosed with Crohns disease during follow up, n=4 received one or other biologic agent for other indications e.g. arthopathy). Of the remaining 56 patients 30 patients were excluded as they had a response to the first biologic but developed an adverse reaction, lost response or relapsed after discontinuation of treatment. n=26 patients were commenced on anti-TNF to treat UC and received a second agents due to non response (n=15 IV to SC and n=11 SC to IV). There were 18 males and 8 females, and 14 patients had pancolitis. 14/15 (93%) patients in the IV to SC failed treatment during follow up compared to 4/11 (36%) in the SC to IV group (Fishers exact p=0.003). Disease extent was not associated with treatment failure. Time to treatment failure was significantly shorter in the IV to SC group than with sequential SC to IV treatment (log rank p=0.003) See Figure 1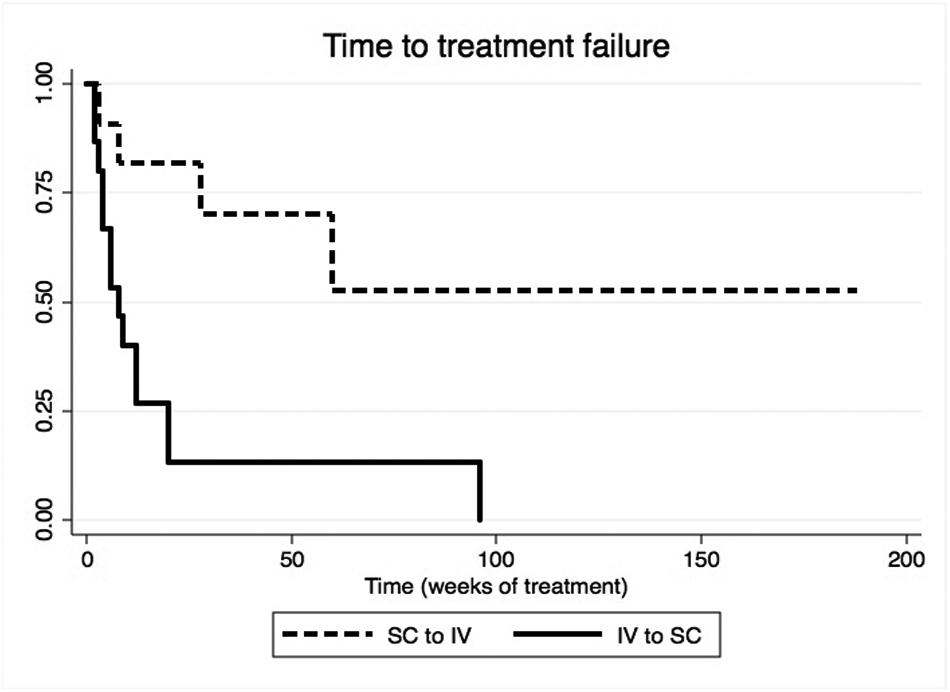 "TIME TO TREATMENT FAILURE"
Conclusion
These Results suggest a high likelihood of treatment futility with use of a SC anti-TNF in patients who fail to respond to initial IV infliximab, however the majority of patients failing to respond to SC biologic treatment can successfully be treated subsequently with IV infliximab.