P363 How did changes in medical protocols affect the length of resected ileum in Crohn's disease over the last decade?
J. de Groof*1, T. Gardenbroek1, C. Buskens1, C. Ponsioen2, G. D'Haens2, W. Bemelman1
1Academic Medical Center, Surgery, Amsterdam, Netherlands, 2Academic Medical Center, Gastroenterology & Hepatology, Amsterdam, Netherlands
Background
During the last decade, treatment protocols have changed for patients with ileocolonic Crohn's disease (CD). Anti-TNF antibodies have become part of standard medical treatment and the step up approach has been formalized in clinical guidelines by the European Crohn's and Colitis Organisation (ECCO). We aimed to analyze if improved medical treatment has resulted in less extensive surgery and a longer delay between diagnosis and surgery.
Methods
In a retrospective cohort study, patients undergoing ileocolonic resection for CD at the AMC between January 1999 and October 2014 were identified from a prospectively maintained database. The length of the resection specimen was measured immediately postoperatively at the department of pathology according to a standard protocol.
Results
Of the 172 ileocolonic resections, 115 were performed laparoscopically (27 via single port). 55 patients were male (32.0%) and the median age at time of surgery was 28.0 years (IQR 23.0-39.8). Over the years, a significant reduction in time from diagnosis to operation was found (median of 27.0 months in 2004 versus 6.0 months in 2013; Spearman correlation coefficient -0.654, p <0.001)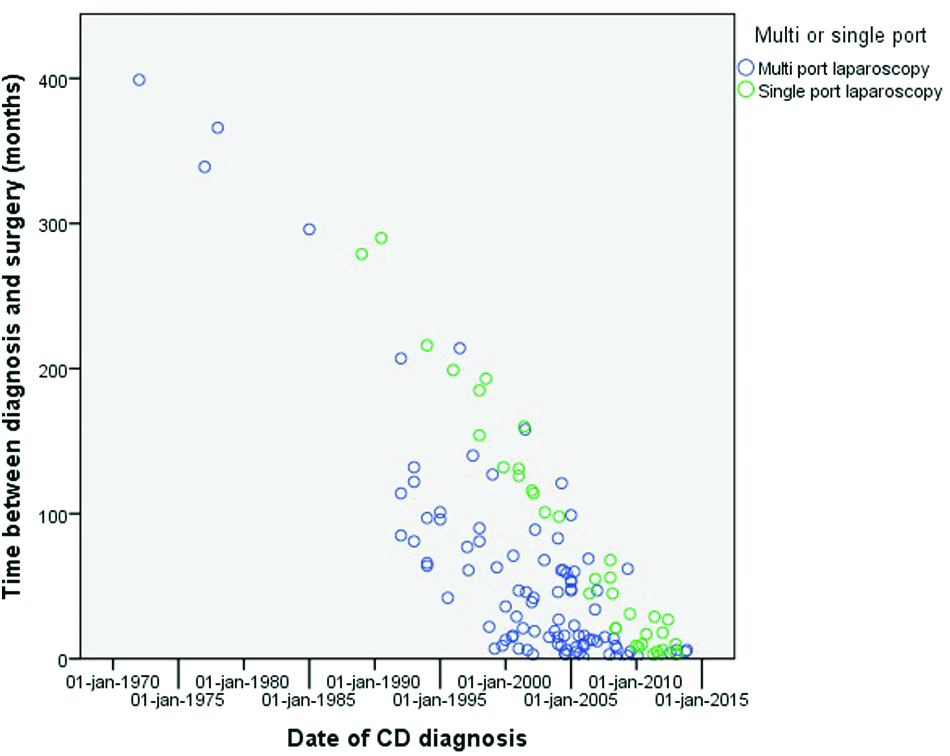 "Time between diagnosis of CD and ileocolic resection (in months) with respect to date of diagnosis."
No significant decrease in the length of the resected ileum was found during this time (median 20.0 cm iqr 12.0–30.0).0, Spearman correlation coefficient -0.137, p=0.145).
Conclusion
This study demonstrated a reduction in the time from diagnosis to operation in patients with ileocolonic CD. However, it could not be demonstrated that changes in medical protocols resulted in a decreased length of resected ileum.