P413 Healthcare expenditures for inflammatory bowel disease peak in patients with a short disease duration
M. Severs*1, M.E. van der Valk1, M.-J. Mangen2, M. van der Have1, G. Dijkstra3, A.A. van Bodegraven4, 5, H.H. Fidder1, D.J. de Jong6, M. Pierik7, J. van der Woude8, M.J.L. Romberg- Camps4, C.H.M. Clemens9, J.M. Jansen10, P.C. van de Meeberg11, N. Mahmmod12, A.E. van der Meulen- de Jong13, C.Y. Ponsioen14, C.J. Bolwerk15, J.R. Vermeijden16, P.D. Siersema1, M. Leenders1, B. Oldenburg1
1University Medical Centre Utrecht, Gastroenterology and Hepatology, Utrecht, Netherlands, 2University Medical Centre Utrecht, Julius center for health sciences and primary care, Utrecht, Netherlands, 3University Medical Centre Groningen, Gastroenterology and Hepatology, Groningen, Netherlands, 4ORBIS medical center, Gastroenterology and Hepatology, Sittard, Netherlands, 5VU medical center, Gastroenterology and Hepatology, Amsterdam, Netherlands, 6University Medical Center st. Radboud, Gastroenterology and Hepatology, Nijmegen, Netherlands, 7University Medical Center Maastricht, Gastroenterology and Hepatology, Maastricht, Netherlands, 8Erasmus Medical Center, Gastroenterology and Hepatology, Rotterdam, Netherlands, 9Diaconessenhuis, Gastroenterology and Hepatology, Leiden, Netherlands, 10Onze Lieve Vrouwe Gasthuis, Gastroenterology and Hepatology, Amsterdam, Netherlands, 11Slingeland Hospital, Gastroenterology and Hepatology, Doetinchem, Netherlands, 12Antonius Hospital, Gastroenterology and Hepatology, Nieuwegein, Netherlands, 13Leiden University Medical Centre, Gastroenterology and Hepatology, Leiden, Netherlands, 14Academic Medical Centre Amsterdam, Gastroenterology and Hepatology, Amsterdam, Netherlands, 15Reinier de Graaf Groep, Gastroenterology and Hepatology, Delft, Netherlands, 16Meander Medical Centre, Gastroenterology and Hepatology, Amersfoort, Netherlands
Background
We aimed to study whether disease duration influences the healthcare costs in inflammatory bowel disease (IBD) patients in a large cohort.
Methods
A large number of IBD patients from academic and non-academic hospitals were prospectively followed for two years (the COIN- study). At baseline, the disease duration of all patients was calculated. Used healthcare resources, disease activity and quality of life were assessed using three-monthly questionnaires. Healthcare resources were multiplied by their unit prices to obtain costs. These parameters were cross-sectionally compared between patients with a short (0-1 yr), median (1-5 yrs), long (5-10 years) and extended (10-20 yrs and >20 years) disease duration at baseline.
Results
A total of 3,030 patients (1,558 Crohn's disease (CD), 1,054 ulcerative colitis (UC) and 418 IBD-unspecified) were enrolled in the study. Fifty-six patients had a disease duration of 0-1 years, 502 of 1-5 years, 569 of 5-10 years, 899 of 10-20 years and 998 of over 20 years.
The proportion of patients with active disease gradually decreased over time, being 30.4% in IBD patients with a short disease duration, and 13.2% in those with an extended disease duration (CD: from 36.0% to11.8%; UC: from 21.1% to 16.5%). The total IBD healthcare costs peaked at 1-5 years of disease duration, which was mainly due to a high number of TNFalpha inhibitor users (CD: 30.7% vs. 17.7% after 20 years; UC: 5.7% vs. 3.4% after 20 years).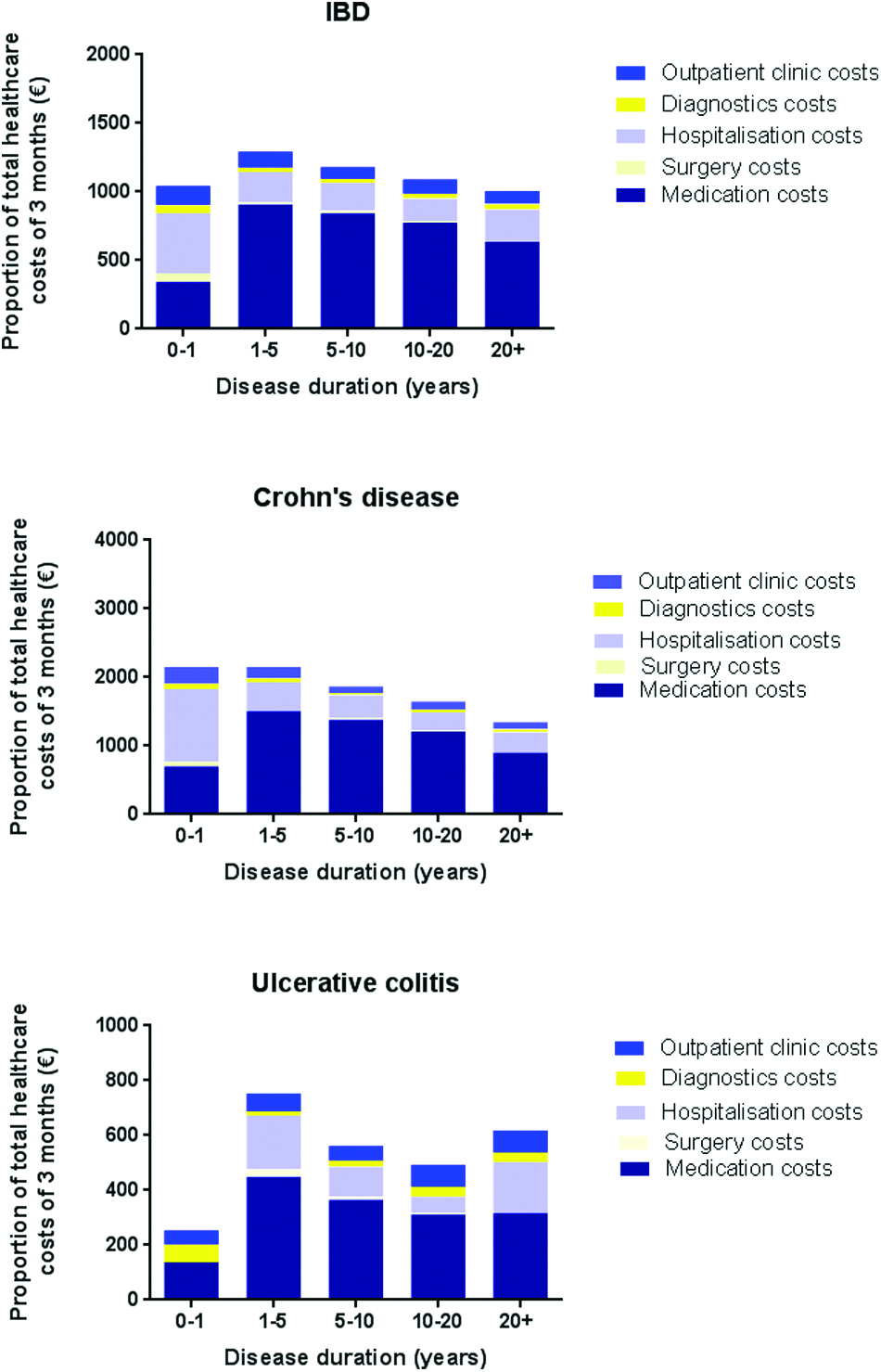 "Distribution of total healthcare costs during disease duration"
In patients with a longer disease duration, total healthcare costs were lower than in the first years after diagnosis. In CD, healthcare costs after the first year following the diagnosis shifted from hospitalisations to medication costs (TNFalpha- inhibitors). Hereafter, medication costs remained the major driver of total healthcare costs. In UC, total healthcare costs decreased over time, but increased again in patients with a disease duration of 20yrs or more, due to an increase of hospitalisations. The quality of life was lowest in patient shortly after diagnosis of IBD and increased gradually in both CD and UC patients with a longer disease duration (median IBD- questionnaire: CD from 175 to 179; UC from 179 to 190).
Conclusion
The healthcare costs of IBD peak in patients with a short disease duration. The quality of life is higher in patients with a longer disease duration.