P441 Infliximab-Related Infusion Reactions: Systematic Review of Preventive and Management Practices
L. Lichtenstein*1, J. Ron2, S. Kivity3, S. Ben-Horin4, E. Israeli5, G. Fraser1, I. Dotan2, Y. Chowers6, R. Confino-Cohen7, B. Weiss8
1Rabin Medical Center, Gastroenterology, Petach Tikva, Israel, 2Tel Aviv Sourasky Medical Center, Gastroenterology, Tel Aviv, Israel, 3Tel Aviv Sourasky Medical Center, Clinical Immunology, Tel Aviv, Israel, 4Sheba Medical Center, Gastroenterology, Tel Hashomer, Israel, 5Hadassah Medical Center, Gastroenterology, Jerusalem, Israel, 6Rambam Medical Center, Gastroenterology, Haifa, Israel, 7Meir Medical Center, Clinical Immunology, Kfar Saba, Israel, 8Edmond and Lily Safra Children's Hospital, Gastroenterology, Tel Hashomer, Israel
Background
Administration of infliximab (IFX) is associated with a well-recognized risk of infusion-related adverse events. The lack of a mechanism-based rationale for their prevention, combined with the absence of adequate, well-controlled studies has led to the use of diverse empirical administration protocols, each with its own rate instructions, choice of pre-administered preventive medications, and reaction-management algorithms. The aim of the present initiative was to reach a multicenter evidence-based consensus for the administration of IFX, with special emphasis on prevention and management of the infusion reactions.
Methods
We conducted extensive electronic searches of the PubMed and SCOPUS databases, from their earliest records through November 2014, for terms infliximab, anti-TNF, TNF-alpha, biologics, inflammatory bowel disease, Crohn's disease, ulcerative colitis, immunogenicity, infusion reactions, hypersensitivity, allergy, immediate reactions, late reactions, desensitization, and toxicity. We assessed and ranked - using Oxford Centre definitions of levels of evidence in treatment benefits format ("Does this intervention help?") - the quality of the best current evidence supporting: (1) preventive benefits of infusion rate protocols; (2) necessity and efficacy of primary preventive measures in unselected population and in special populations deemed to be particularly predisposed to infusion reactions (patients re-introduced with IFX following a prolonged drug-free interval; patients with high titers of ATI or progressive loss of response); (3) available management algorithms of ongoing immediate and late infusion reactions; (4) efficacy of graded dose challenge and premedication with corticosteroids, antihistamines, and/or antipyretics in patients with a history of infusion reactions.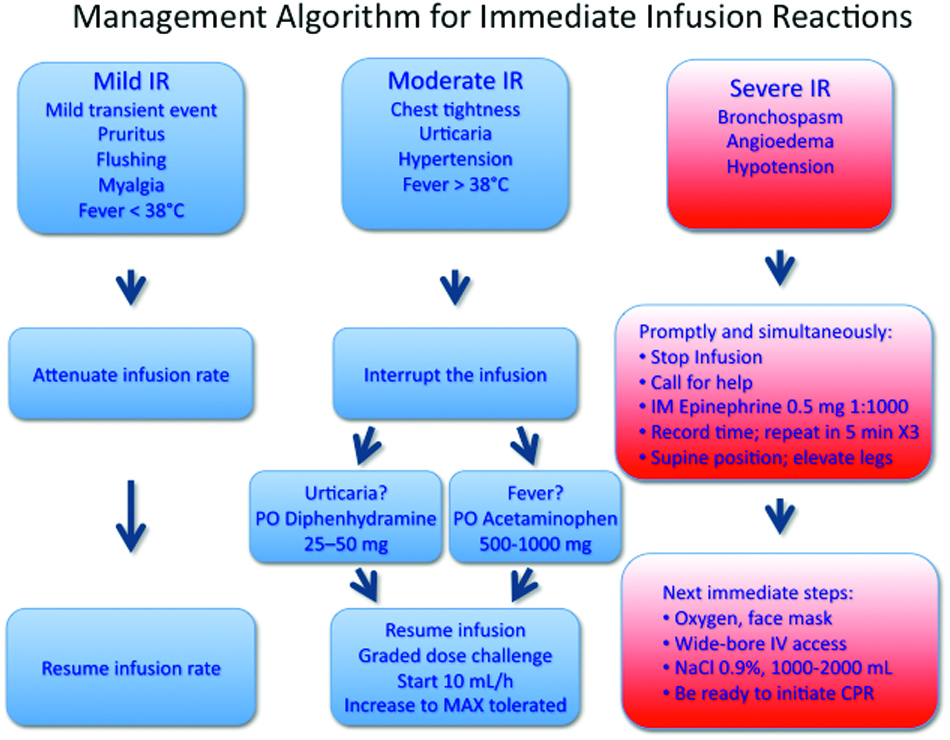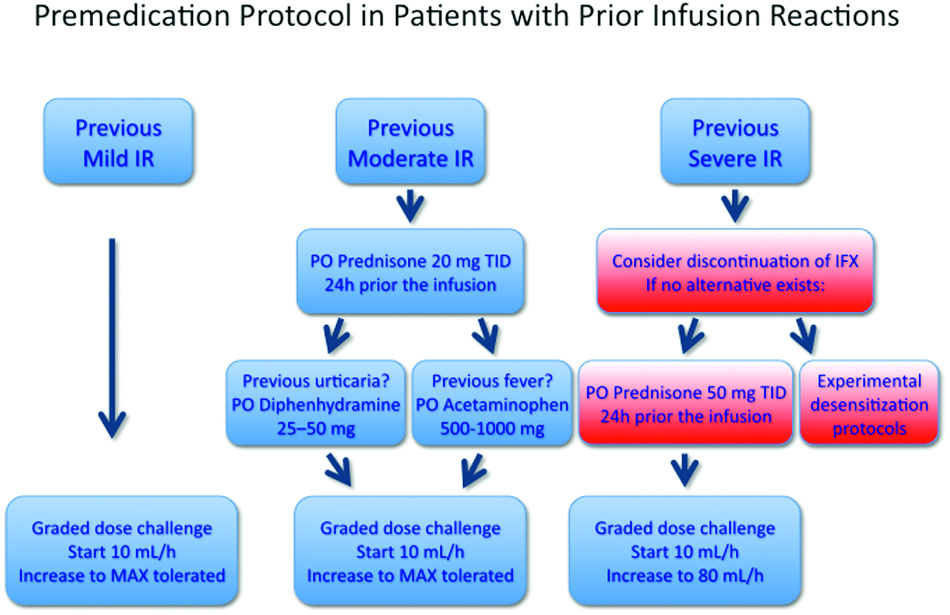 Results
Local IFX administration practices presently in place in Israeli IBD tertiary care centers were collated, critically appraised against the evidence, and discussed with the involved medical teams.
Conclusion
The resulting consensus served as a basis for the development of a standardized administration protocol. The IBD Section of the Israel Gastroenterology Association recently adopted these recommendations and, in a special meeting, endorsed the updated, standardized protocols for implementation in Israeli adult and pediatric IBD Centers.