P443 Soluble TNF serum levels during the induction phase in Crohn's Disease patients with anti-TNF treatment
M. Chaparro*1, I. Guerra2, M. Iborra3, J.L. Cabriada4, L. Bujanda5, C. Taxonera6, V. García-Sánchez7, I. Marín-Jiménez8, M. Barreiro de-Acosta9, I. Vera10, M.D. Martín-Arranz11, B. Hernández-Breijo12, F. Mesonero13, L. Sempere14, M.T. Arroyo15, M.D. Hinojosa16, M. Ramas1, A. Algaba2, B. Beltrán3, A. Rodríguez Pescador4, M.J. Perugorria5, J.L. Mendoza6, J.M. Benítez-Cantero7, L. Tardío8, R. Ferreiro9, V. Matallana Royo10, S. Gómez Senent11, L. Guijarro12, P.M. Linares1, J.P. Gisbert1
1Hospital Universitario de La Princesa, IIS-IP and CIBERehd, Gastroenterology Unit, Madrid, Spain, 2Hospital Universitario de Fuenlabrada, Gastroenterology Unit, Madrid, Spain, 3Hospital Universitario La Fe and CIBERehd, Gastroenterology Unit, Valencia, Spain, 4Hospital Galdakao, Gastroenterology Unit, Vizcaya, Spain, 5Hospital de Donostia, Instituto Biodonostia, UPV/EHU and CIBEREHD, Gastroenterology Unit, Guipuzcoa, Spain, 6Hospital Clínico Universitario San Carlos and IdISSC, Gastroenterology Unit, Madrid, Spain, 7Hospital Universitario Reina Sofía, Gastroenterology Unit, Córdoba, Spain, 8Hospital General Universitario Gregorio Marañón, Gastroenterology Unit, Madrid, Spain, 9Complejo Hospitalario Universitario de Santiago, Gastroenterology Unit, Santiago de Compostela, Spain, 10Hospital Universitario Puerta de Hierro , Gastroenterology Unit, Madrid, Spain, 11Hospital Universitario La Paz , Gastroenterology Unit, Madrid, Spain, 12Universidad de Alcalá and CIBERehd, Systems Biology, Alcalá de Henares, Spain, 13Hospital Universitario Ramón y Cajal, Gastroenterology Unit, Madrid, Spain, 14Hospital General Universitario de Alicante, Gastroenterology Unit, Alicante, Spain, 15Hospital Clínico Universitario Lozano Blesa and CIBERehd, Gastroenterology Unit, Zaragoza, Spain, 16Hospital de Manises, Gastroenterology Unit, Valencia, Spain
Background
Background: Aims: 1) To evaluate the correlation between TNF concentration and clinical activity in CD patients. 2) To assess the usefulness of measuring TNF serum levels to predict short-term remission with anti-TNF treatment. 3) To evaluate the correlation between TNF serum levels and short term remission in CD patients under anti-TNF treatment.
Methods
CD patients naïve to anti-TNF treatment were prospectively included in this multicenter study. Patients received 160/80 mg adalimumab (ADA) at weeks 0 and 2, and 40 mg every-other-week thereafter, or infliximab (IFX) 5 mg/kg at weeks 0, 2, 6 and 14. Remission was defined as a CDAI score < 150, and response as a decrease of >70 points, after 14 weeks of treatment. Clinical evaluation was assessed and blood samples were obtained at baseline and at weeks 4, 8 and 14. TNF serum levels were measured using a highly sensitive modified ELISA, Collaborative enzyme enhanced reactive immunoassay (CEER). ADA and IFX levels were measured using a homogeneous mobility shift assay (HMSA; Prometheus Lab, San Diego, United States). To study the correlation between TNF concentrations and remission at week 14, only patients with active disease at inclusion (CDAI>150) were considered. ROC curves were constructed and the area under the ROC curve (AUC) was calculated.
Results
117 patients were included (47% had active disease at baseline, 52% received IFX and 48% ADA). Mean TNF levels were 5, 5.2, 5.5 and 8.4 pg/mL at baseline, weeks 4, 8 and 14 respectively. There was no correlation between CDAI score and TNF serum levels at any visit. Among patients with active disease, the AUCs of TNF to predict remission at week 14 were 0.50, 0.62, 0.66 and 0.48 at baseline and week 4, 8 and 14, respectively. Among patients who achieved remission with IFX, TNF levels were lower at baseline (5 vs. 8 pg/mL, p=0.04). However, TNF levels were similar between responders and non responders at the other visits (table 1).
"Comparisons of TNF concentrations between patients that reached and those who did not reach remission"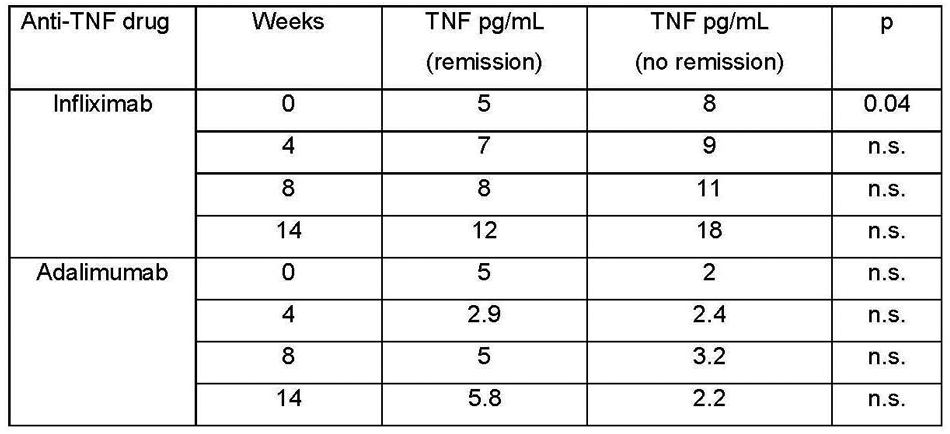 Serum TNF levels were inversely and significantly associated with serum IFX levels at week 14 (data no shown). There were no differences in TNF serum levels between patients that reached remission and those who did not under adalimumab treatment (table 1)
Conclusion
TNF serum levels do not correlate with clinical activity in CD. Although basal TNF levels seem to be lower among CD patients that reach remission under IFX treatment, measuring soluble TNF does not seem useful for either predicting or monitoring anti-TNF treatment during the induction phase in CD patients.