P508 Vedolizumab for the Treatment of Fistulising Crohn's Disease: An Exploratory Analysis of Data From GEMINI 2
B. Feagan*1, D. Schwartz2, S. Danese3, D.T. Rubin4, B. Abhyankar5, M. Smyth6, J. Xu7, K. Lasch8
1Robarts Research Institute, University of Western Ontario, Clinical Trials, London, ON, Canada, 2Inflammatory Bowel Disease Center, Vanderbilt University Medical Center, Medicine, Nashville, TN, United States, 3Istituto Clinico Humanitas, Gastroenterology, Milan, Italy, 4University of Chicago Inflammatory Bowel Disease Center, Gastroenterology, Chicago, IL, United States, 5Takeda Global Research and Development Centre (Europe) Ltd., Clinical Science, London, United Kingdom, 6Takeda Global Research and Development Centre (Europe) Ltd., Medical, London, United Kingdom, 7Takeda Pharmaceuticals International Co., Biostatistics, Cambridge, Massachusetts, United States, 8Takeda Pharmaceuticals International Inc., Medical Affairs, Deerfield, IL, United States
Background
Fistulising disease includes symptoms of anal pain, purulent discharge and incontinence, and is associated with high morbidity and impaired quality of life. Vedolizumab (VDZ) is a monoclonal antibody to α4β7 integrin with demonstrated efficacy and safety in the treatment of Crohn's disease (CD). This exploratory analysis evaluated the efficacy of VDZ in the subpopulation of patients with fistulising CD from a phase 3 placebo (PBO)-controlled trial (GEMINI 2, NCT00783692).[1]
Methods
In GEMINI 2, after 6 weeks (wks) of induction treatment with 2 doses of VDZ, 461 patients achieved a clinical response and received maintenance treatment (intent-to-treat [ITT] population) with PBO or VDZ 300 mg every 8 or 4 wks (Q8W or Q4W). Among patients with fistula at study entry, fistula closure, a prespecified exploratory endpoint, was assessed at each visit (2-6 wk intervals) until wk 52. The percentage of patients achieving fistula closure and mean time to fistula closure were calculated.
Results
At study entry, 57 (12%) patients in the maintenance ITT population had ≥1 draining fistulae, with 74% of fistulae located perianally. Among these patients, 44-49% had failed prior anti-tumour necrosis factor therapy and 39-54% had prior surgery for CD. By wk 14, 28% of patients treated with VDZ/VDZ (Q8W + Q4W combined) had achieved fistula closure (vs 11% VDZ/PBO; Table). This treatment difference was maintained up to wk 52. Kaplan-Meier probabilities of fistula closure with VDZ were 29% and 33% at 6 and 12 months, respectively; notably, the number of patients at risk was small (Figure).
Table. Number of patients with ≥ draining fistulae at wk 0 who achieved fistula closure over time (maintenance ITT population)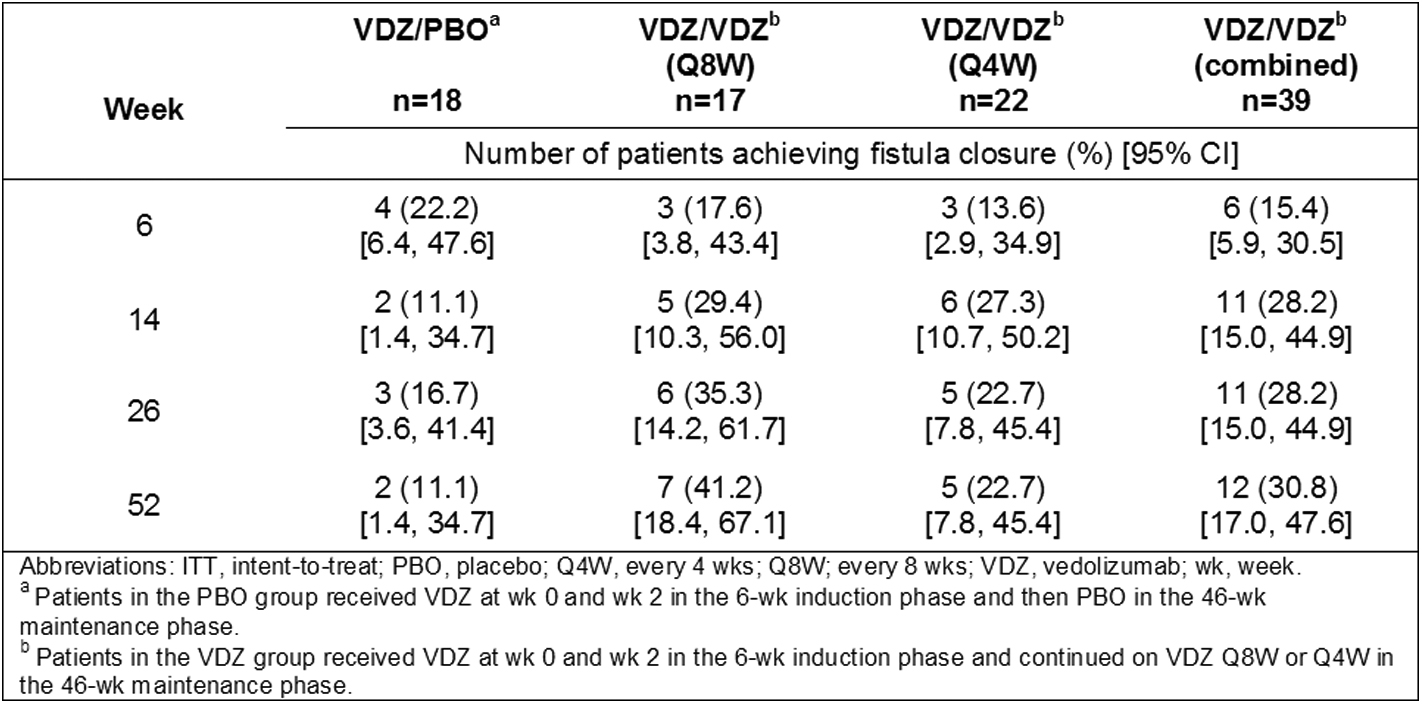 Figure. Mean time to fistula closure in patients with ≥1 draining fistulae at wk 0 (maintenance ITT population)a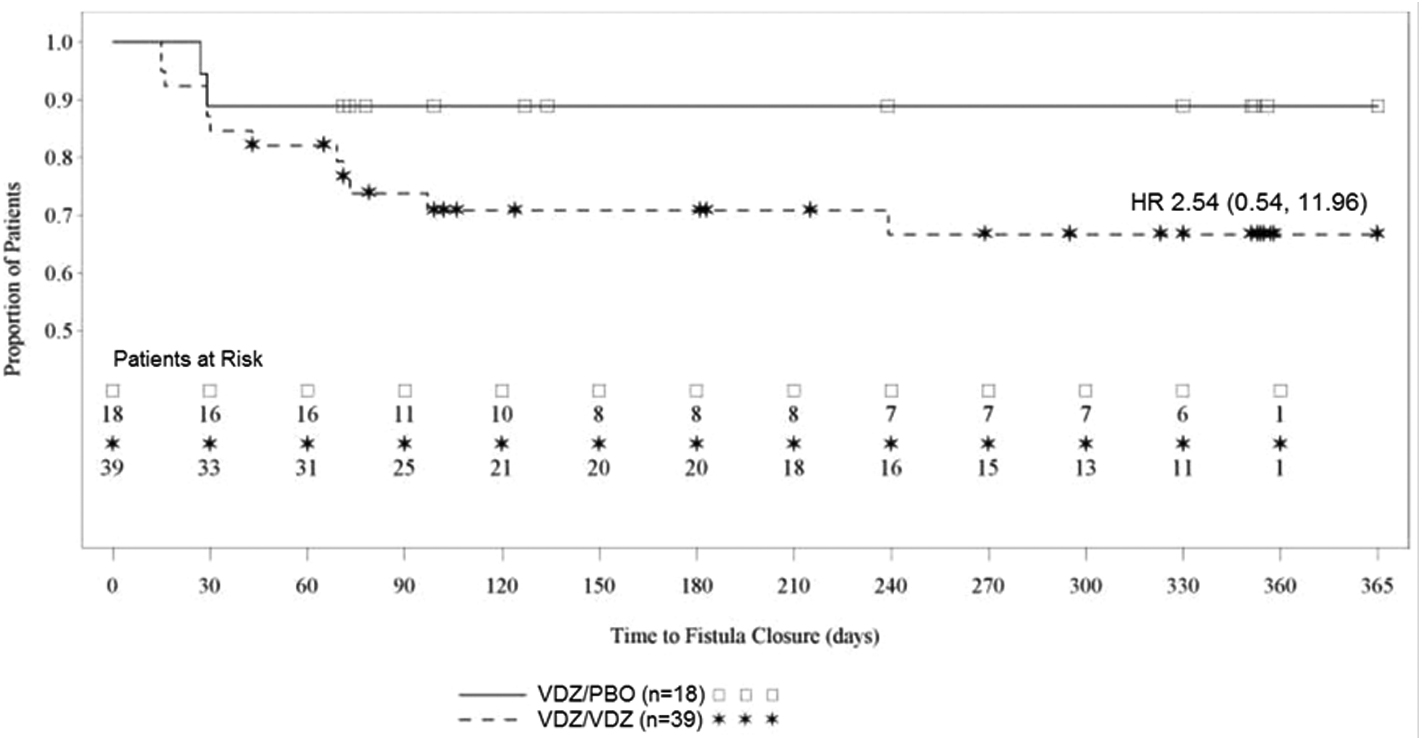 Conclusion
In the GEMINI 2 maintenance ITT population, a greater percentage of CD patients with draining fistulae at wk 0 who continued VDZ treatment after induction achieved fistula closure compared with those who were re-randomised to PBO. This effect was maintained through to wk 52. These preliminary findings supporting the role of VDZ in the treatment of fistulising disease warrant further exploration in dedicated prospective studies in this population.
The clinical study was funded by Millennium Pharmaceuticals, Inc. (d/b/a Takeda Pharmaceuticals International Co.). Medical writing assistance was provided by inVentiv Medical Communications and supported by Takeda Pharmaceuticals International, Inc.
References:
[1] Sandborn WJ, (2013), Vedolizumab as induction and maintenance therapy for Crohn's disease, N Engl J Med, 711-721