P563 Vedolizumab exposure in pregnancy: Outcomes from clinical studies in inflammatory bowel disease
M. Dubinsky*1, U. Mahadevan2, S. Vermeire3, B. Abhyankar4, K. Lasch5
1Mount Sinai Hospital, Pediatric Gastroenterology, New York, United States, 2University of California San Francisco, Clinical Medicine, CA, United States, 3University Hospital Gasthuisberg, Gastroenterology, Leuven, Belgium, 4Takeda Global Research and Development Centre (Europe) Ltd., Clinical Science, London, United Kingdom, 5Takeda Pharmaceuticals International Inc., Medical Affairs, Deerfield, IL, United States
Background
Vedolizumab (VDZ) is a gut-selective immunoglobulin G1 monoclonal antibody to α4β7 integrin with demonstrated efficacy and safety in the treatment of Crohn's disease (CD) and ulcerative colitis (UC) in adults. Placental transfer of VDZ is anticipated to be similar to all other immunoglobulin G1 therapeutic antibodies and increases in a linear fashion as pregnancy progresses, with the largest amount transferred during the third trimester. There are no controlled studies with VDZ in pregnant women. Here we report the effect of VDZ on pregnancy outcomes for female study participants and partners of male patients exposed in clinical studies.
Methods
Data from the VDZ clinical development programme up to 27 June 2013 were reviewed. According to the study protocols, female participants who became pregnant were to discontinue the study. The outcomes of pregnancies for female participants who became pregnant during the study and male patients with pregnant partners were summarised descriptively.
Table: Number and outcome of patient/healthy volunteer pregnancies and partner pregnancies in clinical studies with vedolizumab
Results
The number of pregnancies reported were 27 in females (25 in patients with UC or CD, 2 in healthy volunteers) and 20 pregnancies in the partners of male patients in 6 clinical studies (placebo and VDZ were administered in 2 single dose studies and 2 multiple dose 1-year studies; VDZ was also administered in 2 long-term, open-label, multiple dose studies of 78 weeks and 4 years [ongoing]; Table). Of the 24 VDZ-treated females, 11 resulted in live births (2 premature). A congenital anomaly of agenesis of the corpus callosum was reported in the healthy volunteer with an obstetric history of 2 spontaneous abortions and 1 ectopic pregnancy who had received a single dose of VDZ 79 days prior to the estimated date of conception. Among the 16 VDZ-exposed partner pregnancies, there were 9 live births, 2 spontaneous abortions, 2 elective terminations, and 3 undocumented outcomes at the last follow-up.
Conclusion
Although female participants were discontinued if they became pregnant during the study, data from the VDZ clinical development programme provide some insight into pregnancy outcomes of VDZ-treated patients. An observational pregnancy registry enrolling patients with UC or CD on VDZ is currently in development to observe and evaluate the long-term safety of VDZ in pregnancy.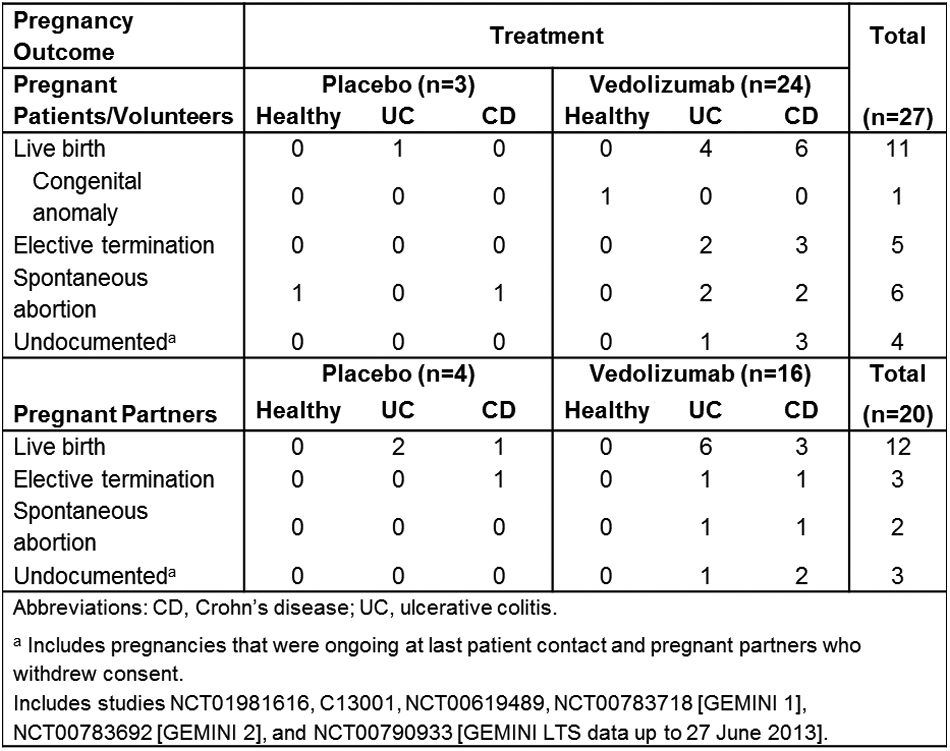 Table: XXXXXXX
The clinical study was funded by Millennium Pharmaceuticals, Inc. (d/b/a Takeda Pharmaceuticals International Co.). Medical writing assistance was provided by inVentiv Medical Communications and supported by Takeda Pharmaceuticals International, Inc.