P573 eHealth optimises documentation and enables live access to IBD Multi Disciplinary Team outcomes
C.A. Parisinos*1, P. Harrow2, L. Langmead2, D.A. van Heel1, J.O. Lindsay1
1Queen Mary University of London, Centre for Digestive Diseases, London, United Kingdom, 2The Royal London Hospital, Centre for Digestive Diseases, London, United Kingdom
Background
At the Royal London Hospital (Barts Health NHS Trust), weekly multidisciplinary (MDT) meetings are held to discuss patients with complex inflammatory bowel disease (IBD). A recent report has highlighted the role of electronic record keeping in improving effectiveness of MDT meetings [1].
Documentation of IBD MDT outcomes has historically relied on a three-step process:
1) Individual IBD Consultant taking written notes on their own patients' MDT outcomes.
2) Subsequent letter dictation, sent to GP and patient by secretary.
3) Letter scanned into "semi-electronic" patient record "EPR" filestore by administrative staff.
We streamlined this process and assessed the effectiveness of a single-step intervention (documentation of MDT outcomes straight into Trust-wide electronic patient health records "CRS", also visible live to primary care GPs) in:
a) Improving MDT documentation rates.
b) Providing same day access to MDT outcomes to healthcare professionals.
Methods
We retrospectively reviewed electronic hospital records of all patients discussed 2 months prior (n=94) and 2 months post (n=98) our intervention. Comparison of pre and post intervention findings (R statistics package) was performed.
Results
192 patients were discussed (94/192 pre and 98/192 post intervention) over a period of four months. Following live CRS electronic documentation, 92/98 (94%) patients had a formally recorded IBD outcome compared to 57/94 (61%) previously, a significant 33% improvement (p=3.3e-08, chi-squared test).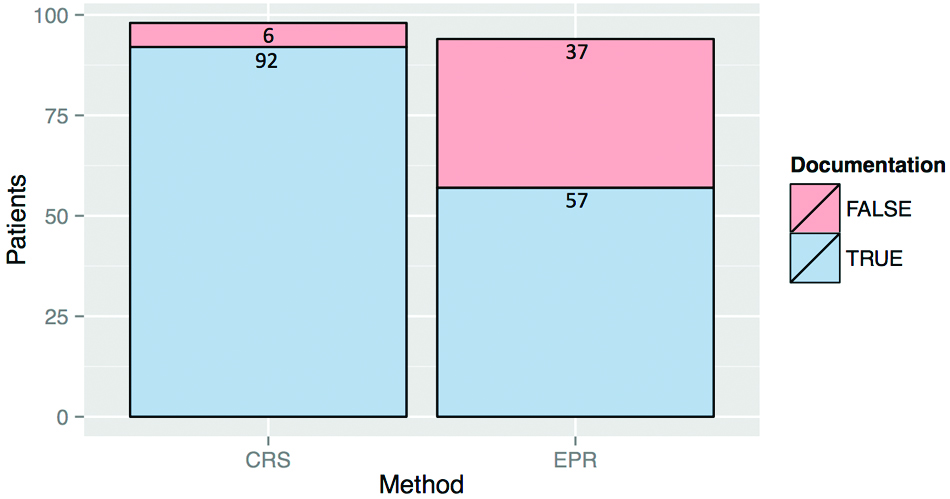 "IBD MDT outcome documentation rates pre (EPR) and post (CRS) intervention."
Median time to data entry was 0 days post intervention (Interquartile Range 0) compared to 4 days (Interquartile Range 1.5–9) prior (p=2.2e-16, Mann Whitney U test).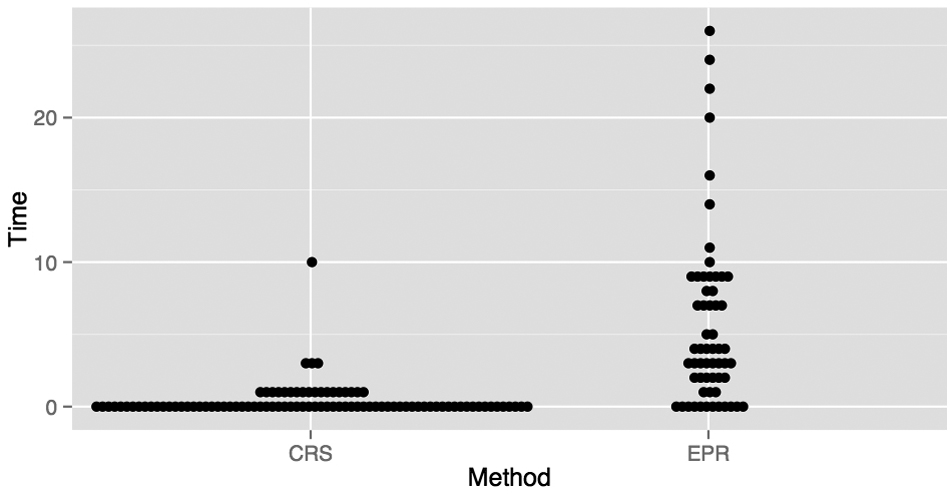 "Dot plot comparing time (in days) required for individual MDT outcome to be available pre (EPR) and post (CRS) intervention"
Conclusion
Patients with IBD often rely on acute services and staff (emergency & acute medicine, rotating gastroenterology trainees) that manage unfamiliar inpatient and outpatient complex cases immediately after a MDT discussion, often during night shifts and busy clinics. Live electronic data input improves completion rates and provides same day MDT outcomes, optimising access to healthcare professionals involved in the care of patients with IBD. Electronic notes are entered in letter format (GPs can view live data), with hard copies generated and sent to patients.
We are now expanding our model to other MDTs (e.g. Cardiology) with similar needs.
References:
[1] Raine R, Wallace I, Nic a' Baird C, et al, (2014), Improving the effectiveness of multidisciplinary team meetings for patients with chronic diseases: a prospective study, NIHR, Health Services and Delivery Research