P584 Infliximab therapy for Japanese patients with ulcerative colitis: Efficacy, safety, and association between serum infliximab levels and early response in a randomized, double-blind, placebo-controlled study
Y. Suzuki*1, S. Motoya2, F. Hirai3, H. Ogata4, H. Ito5, N. Sato6, K. Ozaki7, M. Watanabe8, T. Hibi9
1Toho University Sakura Medical Center, Department of Internal Medicine, Sakura, Japan, 2Sapporo-kosei General Hospital, Inflammatory Bowel Diseases Center, Sapporo, Japan, 3Fukuoka University Chikushi Hospital, Department of Gastroenterology, Chikushino, Japan, 4Keio University School of Medicine, Center for Diagnostic and Therapeutic Endoscopy, Tokyo, Japan, 5Kitano Hospital The Tazuke Kofukai Medical Research Institute, Digestive Disease Center, Osaka, Japan, 6Mitsubishi Tanabe Pharma Corporation, Pharmacovigilance & Quality Assurance Division, Osaka, Japan, 7Mitsubishi Tanabe Pharma Corporation, Development Division, Tokyo, Japan, 8Tokyo Medical and Dental University, Department of Gastroenterology and Hepatology, Tokyo, Japan, 9Kitasato University Kitasato Institute Hospital, Center for Advanced IBD Research and Treatment, Tokyo, Japan
Background
Although infliximab (IFX) is reported to be effective for ulcerative colitis (UC), some patients show an inadequate response. Treatment in these cases should be immediately switched to another therapy. Here, we conducted a clinical trial to clarify the efficacy and safety of IFX in Japanese patients with UC (Japic CTI-060298). In addition, we conducted a post-hoc analysis to determine whether an early response to IFX is associated with serum levels of the drug.
Methods
The study was conducted under a randomized, double-blind, placebo-controlled design in 208 patients with moderate-to-severe active UC. Patients received placebo or 5 mg/kg IFX at Weeks 0, 2, and 6, and efficacy was assessed at Week 8. Patients with a lower Mayo score at Week 8 than at baseline were further treated with placebo or IFX at Weeks 14 and 22, and assessed for efficacy until Week 30, and for safety and pharmacokinetics until Week 38. Clinical response, clinical remission, and mucosal healing were defined by the Mayo score.
Results
At Week 8, clinical response rate, the primary endpoint, was significantly higher in patients who received IFX than in those who received placebo (54.8% [57/104] vs. 35.6% [37/104], p=0.005). Clinical remission rate showed a marginally significant difference (20.2% [21/104] vs. 10.6% [11/104], respectively; p=0.054) while mucosal healing rate showed a statistically significant difference (46.2% [48/104] vs. 27.9% [29/104], respectively; p=0.006). At Week 30, clinical response rate was significantly higher in the IFX group (46.2% [48/104]) than in the placebo group (31.7% [33/104]) (p=0.033). The incidence of adverse events and serious adverse events between groups was similar (IFX, 96.2% [100/104] and 17.3% [18/104]; placebo, 90.4% [94/104] and 18.3% [19/104], respectively). Serum IFX levels at Week 8 were highest in those with clinical remission, followed in order by those with a clinical response without remission and no response (p=0.009). Serum IFX levels at Week 14 markedly differed between patients with a Clinical Activity Index (CAI) of ≤ 4 and those with ≥ 5 (Figure). This significant difference in serum IFX level by CAI score at Week 14 was found from Week 2.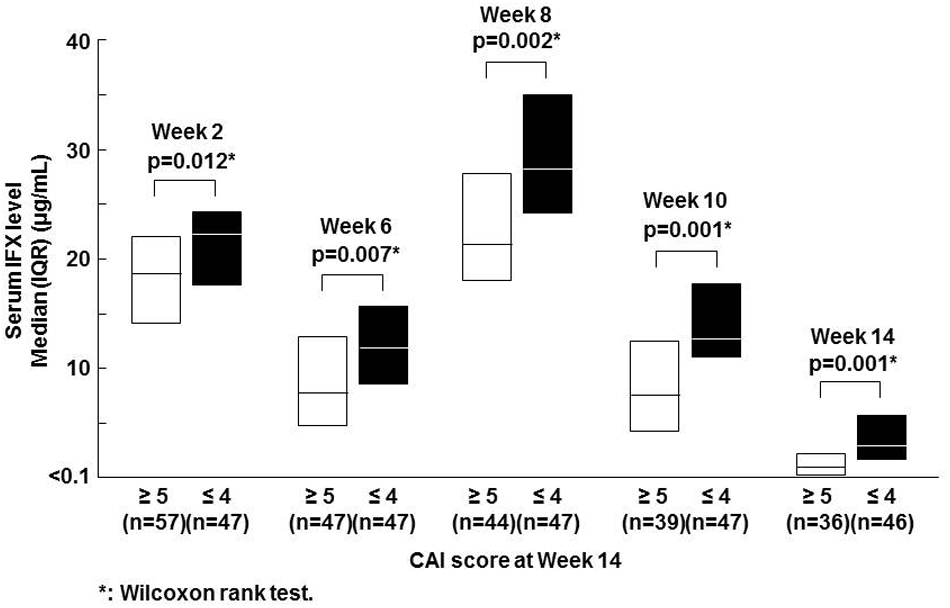 "Figure: Serum IFX levels at Weeks 2, 6, 8, 10, 14 according to clinical efficacy at Week 14."
Conclusion
IFX was superior to placebo in achieving a clinical response and mucosal healing in Japanese patients with UC. An early response to IFX was associated with serum levels, and the relationship was seen even at the initial stage of administration.