P588 A prospective evaluation of adalimumab drug levels and anti-drug antibodies using two commercial ELISA and the influence of 6-thioguanine nucleotides amongst patients with Crohn's disease
M. Ward*1, 2, B. Warner2, S.W. Chuah3, 4, S. Shieh3, N. Unsworth5, J. Sanderson2, M. Parkes3, Z. Arkir5, P. Irving2
1Alfred Hospital, Gastroenterology, Melbourne, Australia, 2Guy's and St. Thomas Hospital, Gastroenterology, London, United Kingdom, 3The Queen Elizabeth Hospital NHS Trust & Addenbrookes Hospital, Gastroenterology, King's Lynn & Cambridge, United Kingdom, 4Singapore General Hospital, Department of Internal Medicine, Singapore, Singapore, 5Guy's and St. Thomas Hospital, Reference Chemistry, Viapath, London, United Kingdom
Background
Some [1],[2] but not all [3] studies have demonstrated a relationship between therapeutic drug monitoring (TDM) of adalimumab (ADA) and outcomes in Crohn's disease (CD). We evaluated the utility of TDM of ADA in patients with CD using two commercially available ELISA
Methods
ADA drug levels (DL) and anti-drug antibodies (ADAb) were measured in CD patients (n=80) from 2 tertiary referral centres, between November 13 and February 14 using the Lisa-Tracker Duo ((LT) Theradiag, France) and Immundiagnostik ELISA ((IM) Germany). Faecal calprotectin (FC), C-reactive protein(CRP;<5ng/mL remission) and clinical activity (Harvey Bradshaw Index,(HBI)<5 remission)were also recorded. LT kits were provided by Theradiag at no cost.
Results
Neither assay showed a significant difference in ADA DL between remission and active disease (Table 1).
"Table 1"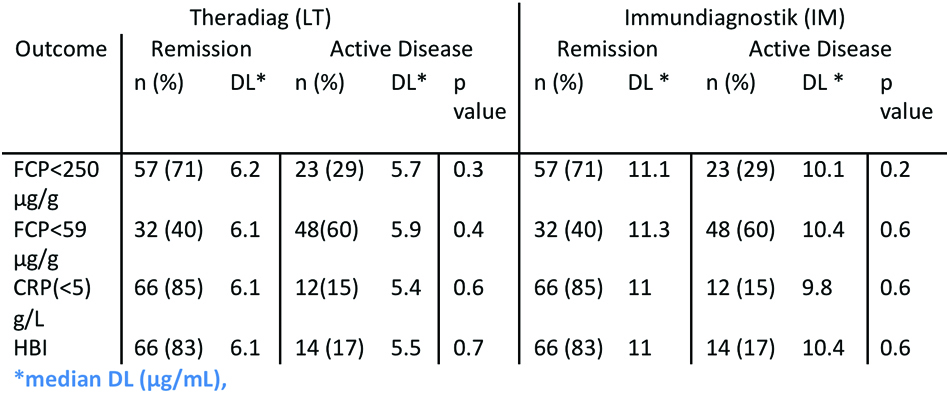 No significant differences in DL were observed in TDM performed at trough (day 13 or 14,n=13) or at any other time in the treatment cycle, nor amongst those receiving ADA every other week compared to weekly. Thiopurine metabolites (TGN) were performed in 51/52 patients taking thiopurines, (median 302, IQR 242-411pmol/8 × 108). There was no significant difference between DL and TGN according to TGN quartiles. ADAb were detected in 1(1.3%) patient using LT and 4(5%) using IM. Concomitant immunomodulation or therapeutic TGN(>235) did not significantly influence median DL or the detection of ADAb with either assay. IM ADA showed proportional positive bias (79.6%) against LT (Passing Bablok regression IM= 1.74 LT - 0.06)
Conclusion
No optimal cut-off could be identified that predicted clinical or biochemical remission or FC. Concomitant immunomodulation and TGN concentration was not associated with higher ADA DL . ADAb development was very rare whether measuring free (LT) or total (IM) ADAb. Further studies are needed to establish the cause of DL variation and understand differences in ADA pharmacokinetics in patients with CD.
References:
[1] Mazor Y, (2014), Adalimumab drug and antibody levels as predictors of clinical and laboratory response in patients with Crohn's disease, Alimentary Pharmacology and Therapeutics, 620-628
[2] Roblin X, (2014), Association Between Pharmacokinetics of Adalimumab and Mucosal Healing in Patients With Inflammatory Bowel Diseases, Clinical Gastroenterology and Hepatology, 80-84
[3] Chiu Y-L, (2013), Serum Adalimumab Concentration and Clinical Remission in Patients with Crohns Disease, Inflammatory Bowel Diseases, 1112-1122