P593 Efficacy and safety of retreatment with vedolizumab in patients with Crohn's disease
B.E. Sands*1, I. Shafran2, F.A. Farraye3, A.S. Cheifetz4, B. Abhyankar5, S. Sankoh6, M. Smyth7
1Icahn School of Medicine at Mount Sinai Hospital, Gastroenterology, New York, United States, 2Shafran Gastroenterology Center, Gastroenterology, Winter Park, FL, United States, 3Boston Medical Center, Gastroenterology, Boston, MA, United States, 4Beth Israel Deaconess Medical Center, Medicine, Boston, MA, United States, 5Takeda Global Research and Development Centre (Europe) Ltd., Clinical Science, London, United Kingdom, 6Takeda Pharmaceuticals International Co., Statistics, Cambridge, Massachusetts, United States, 7Takeda Global Research and Development Centre (Europe) Ltd., Medical, London, United Kingdom
Background
Retreatment of patients (pts) with Crohn's disease (CD) after a drug holiday is a commonly encountered clinical situation. Vedolizumab (VDZ) is a monoclonal antibody to α4β7 integrin. The efficacy and safety of VDZ in pts with CD were investigated in the phase 3 GEMINI 2 study (NCT00783692).[1] This interim analysis (22 May 2009 - 27 June 2013) of data from the ongoing, open-label GEMINI long-term safety (LTS) study (NCT00790933) examined the effects of VDZ retreatment in pts who rolled over from the double-blind placebo (PBO)-controlled GEMINI 2 study after a drug holiday of up to 1 year.
Methods
In GEMINI 2, after 6 weeks of induction therapy, VDZ responders were re-randomised to PBO or VDZ every 8 or 4 weeks (Q8W or Q4W) during the 46-week maintenance period (maintenance intent-to-treat [ITT] population). Pts who completed the study (n=205) or withdrew early (due to sustained non-response, disease worsening, or the need for rescue medication; n=156) were eligible to enrol into GEMINI LTS to receive open-label VDZ Q4W. Here we evaluate rates of clinical response and remission with VDZ retreatment in these rollover pts in GEMINI LTS (prespecified analyses). Rates were calculated based on the number of pts at week 0 of GEMINI LTS. Adverse event (AE) and serious adverse event (SAE) rates were also evaluated.
Results
Pts from GEMINI 2 who were re-randomised to PBO in the maintenance phase (weeks 6-52; PBO completers) or those who discontinued due to loss of response or sustained non-response (VDZ Q8W or Q4W early terminators [ETs]) regained response when retreated with VDZ Q4W in GEMINI LTS (Table). Similar trends were noted with VDZ retreatment in the subpopulations of completers or ETs with prior tumour necrosis factor antagonist failure. No increase in AE or SAE rates was observed with VDZ retreatment. Rates of SAEs of anal fistula or abscess were ≤2% for PBO-treated pts (completers and ETs combined) retreated with VDZ (vs ≤1% in VDZ-treated completers and ETs combined).
Table. Rates of clinical response and remission by GEMINI 2 treatment group (maintenance ITT population of GEMINI 2 completers and early terminators)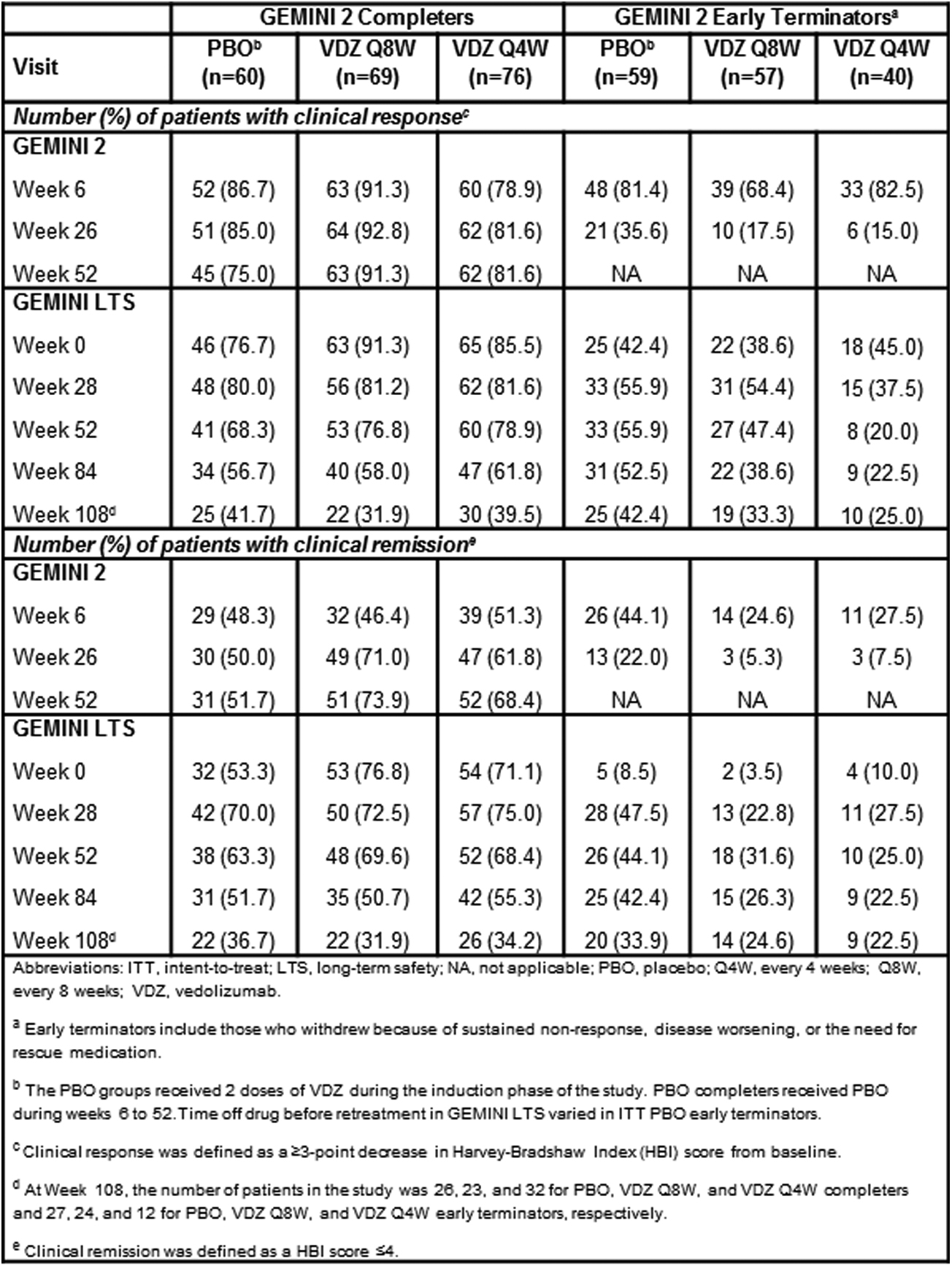 Conclusion
Pts with CD from GEMINI 2 who responded to VDZ induction therapy and had a drug holiday for up to 1 year were safely retreated with VDZ Q4W in GEMINI LTS and experienced clinical benefits.
The clinical study was funded by Millennium Pharmaceuticals, Inc. (d/b/a Takeda Pharmaceuticals International Co.). Medical writing assistance was provided by inVentiv Medical Communications and supported by Takeda Pharmaceuticals International, Inc.
References:
[1] Sandborn WJ, (2013), Vedolizumab as induction and maintenance therapy for Crohn's disease, N Engl J Med, 711-721