P620 Granulo-monocytes Apheresis Induce TGFbeta1 Modulation in Neutrophils of Patients Suffering from Ulcerative Colitis: A Possible Role of Soluble HLA-I Molecules.
M. Ghio1, G. Bodini*1, P. Contini1, V. Savarino1, E. Savarino1, 2
1IRCCS San Martino Genova, Dipartimento di medicina interna, Genova, Italy, 2University of Padua, Department of Surgery, Oncology and Gastroenterology, padova, Italy
Background
Plasmapheresis is used in immune-mediate disease in order to remove humoral factors and, in addition, to modulate cellular immunity. It has been shown that during aphaeretic centrifugation , whole and/or re-folded soluble HLA class I molecules (sHLA-I) bind to the circuit surfaces. Similarly, neutrophils can bind sHLA-I molecules with immunoglobulin-like transcript (ILT) membrane receptors, becoming hereafter sensitive to the immunomodulation of sHLA-I such as transcriptional and post-transcriptional transforming growth factor (TGF)-beta1 modulation. On the other hand, TGFbeta signaling plays a major role in the pathogenesis of inflammatory bowel diseases and it is known to directly induce Foxp3 expression. Besides, Foxp3 expression has been reported increased in patients who responded to granulocytes apheresis with remission of clinical symptoms.
The aim of this prospective study was to evaluate a possible sHLA-I mediated immunomodulation in granulocytes and monocytes apheresis in ulcerative colitis patients who responded to therapy.
Methods
We prospectively enrolled a total of 10 patients (4M/6F; mean age 49, range 27-73) who achieved clinical remission with GMA. The GMA sessions (5 cycle/session) were performed using Adacolumn device. Instantly before each single apheresis and immediately after each procedure, neutrophils were analyzed for a possible in vivo aftermath of sHLA-I binding with corresponding ligands Ig-like-transcripts. The concentrations of sFasL molecules were determined by double-determinant immunoassay (DDIA) and the concentrations of TGFb1 were determined by double-determinant immunoassays utilizing a commercially available kits.
Results
Between every GMA cycle a significant upregulation of intracytoplasmic TGFbeta1 molecule or TGFbeta1-mRNA was observed in neutrophils and CD8+ T lymphocytes drawn along the apheretic therapeutic treatments. In particular, the greatest mean increase was found after the first and the forth GMA cycles (from +1% to +30%) (IMAGE.01). A significant up-regulation of sFasL and TGFbeta1 concentrations in plasma was observed along the procedures. Similarly, the mean difference increases in comparison with previous samples were constantly found raising during scheduled blood sampling for both molecules (IMAGE.02 and 03). In CD4+ T lymphocytes, unable to bind sHLA-I, the aphaeretic procedures never induced TGFbeta1 modulation
Plasma TGFβ1 differences respect with previous sample timing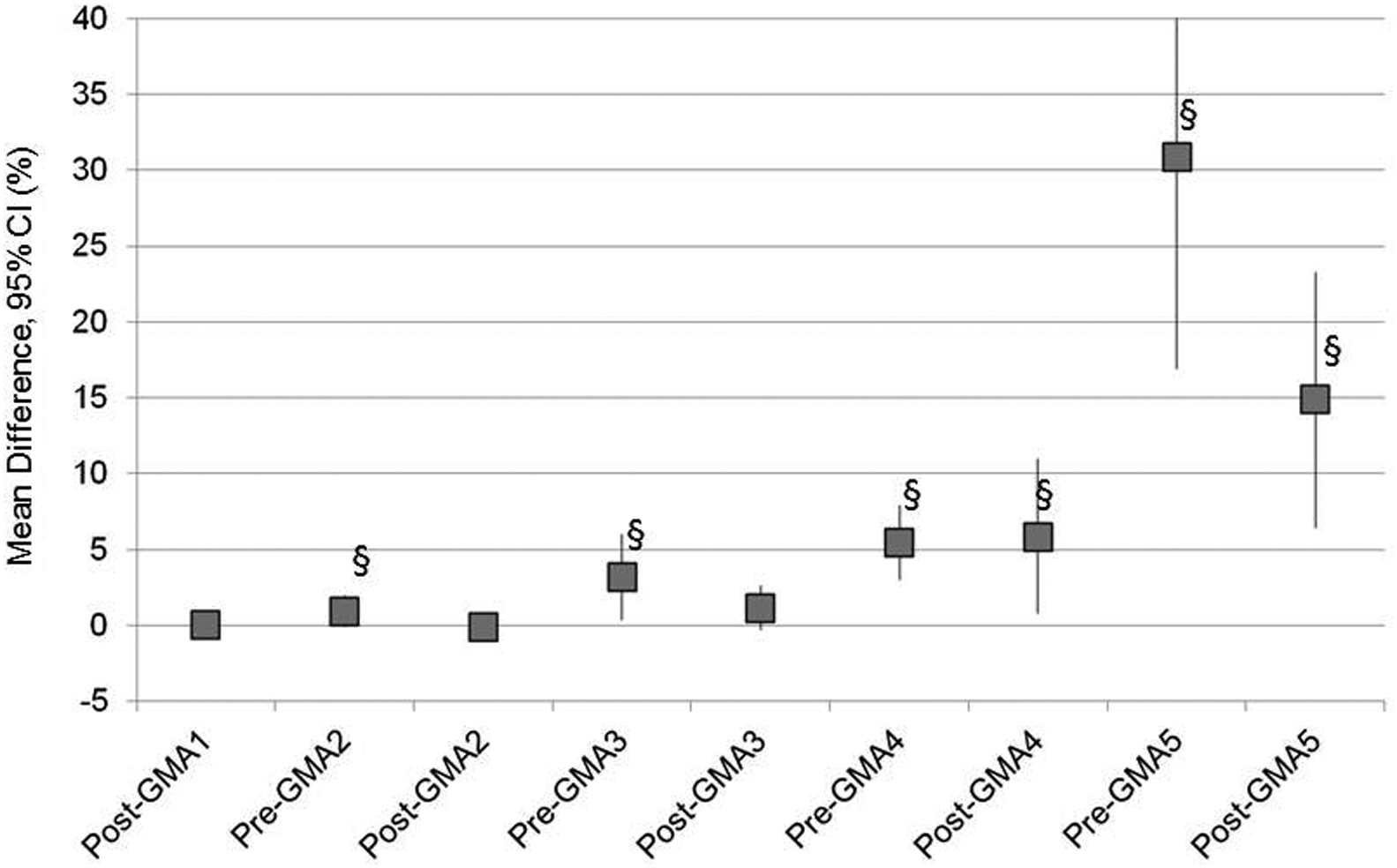 TGFβ1 Cytofluorimeter differences in CD66b cells respect with previous sample timing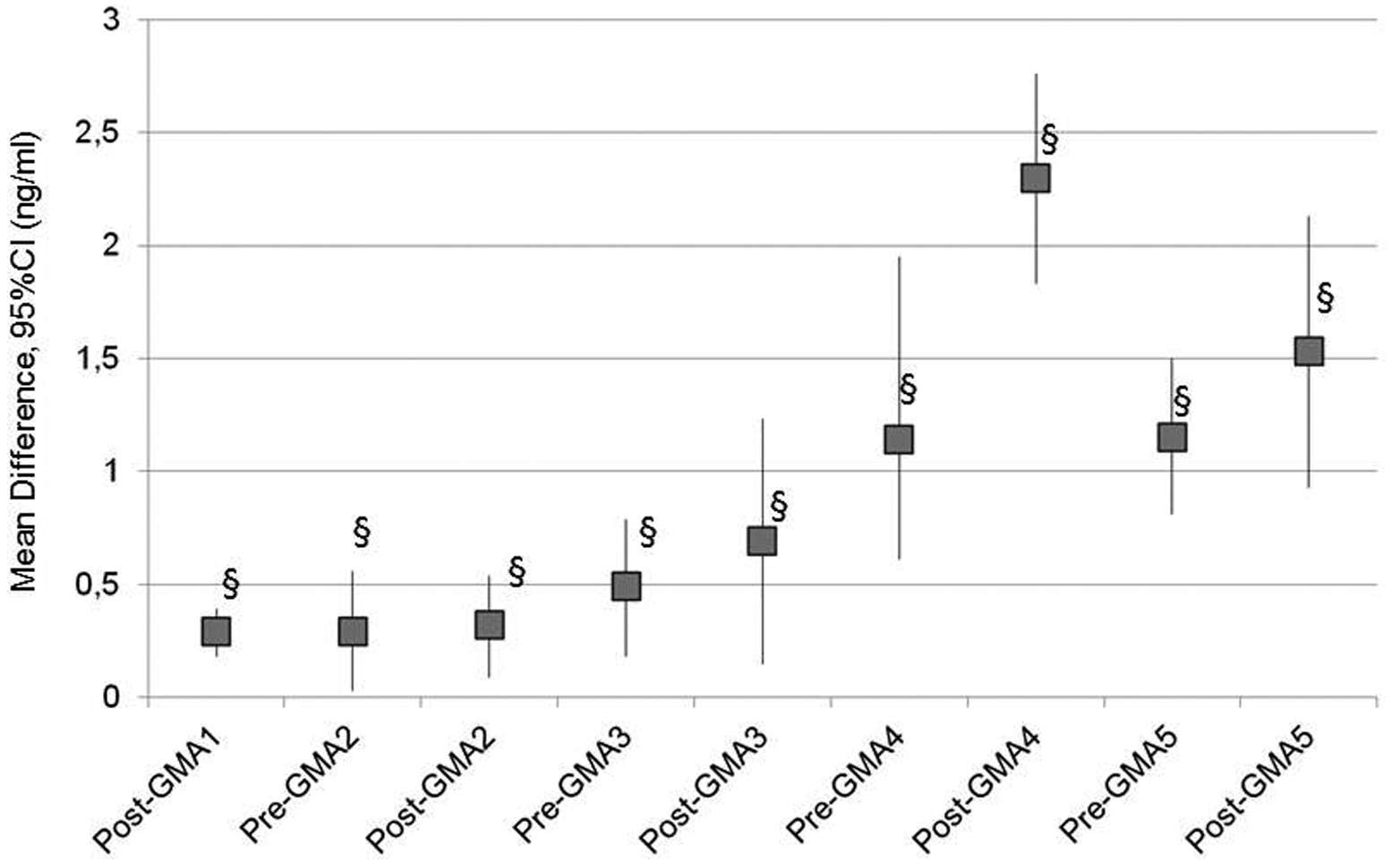 Plasma sFasL differences respect with previous sample timing
Conclusion
Our findings suggest that the immunosuppressive effects following therapeutic apheresis might at least in part depend on activated leukocyte sensitivity to sHLA-I molecule bioactivity.