P622 Infusion-related reactions with vedolizumab treatment in patients with UC or CD during the GEMINI 1 and GEMINI 2 clinical trials
B.E. Sands*1, R. Cohen2, K. Isaacs3, R.N. Fedorak4, B. Abhyankar5, S. Sankoh6, M. Smyth7
1Icahn School of Medicine at Mount Sinai Hospital, Gastroenterology, New York, United States, 2The University of Chicago Medicine, Medicine, Chicago, IL, United States, 3UNC School of Medicine, Medicine, North Carolina, United States, 4University of Alberta, Medicine, Edmonton, Alberta, Canada, 5Takeda Global Research and Development Centre (Europe) Ltd., Clinical Science, London, United Kingdom, 6Takeda Pharmaceuticals International Co., Statistics, Cambridge, Massachusetts, United States, 7Takeda Global Research and Development Centre (Europe) Ltd., Medical, London, United Kingdom
Background
Vedolizumab (VDZ) is a monoclonal antibody that specifically targets the α4β7 integrin. The efficacy and safety of VDZ in patients with ulcerative colitis (UC) and Crohn's disease (CD) were demonstrated in the phase 3, placebo (PBO)-controlled GEMINI 1 (NCT00783718)[1] and GEMINI 2 (NCT00783692)[2] studies, respectively. In these studies, ≤5% of VDZ-treated patients experienced adverse events (AEs) defined by the investigator as infusion-related reactions (IRRs). Here, we describe the reported IRRs and use of premedication in GEMINI 1 and 2.
Methods
GEMINI 1 and 2 both consisted of a 6-week induction phase followed by a 46-week maintenance phase. Post hoc analyses were performed for patients who received either PBO or VDZ continuously throughout the induction and maintenance phases to identify the AEs reported as investigator-defined IRRs in each study. Time of onset for IRRs was also evaluated. Premedication use was summarised by study visit.
Results
IRRs were reported for 28 (5%) and 33 (4%) patients treated with VDZ in GEMINI 1 (UC) and GEMINI 2 (CD), respectively. In each study, >70% of all IRRs occurred during or within the first 2 hours after the end of an infusion. The most common IRRs were nausea (CD n=8; <1%) and headache (UC n=2, <1%; CD n=4, <1%; Table). One patient with CD had an IRR that was considered serious and resulted in study drug discontinuation. Her symptoms, including dyspnoea, bronchospasm, hives, flushing, rash, and increased blood pressure and heart rate, began 13 minutes after the start of an infusion and resolved about 3 hours later with treatment. No serious IRRs were reported in patients with UC. Premedication, predominantly antihistamines and corticosteroids, was used in 5% and 7% of VDZ-treated UC and CD patients, respectively, a rate similar to that in PBO-treated patients (5% UC and 6% CD).
Table. Adverse events defined by the investigator as infusion-related reactions in ≥2 patients with ulcerative colitis or Crohn's disease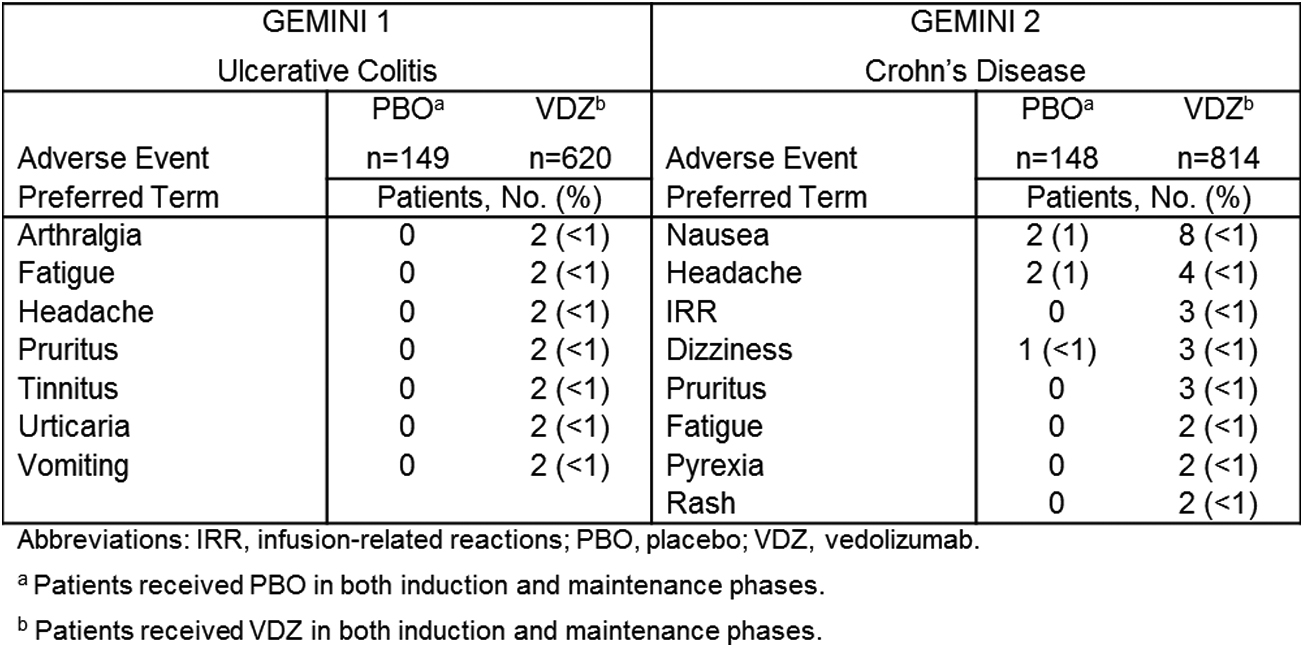 Conclusion
IRRs occurred in ≤5% of patients receiving VDZ infusions; 70% of all IRRs occurred within 2 hours. Premedication was administered infrequently. These results indicate that VDZ infusions were generally well tolerated by patients.
The clinical study was funded by Millennium Pharmaceuticals, Inc. (d/b/a Takeda Pharmaceuticals International Co.). Medical writing assistance was provided by inVentiv Medical Communications and supported by Takeda Pharmaceuticals International, Inc.
References:
[1] Feagan BG, (2013), Vedolizumab as induction and maintenance therapy for ulcerative colitis, N Engl J Med, 699-710
[2] Sandborn WJ, (2013), Vedolizumab as induction and maintenance therapy for Crohn's disease, N Engl J Med, 711-721