P633 Does computerised cognitive behavioural therapy help people with Inflammatory Bowel Disease? A randomized controlled trial
A. McCombie*1, R. Gearry2, R. Mulder1, J. Andrews3, A. Mikocka-Walus4
1University of Otago, Medicine, Christchurch, New Zealand, 2University of Otago, Christchurch Hospital, Medicine and Gastroenterology, Christchurch, New Zealand, 3Royal Adelaide Hospital, Gastroenterology and Hepatology, Adelaide, Australia, 4University of York, Health Sciences, York, United Kingdom
Background
Psychotherapy, especially cognitive behavioural therapy (CBT), may be a useful intervention for some inflammatory bowel disease (IBD) patients, especially those with psychiatric comorbidities [1] . However, CBT can be financially and practically difficult to access. These difficulties can be overcome by computerised CBT (CCBT) [2] . This is a randomized controlled trial of a CCBT intervention for IBD patients. It is hypothesised that those who complete an IBD-specific CCBT program will have improved health-related quality of life (HRQOL), anxiety, depression, stage of change, coping strategies, perceived stress, and IBD symptoms relative to people not allocated to the CCBT.
Methods
IBD patients were randomly allocated to CCBT (n=113) or treatment as usual (TAU; n=86). The IBD questionnaire (IBDQ) at twelve weeks after baseline was the primary outcome while generic HRQOL, anxiety, depression, stage of change, coping strategies, perceived stress, and IBD symptoms were the secondary outcomes. Outcomes were also measured at six months after baseline.
Results
Twenty-nine CCBT participants (25.7%) completed (i.e. downloaded >50% of the resources) the CCBT. IBDQ was significantly increased at twelve weeks in CCBT completers compared to TAU patients (F=6.38, p=0.01; Figure 1).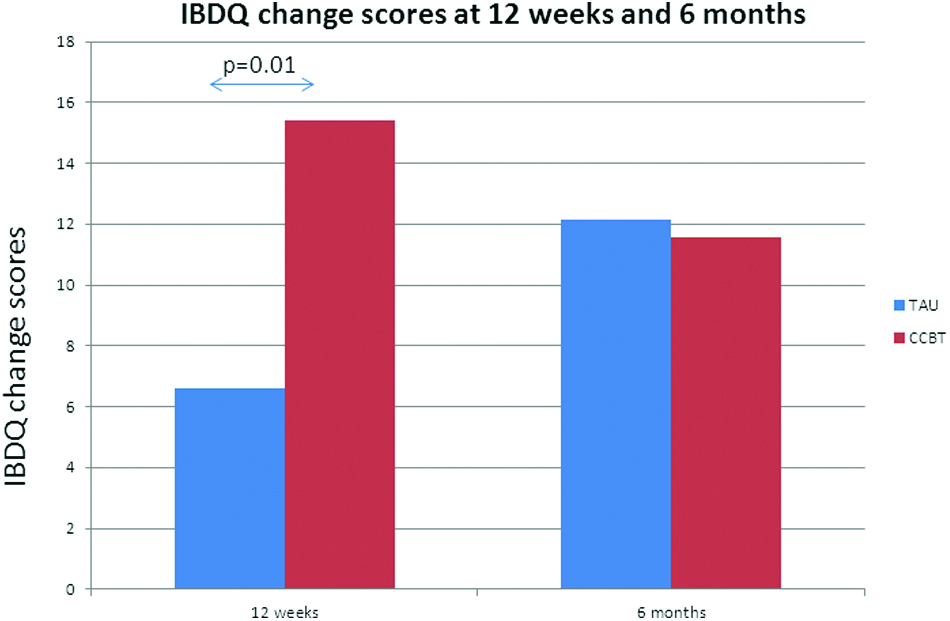 "IBDQ change scores at 12 weeks and 6 months"
SF-12 mental (F=5.00, p=0.03) and the action stage of change (F=4.86, p=0.03) also improved significantly in the CCBT group compared to TAU patients at twelve weeks. These outcomes were no longer significant at six months. Forty participants completed the acceptability questionnaires about their perceptions of the program (35.4% response rate). The majority of questionnaire completers enjoyed the program (73.7%), felt it had relevance (87.2%), improved their understanding of IBD (79.5%), improved their physical and/or mental health (74.4%), and would recommend it to others with GI disorders (79.5%).
Conclusion
Improvements in IBDQ scores at twelve weeks after baseline were not maintained at six months. The high dropout rate from the CCBT was of concern and future research should aim to improve adherence rates. Nevertheless, there were positive reports from completers in terms of enjoyment, relevance and improved understanding and no negative effects were reported.
References:
[1] McCombie, AM, et al., (2013), Psychotherapy for inflammatory bowel disease: A review and update., Journal of Crohn's and Colitis, 935-949
[2] Bennett-Levy, J. and Perry, H., (2009), The Promise of Online Cognitive Behavioural Therapy Training for Rural and Remote Mental Health Professionals., Australasian Psychiatry, S121-S124