P645 Perception of social and emotional impact of Ulcerative Colitis by Spanish patients - UC-life survey
D. Carpio*1, F. Argüelles2, X. Calvet3, B. Juliá4, C. Romero4, A. López-Sanromán5
1Complexo Hospitalario Universitario , Gastroenterology, Pontevedra, Spain, 2Hospital Universitario Virgen Macarena, Gastroenterology Unit, Sevilla, Spain, 3Corporació Sanitària Universitària Parc Taulí, Digestive Disease Department. Departament de Medicina. Universitat Autònoma de Barcelona. CIBEREHD – Instituto de Salud Carlos III, Sabadell, Spain, 4Merck Sharp & Dohme, Medical Affairs, Madrid, Spain, 5Hospital Ramón y Cajal, Gastroenterology Unit, Madrid, Spain
Background
Objectives. To describe the social and emotional impact of ulcerative colitis (UC) as perceived by patients followed in hospital clinics from Spain
Methods
UC-LIFE was a survey to UC patients. Each of the 39 participating hospital gastroenterologists handed the survey to 15 consecutive UC patients >18 years. Patients completed the survey at home and returned it by post-mail. The social and emotional aspects comprised a set of questions on the impact of UC on patient feelings, work and personal relationship, with "yes/no" answers and ranks of importance and from "never" to "always or nearly always".
Results
585 patients received the survey and 436 returned it (response rate: 75%). Mean age was 46 years (SD: 13), 53% were men. Median duration of UC was 8 years (IQR: 4-15). Twenty-four percent of patients considered that UC prevented them from normal life always or most of the time; 41% of patients considered that UC determines the kind of job they perform; 55% referred sick-leaves because of UC; 38% of patients recognized that UC decreases their self-confidence and 26% pointed out that UC affects the vitality to take care of their children. Other aspects of life influenced by UC are described in figure 1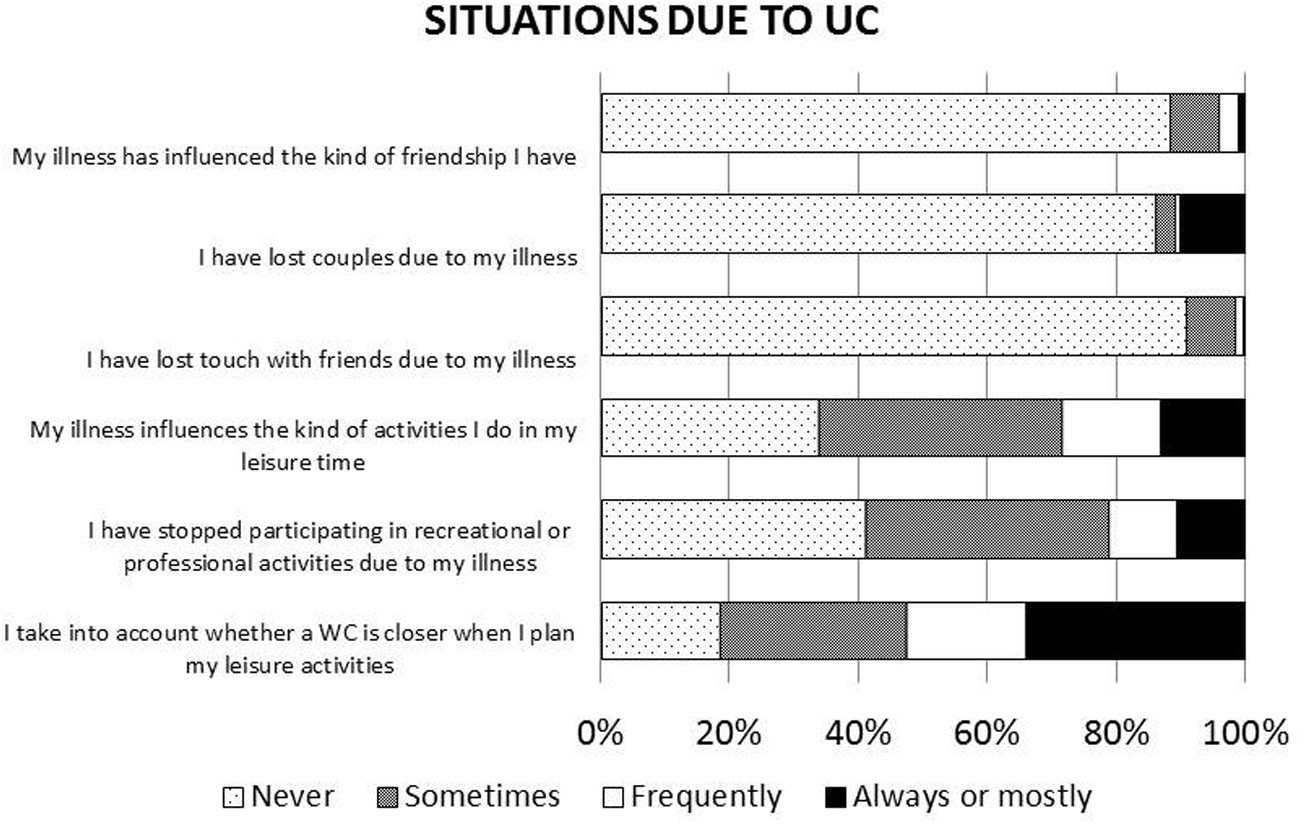 "Situations due to UC"
Regarding the emotional impact of UC, a quarter of patients reported feeling depressed, anxious, angered or unmotivated frequently or most of the time because of UC (figure 2)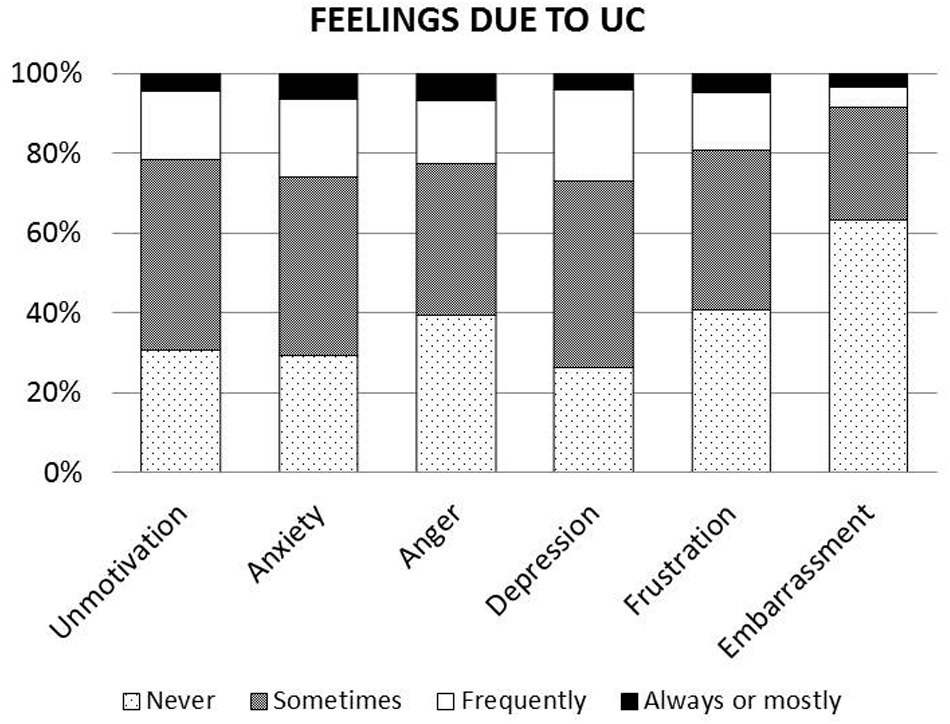 "Feelings due to UC"
The main fear mentioned was the possibility of developing colon cancer, followed by the need of a colostomy and the main concern needing a hospitalization due to UC, followed by to the inability to reach their goals in life due to UC.
Conclusion
In this survey, patients described the high emotional and social impact that UC implies. Self-confidence, relationships, job and leisure activities are frequently affected. These aspects must be part of usual evaluation by treating physicians and their teams. All patients came from hospital clinics and the sample was non-randomized; thus the results must be interpreted in this context.
Acknowledgments. Funded by Merck Sharp & Dohme of Spain and endorsed by ACCU (Crohn's and colitis patients association of Spain)