P657 IBD in migrant South Asians: systematic review of epidemiology and disease phenotype
R. Misra*1, O. Faiz2, N. Arebi1
1St Mark's Hospital, Inflammatory Bowel Disease Unit, London, United Kingdom, 2St Mark's Hospital, Colorectal Surgery & IBD Unit, London, United Kingdom
Background
The epidemiology of inflammatory bowel disease (IBD) differs between developed and developing countries. Migrants moving from low to high incidence countries exhibit the incidence of their adopted country and yet different incidence rates and phenotype are reported between migrants and non-migrants. As the UK has a large South Asian (SA) community, we carried out a systematic review to examine the relationship between SA ethnicity and IBD.
"Table 1: The incidence and prevalence of IBD in South Asians (SA) compared to Caucasians. CD= Crohn's disease; UC = Ulcerative colitis"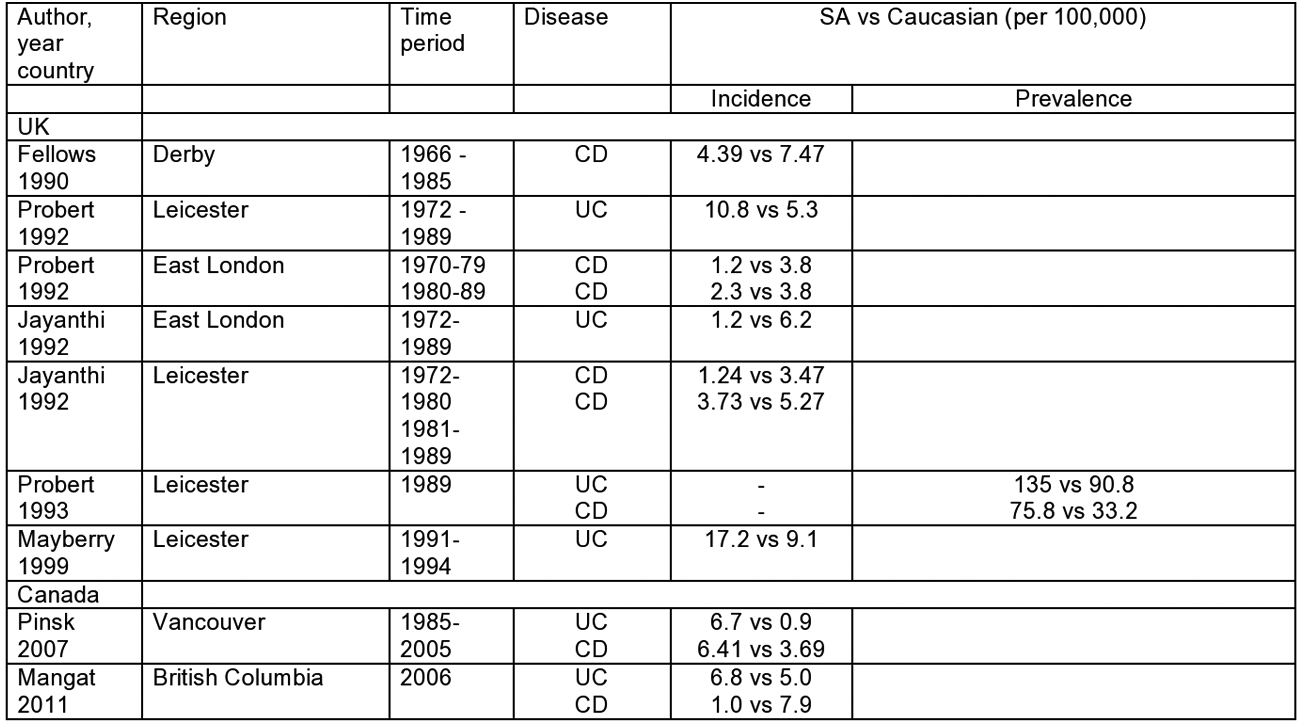 Methods
A structured keyword search in Pubmed and EMBASE was undertaken in accordance with PRISMA guidelines. Studies on incidence, prevalence and disease phenotype of SAs compared to Caucasians were eligible for inclusion.
Table 2: Disease phenotype in South Asians (SA). * Goodhand, 2012, SA group Bangladeshis, CD= Crohn's disease; UC = Ulcerative colitis"

Results
Thirteen eligible publications were identified. Those reporting incidence suggest an increase over time in both groups. The incidence in 4/5 ulcerative colitis (UC) studies was higher in SA than Caucasians. (Table 1) Six out of seven Crohn's disease (CD) studies showed higher incidence in Caucasians than SA. Total colitis was more evident in SA in 4/5 UC studies. (Table 2) Disease was more severe in SA for UC and CD.
Conclusion
Our preliminary findings highlight differences in incidence and phenotype between SA and Caucasians in the UK, Canada and USA. Further prospective studies to describe the current epidemiology and explore underlying reasons are needed.