P660 Estimation of cardiovascular risk according to asymptomatic organ damage in subjects with inflammatory bowel disease
G. Inserra*, L. Zanoli, A. Ricciardolo, V. Ficara, L. Samperi, G. Riguccio
University of Catania, Department of clinical and experimental medicine, Catania, Italy
Background
Inflammatory bowel disease (IBD) is associated with an increased cardiovascular risk that is not fully explained by traditional cardiovascular risk factors. We previously reported that IBD subjects have an increased arterial stiffness that can be reverted by anti TNF-alpha therapy. In this study, we aimed to evaluate the net reclassification of cardiovascular risk in IBD subjects and controls after the assessment of carotid-femoral pulse wave velocity (PWV), in accordance with the 2013 ESH/ESC Guidelines for the management of arterial hypertension.
Methods
The total cardiovascular risk was calculated in 80 IBD subjects and 80 controls matched for age and sex. Carotid-femoral PWV, a marker of asymptomatic organ damage, was measured with a sphygmocor device according with the current guidelines. Individuals with cardiovascular disease (coronary heart disease, congestive heart failure, stroke, transient ischemic attack, or intermittent claudication), diabetes, chronic kidney disease and dyslipidaemia were excluded. The risk factors considered in this analysis were the following: (a) male sex; (b) age ≥ 55 years in men and ≥ 65 years in women; (c) BMI ≥ 30 kg/m2.
Table 1. Classification of cardiovascular risk in IBD subjects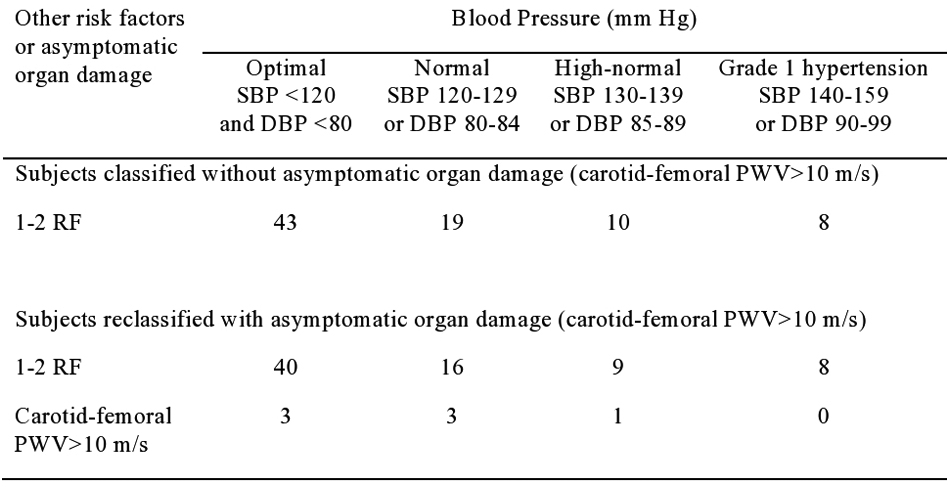 Results
IBD patients, have higher carotid-femoral PWV compared with controls (7.9 ± 1.6 vs. 7.0 ± 1.1 m/s, respectively; P< 0.001). Results were confirmed after adjustment for age, gender, mean arterial pressure and heart rate. After inclusion of asymptomatic organ damage (carotid-femoral PWV >10 m/s), risk prediction was improved in 7 (8.8%) IBD subjects and only in 1 (1.3%) control subject, resulting in a reclassification of all these subjects from a low-to-moderate cardiovascular risk category to a moderate-to-high cardiovascular risk category.
Conclusion
Compared to controls, the measurement of carotid-femoral PWV produce a net reclassification of 7.5% of IBD subjects commonly considered in a low-to-moderate cardiovascular risk category.