P670 Perception about disease activity and treatment attributes in patients with Ulcerative Colitis from Spain - UC-life survey
A. López-Sanromán*1, D. Carpio2, X. Calvet3, L. Cea-Calvo4, C. Romero4, F. Argüelles5
1Hospital Ramón y Cajal, Gastroenterology Unit, Madrid, Spain, 2Complexo Hospitalario Universitario , Gastroenterology, Pontevedra, Spain, 3Corporació Sanitària Universitària Parc Taulí, Digestive Disease Department. Departament de Medicina. Universitat Autònoma de Barcelona. CIBEREHD – Instituto de Salud Carlos III, Sabadell, Spain, 4Merck Sharp & Dohme, Medical Affairs, Madrid, Spain, 5Hospital Universitario Virgen Macarena, Gastroenterology Unit, Sevilla, Spain
Background
Objectives.To describe the perception about disease burden, preferred treatment attributes and satisfaction with treatment of patients with ulcerative colitis (UC) followed in hospital clinics from Spain.
Methods
UC-LIFE was a survey to UC patients. Each of the 39 participating hospital gastroenterologists handed the survey to 15 consecutive UC patients >18 years. Patients completed the survey at home and returned it by post-mail. Patients were asked to describe the disease behavior during the previous year responding to closed questions, and to describe their expectations and satisfaction degree with the treatment by ranking several attributes.
Results
585 patients received the survey and 436 returned it (response rate: 75%). Mean age was 46 years (SD: 13), 53% were men. Median duration of UC was 8 years (IQR: 4-15). UC was perceived as mild by 57.3%, moderate by 35.9% and severe by 6.8% of the patients. During the previous year 50.5% patients reported an exacerbation (mean duration perceived: 6 weeks) and 19%, 31% and 47% respectively reported a hospital admission, emergency room visit or a non-scheduled visit due to UC activity. The most important attributes of therapies for patients were continuous control of symptoms (44.6%) and normalization of the quality of life (QoL) (36.5%); others were less frequently mentioned (table)
"Attributes of therapy. Ranking of Importance"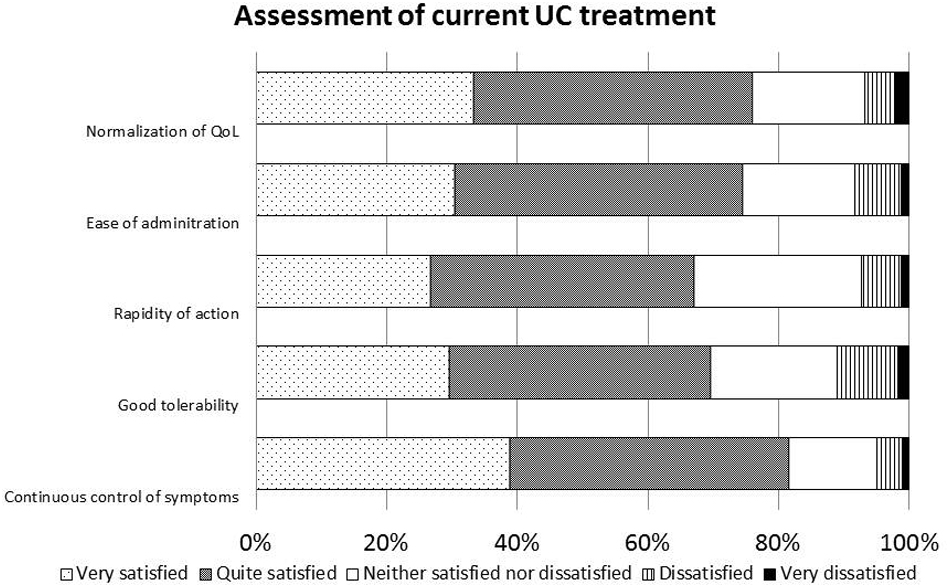 "Attributes of therapy. Ranking of Importance"
. Satisfaction with current treatments was as follows: very satisfied (38.8%), satisfied (40.0%), neutral (16.9%), dissatisfied (3.6%), very dissatisfied (0.7%). The percentages of satisfaction with the above mentioned attributes were similar (figure)
"Assesment of current UC Treatment"
Conclusion
About 50% of patients reported UC activity during the previous year, and 43% perceived UC currently as moderate or severe. However, the degree of satisfaction with the current therapies is high. Continuous control of symptoms and normalization of QoL are the attributes considered as most important by patients. All patients came from hospital clinics and the sample was non-randomized; thus the results must be interpreted in this context.
Acknowledgments. Funded by Merck Sharp & Dohme of Spain and endorsed by ACCU (Crohn's and colitis patients association of Spain)