P672 The impact of ethnicity on the prevalence and length of hospital stay in patients with Crohn's Disease
J. Khan*1, S. Shan1, F. Ziaei1, R. Bhayani1, S. Shakir1, H. Uppal2, S. Chandran3, R. Potluri2
1Pennine Acute Hospitals NHS Trust, Medicine, Manchester, United Kingdom, 2Aston University, ACALM Study Unit in collaboration with Aston Medical School, Birmingham, United Kingdom, 3North Western Deanery, Department of Acute Medicine, Manchester, United Kingdom
Background
Crohn's disease (CD) has a UK prevalence of 145 per 100,000 of the population [R1] . We aimed to explore the impact of ethnicity on the length of hospital stay (LOS) in patients with CD.
Methods
Anonymous data of adult patients admitted to 7 hospitals within the North West of England between 2000 and 2013 were obtained and processed using the ACALM (Algorithm for Co-morbidity, Associations, Length of stay and Mortality) study protocol. ACALM uses the ICD-10 and OPCS-4 coding systems to identify patients [R2] [R3] . The impact of ethnicity on prevalence and LOS was analysed using SPSS.
Results
Of 929,465 patient admissions, 3,439 (0.37%) were coded for CD. Females accounted for 55.5% of CD admissions. Patients were more likely to be admitted as an emergency (77.8%). CD was most common in Caucasian patients (87.6%) who were also more likely to have co-morbidities (17.9%). Logistic regression analysis accounting for variations in age, gender and co-morbidities revealed that LOS in patients with CD was significantly shorter in South Asian patients. Table 1 describes the sample demographics and LOS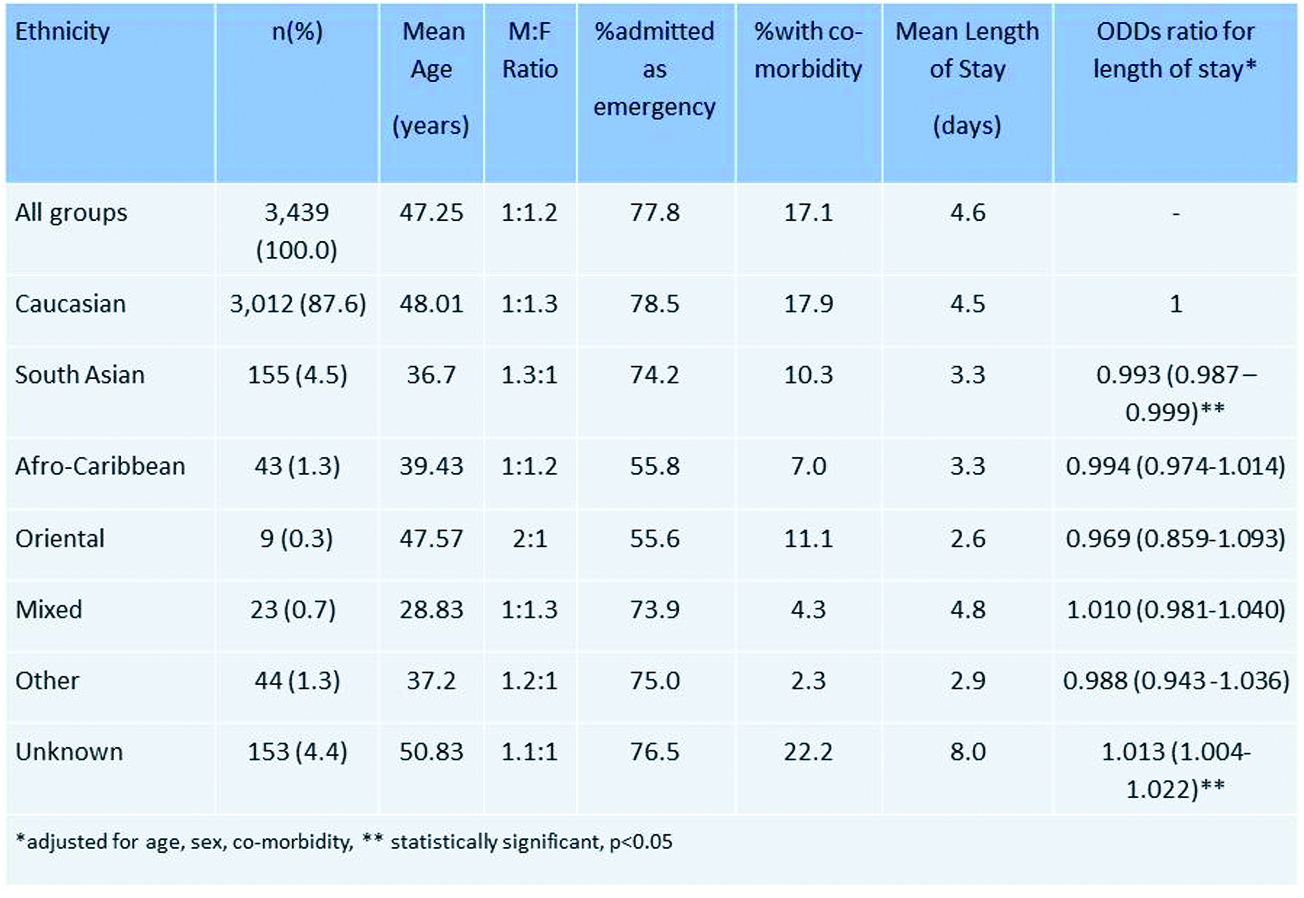 "Characteristics of admissions for patients with Crohn's Disease"
Conclusion
CD is more prevalent in the Caucasian population, with ethnic variations in the LOS. The significantly shorter LOS in the South Asian population may be due to stronger family support facilitating discharge. Further understanding of such disparities is essential in the planning and development of healthcare services in regions with large multi-ethnic populations.
References:
[R1] Loftus Jr, E.V, (2004), Clinical epidemiology of inflammatory bowel disease: incidence, prevalence, and environmental influences. , Gastroenterology , Gastroenterology , -, 1504-1517, 6, http://www.ncbi.nlm.nih.gov/pubmed/15168363, 2014-10-29, USA, -
[R2] Kimani KN, Potluri R, Natalwala A, Ghosh S, Heun R, Narendran P, (2012), Length of hospital stay is shorter in black and ethnic minority patients with diabetes., Diabetic Medicine, Diabetic Medicine, -, 830-1, 6, http://www.ncbi.nlm.nih.gov/pubmed/22050447, 2014-01-29, UK, -
[R3] Khouw N, Wasim M, Aziz A, Uppal H, Chandran S, Potluri R, (2013), Length of hospital stay is shorter in South Asian patients with myocardial infarction, International Journal of Cardiology, International Journal of Cardiology, International Journal of Cardiology, e54-e55, -, http://www.ncbi.nlm.nih.gov/pubmed/24365611, 2014-10-29, -, -