P700 Genetic polymorphisms in IBD determine response to treatment
V. Nuij*, M. Peppelenbosch, C.J. Van der Woude, G. Fuhler
ErasmusMC University Medical Center, Gastroenterology and Hepatology, Rotterdam, Netherlands
Background
The role of single nucleotide polymorphisms (SNPs) associated with inflammatory bowel disease (IBD) is gaining interest. We previously observed that patients (pts) carrying an NCF4 risk allele are more exposed to prednisone and are highly steroid dependent, indicating divergent use of treatment in different genetic risk groups. As treatment strategies in IBD are aimed towards a more personalized approach in the future, we wondered whether other IBD-associated SNPs are able to predict response to treatment as well.
Methods
Data on treatment use and primary response, loss of response and side effects to treatments were retrieved for all IBD patients from whom DNA was available in our center. rs13361189 (IRGM), rs2066844, rs2066845, rs2066847 (NOD2), rs35873774 (XBBP1), rs11175593 (LRRK2), rs11465804 (IL23R), rs2301436 (CCR6) and rs744166 (STAT3) SNP status were determined (KBiosciences, UK). Correlations were calculated using logistic regression analysis. This study was approved by the medical ethical board.
Results
: Of the 583 pts, 46% were men. 71.2 % suffered from Crohn's disease, 27.3% from Ulcerative colitis and 1.5% from IBD-unclassified. SNP status was associated with response to treatment, especially towards the higher end of the treatment pyramid (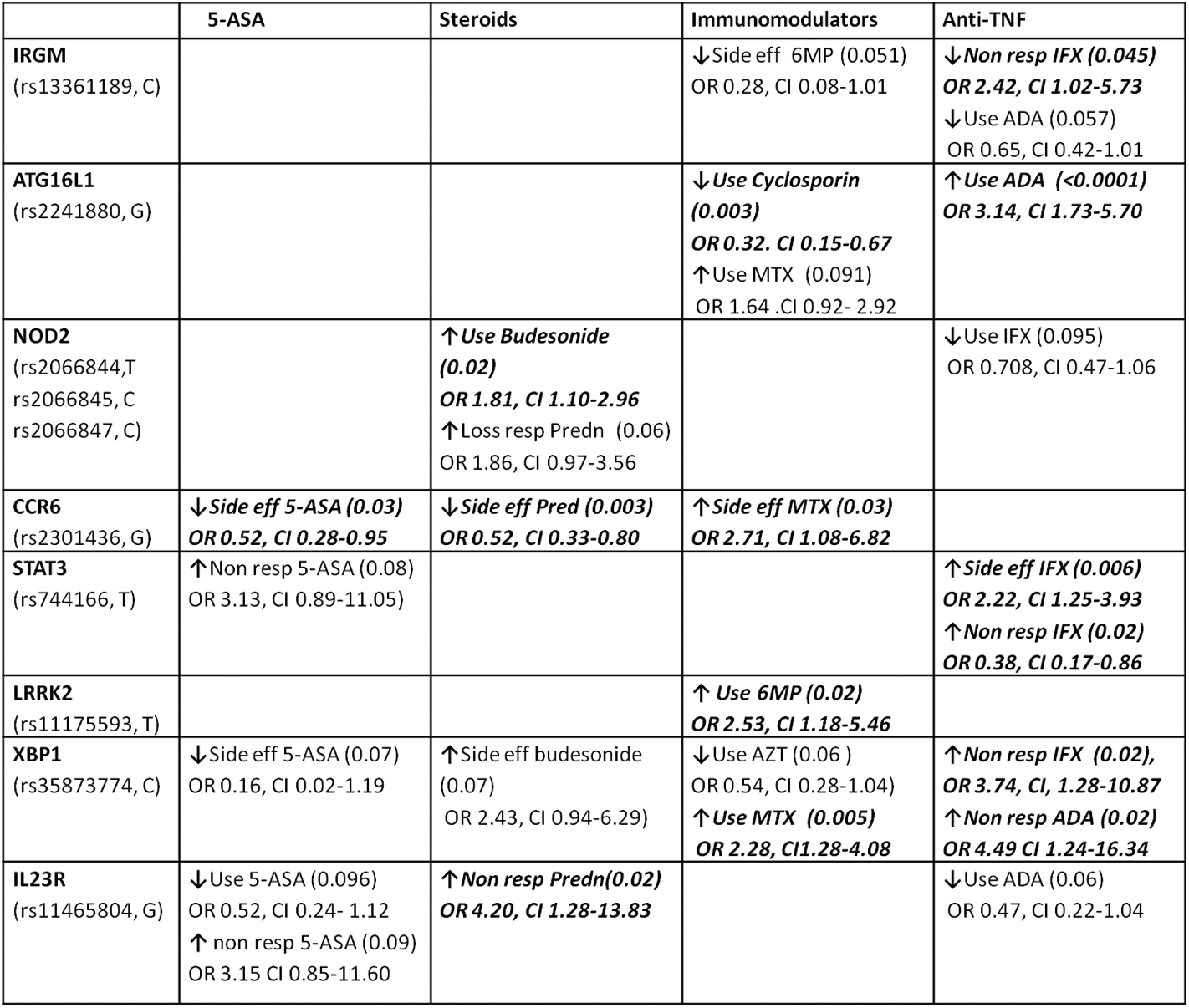 "Table 1. IBD-risk gene (SNP, allele) against response to treatment (p-values). Pred: prednisone, MTX: methotrexate, ADA: Adalimumab, IFX: Infliximab, resp: response, side eff: side effects, OR: odds ratio, CI: confidence interval"
). The most significant associations included a threefold increased use of Adalimumab and a decreased use of cyclosporine in patients carrying the ATG16L1 risk allele. In patients carrying the protective XBP1 allele a twofold increase in the use of Methotrexate was found, as well as a fourfold risk of primary non-response to Adalimumab. Furthermore, patients carrying the CCR6 risk allele showed a twofold decrease of prednisone side-effects, whereas STAT3 risk allele carriers had a twofold increase of side effects on Infliximab.
Conclusion
Genetic polymorphisms in known IBD-associated genes correlate with response to treatment, suggesting that genetic make-up of IBD patients may in future help physicians decide on personalized treatment strategies. Further investigation will need to elucidate the implications of these findings and asses the significance of patients genetic profile on differences in disease severity, disease phenotype and/or disease duration.