OP013 Evolution of corticosteroid use in Crohn's disease patients between 1991 and 2014: results from the Dutch population-based Inflammatory Bowel Disease South Limburg cohort
S. Jeuring*1, 2, V. Biemans1, L. Liu1, T. Van den Heuvel1, 2, M. Zeegers3, 4, 
W. Hameeteman1, M. Romberg-Camps5, L. Oostenbrug6, A. Masclee1, 2, D. Jonkers1, 2, M. Pierik1, 2
1Maastricht University Medical Centre, Internal Medicine - Division of Gastroenterology and Hepatology, Maastricht, Netherlands, 2Maastricht University Medical Centre, NUTRIM - School for Nutrition and Translational Research in Metabolism, Maastricht, Netherlands, 3Maastricht University Medical Centre, Complex Genetics - School for Nutrition and Translational Research in Metabolism (NUTRIM), Maastricht, Netherlands, 4Maastricht University Medical Centre, CAPHRI - School for Public Health and Primary Care, Maastricht, Netherlands, 5Zuyderland Medical Centre, Internal Medicine and Gastroenterology-Hepatology, Sittard-Geleen, Netherlands, 6Zuyderland Medical Centre, Internal Medicine and Gastroenterology-Hepatology, Heerlen, Netherlands
Background
Corticosteroids are highly effective drugs to suppress inflammation, but they have many, potentially severe, side effects, especially when given in high dosages or for long periods. Therefore, steroid- sparing has become an important treatment goal for Crohn's disease (CD). Despite its clinical relevance, data on cumulative steroid use during disease course are limited. We aimed to assess the cumulative steroid use in CD patients from the population-based IBDSL cohort and study changes herein over the past 2 decades.
Methods
In total, 1 162 CD patients, diagnosed between 1991 and 2011 and followed until 2014, were studied. Three eras were defined according to the year of diagnosis: era A (1991–1998, n = 316), era B (1999–2005, n = 387), and era C (2006–2011, n = 459). The prevalence of steroid use was assessed over disease course. Prescription data were obtained from medical records. Cumulative steroid use was defined as the total usage of systemic steroids, expressed in days, within 5 years after diagnosis. Time to first steroid prescription was determined by Kaplan–Meier survival analyses, and risk factors were assessed by multivariable Cox regression models. Multivariable log-linear regression was used to compare the cumulative steroid use amongst eras.
Results
The 5-year steroid exposure rate did not change over time (A, 50.0%; B, 55.9%; C 54.9%, p = 0.24). Predictors associated with steroid use are shown in Table 1.
Parameters associated with corticosteroid prescription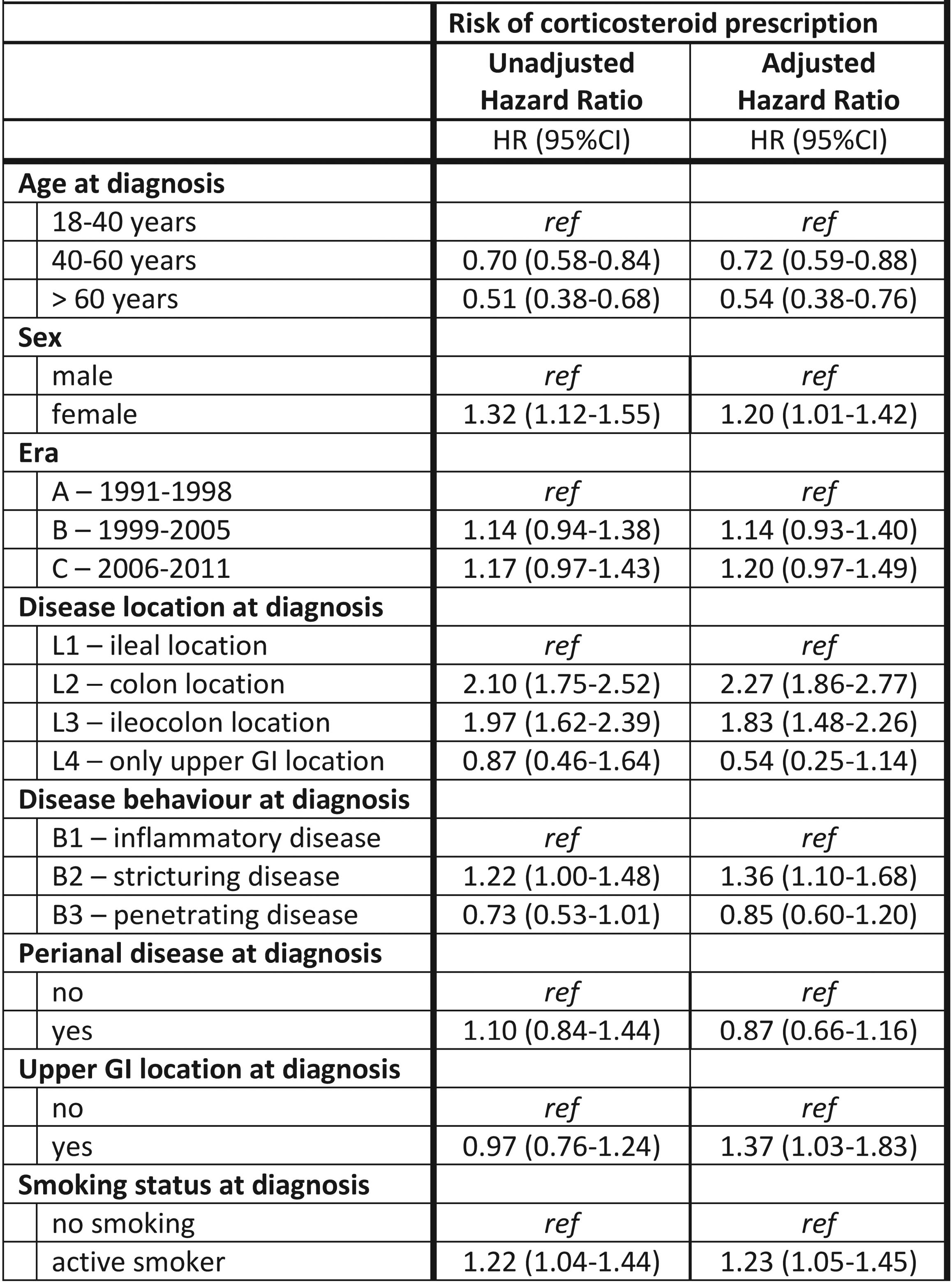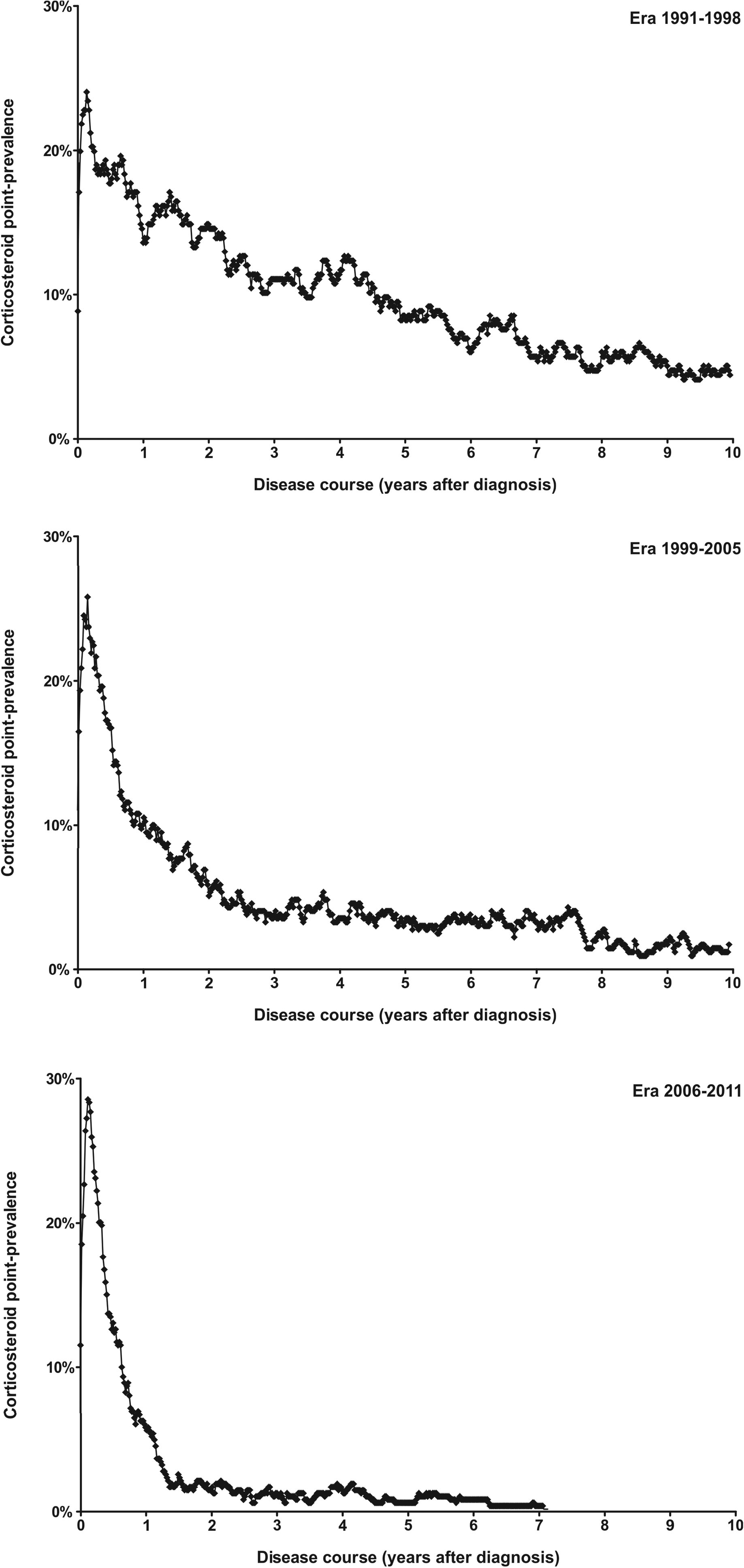 "Point-prevalence of corticosteroid use during disease course"
The median number of cumulative days in the first year of disease was not different amongst eras (A: 77 days (IQR) (14–192) vs B: 68 (0–131) vs C: 79 (48–144) p = 0.22), whereas a decline was observed over the subsequent 4 years (A: 200 days (IQR) (25–641) vs B: 60 (0–187) vs C: 0 (0–80), p < 0.01), illustrated by changes in the steroid point-prevalence (Figure).
Smoking at diagnosis was associated with higher levels of steroid use (+31.8%; 95%CI 8.4%–60.2%), whereas elderly age at diagnosis was associated with lower levels (-40.4%; 95%CI -9.5%–60.7%).
Conclusion
Over the past 2 decades, a similar number of CD patients was exposed to steroid therapy, yet the cumulative steroid use after the first year of disease decreased significantly over time. These findings illustrate that marked changes have taken place in steroid prescription in CD and that steroid sparing is more often achieved in the current era.