OP022 Efficacy and safety of oral tofacitinib for maintenance therapy in patients with moderate-to-severe Crohns disease: results of a Phase 2b randomised placebo-controlled trial
G. D'Haens*1, R. Pannaccione2, P. D. R. Higgins3, J.-F. Colombel3, B. G. Feagan4, M. Moscariello5, G. Chan5, P. Healey6, W. Niezychowski5, W. Wang5, A. Marren5, E. Maller5
1Academic Medical Centre, University of Amsterdam, Amsterdam, Netherlands, 2University of Calgary, Calgary, Canada, 3University of Michigan, Ann Arbor, Michigan, United States, 4Robarts Research Institute, London, Ontario, Canada, 5Pfizer Inc, Collegeville, Pennsylvania, United States, 6Pfizer Inc, Groton, Connecticut, United States
Background
Tofacitinib is an oral, small molecule Janus kinase inhibitor that is being investigated for inflammatory bowel disease. Here we investigated the efficacy and safety of tofacitinib 5 and 10 mg twice daily (BID) in maintaining response or remission in patients with moderate-to-severe Crohn's disease (CD).
Methods
This was a randomised, double-blind, placebo-controlled, multicentre Phase 2b maintenance study. Patients who completed the 8-week double-blind induction study with tofacitinib or placebo and achieved clinical response-100 (CD activity index] score ≥ 100 points decrease from baseline) or clinical remission (CDAI < 150) were rerandomised (1:1:1) to receive tofacitinib 5 or 10 mg BID or placebo for 26 weeks. Patients entering the induction study had moderate-to-severe CD (CDAI ≥ 220 to ≤ 450) and had failed prior therapy with ≥1 of corticosteroids, azathioprine/6 mercaptopurine, methotrexate, or tumour necrosis factor inhibitors. Upon entry into the maintenance study, concomitant corticosteroids were tapered to 10 mg/day of prednisone equivalent. The primary endpoint was clinical response-100 or remission at week 26. Secondary endpoints included clinical response-100 and remission, serum C-reactive protein (CRP), and faecal calprotectin (FCP) levels. Patients were followed up for an additional 4 weeks after last dose for safety.
Results
In the study, 180 patients were randomised, of which 128 had received tofacitinib in the induction study. The proportions of patients with clinical response-100 or remission at week 26 were 39.5% for tofacitinib 5 mg BID, 38.1% for placebo, and numerically higher with 10 mg BID (55.8%). At week 26, the change from maintenance baseline was significant (p < 0.0001) for CRP and FCP with 10 mg BID and significant for FCP (p < 0.05) with 5 mg BID, compared with placebo. There were 2 cases of non-serious herpes zoster with 10 mg BID, 1 intestinal perforation with 5 mg BID, and no deaths or malignancies. The proportions of adverse events (AEs) were similar across all groups. The most common AEs were in the gastrointestinal disorders and infections System Organ Classes, with higher observed rates of the latter with both tofacitinib doses than placebo.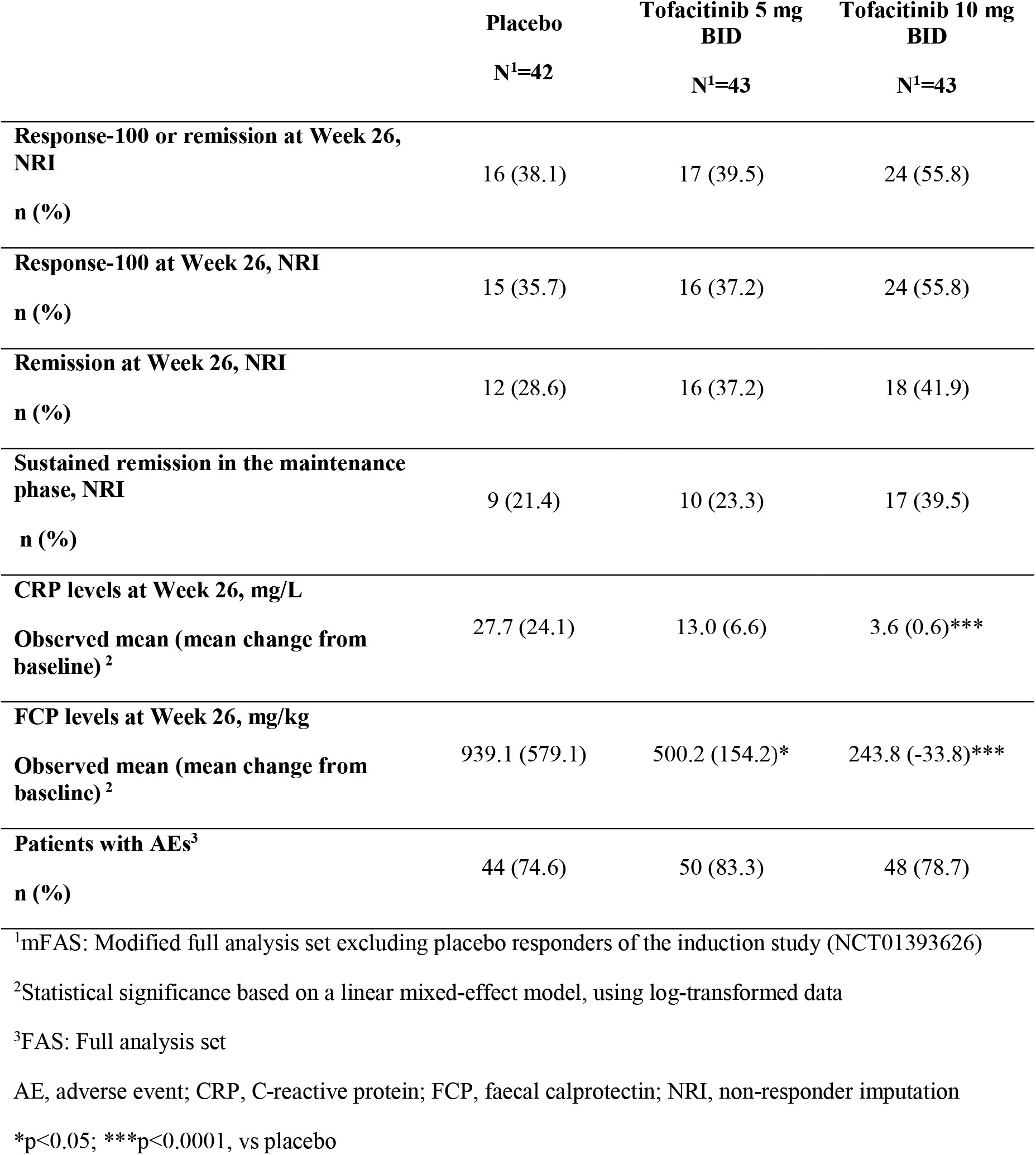 Conclusion
After 26 weeks of maintenance therapy, clinical response-100 or remission was observed in a higher proportion of patients receiving tofacitinib than placebo, though the difference was not statistically significant. Biomarkers supported a treatment effect with tofacitinib 10 mg BID. Tofacitinib appeared to be well tolerated.