OP026 The TOPPIC Trial: a randomised, double-blind parallel-group trial of mercaptopurine versus placebo to prevent recurrence of Crohn's disease following surgical resection in 240 patients
I. Arnott1, C. Mowat2, H. Ennis3, C. Keerie3, S. Lewis3, N. Kennedy4, A. Cahill5, A. Morris5, M. Dunlop6, S. Bloom7, J. Lindsay8, S. Subramanian9, J. Satsangi*4, TOPPIC Trial Study Group10
1NHS Lothian, Gastroenterology, Edinburgh, United Kingdom, 2NHS Tayside, Gastroenterology, Dundee, United Kingdom, 3University of Edinburgh, Edinburgh Clinical Trials Unit, Edinburgh, United Kingdom, 4University of Edinburgh, Gastroenterology, Edinburgh, United Kingdom, 5NHS Greater Glasgow and Clyde, Gastroenterology, Glasgow, United Kingdom, 6University of Edinburgh, Institute of Genetics and Molecular Medicine, Edinburgh, United Kingdom, 7University College Hospital, Department of Gastroenterology, London, United Kingdom, 8Bart's Health NHS Trust, Newham University Hospital, Department of Gastroenterology, London, United Kingdom, 9Royal Liverpool University Hospital, Gastroenterology, Liverpool, United Kingdom, 10Toppic Trial Study Group, UK, United Kingdom
Background
Up to 65% of patients with Crohn's disease (CD) require an operation to control the disease within the first 10 years of the condition. This study assessed whether the use of mercaptopurine (MP) can prevent or delay postoperative recurrence in CD.
Methods
In this randomised, placebo-controlled, double-blind, parallel-group trial, patients with a confirmed diagnosis of CD undergoing intestinal resection were recruited from 29 UK hospitals. Following informed consent, each patient was randomised to receive a daily oral dose of MP or placebo. Dose was adjusted by weight and thiopurine methyltransferase (TPMT) status and safety monitoring was blinded. Treatment was for a maximum of 36 months. The primary endpoint was defined by clinical recurrence of CD (CDAI >150 plus 100 point rise) and the need for anti-inflammatory rescue therapy or primary surgical intervention. Secondary endpoints included endoscopic recurrence.
Results
In the study, 240 patients (median age 38 years; 60.8% female; 22.9% smokers) were enrolled and received at least 1 dose of study drug. Amongst them,128 (53%) were randomised to receive MP and 112(47%) to receive placebo. No randomised patients were excluded from the analysis. More patients reached primary endpoint within the placebo (n = 26,23.2%) vs MP groups (n = 16,12.5%) with an adjusted p-value of 0.073 (hazard ratio [HR] 0.535, 95% CI, 0.27–1.06) and an unadjusted p-value of 0.046 (HR 0.527, 95% CI, 0.28–0.99).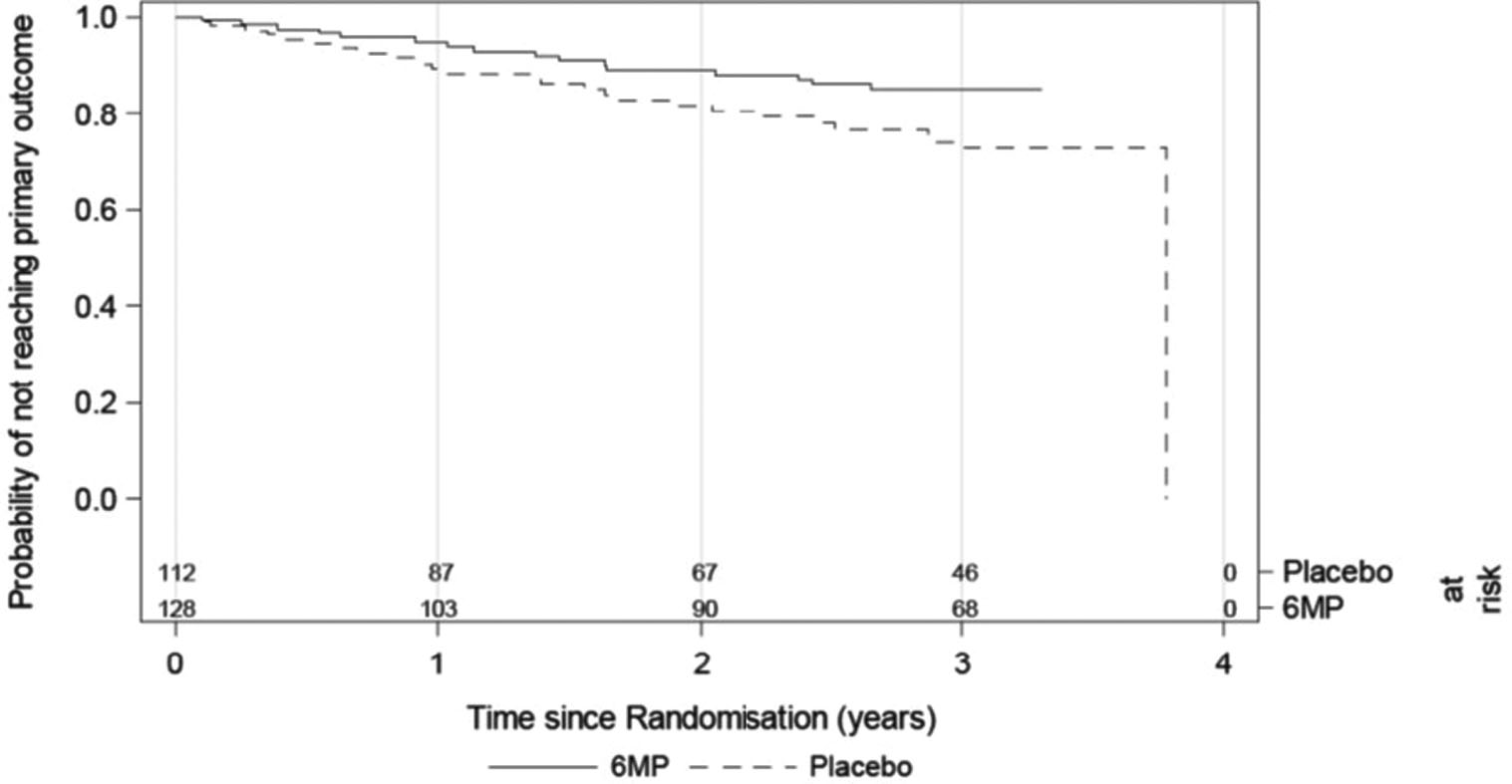 Figure 1. Kaplan-Meier survival analysis of time to primary endpoint in mercaptopurine and placebo groups.
Smokers were more likely to reach primary endpoint compared with non-smokers (p = 0.018 [HR 0.127, 95% CI, 0.04–0.46 NNT = 3 amongst smokers; HR 0.898, 95% CI, 0.42–1.94 NNT = 31 amongst non-smokers). Smoking habit (HR 2.06, 1.09–3.90) but not age at diagnosis, duration of disease, sex, previous surgery, or previous thiopurine or anti-TNF exposure predicted primary outcome). A higher proportion of patients on MP compared with placebo maintained complete endoscopic remission (Rutgeerts i0) at weeks 49 (29.7 vs 14.4%, p = 0.006), and 157 (22.5% vs 12.5%, p = 0.041) on post-hoc analysis. Adverse events did not differ in frequency between MP and placebo groups.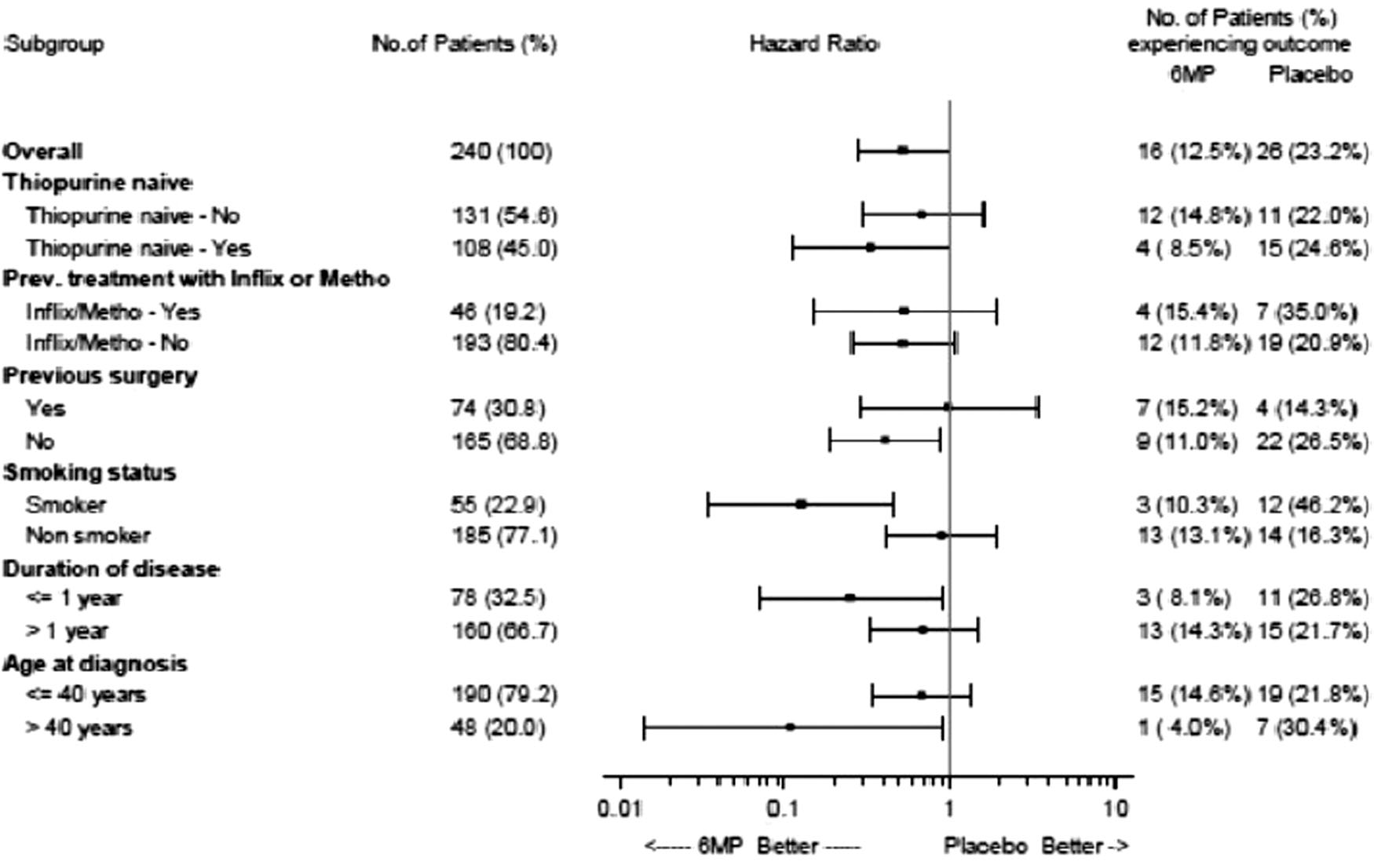 Figure 1. Forest plot of subgroup analysis of primary outcome. The subgroup p-values are from a test for an interaction between the treatment and subgroup variables.
Conclusion
TOPPIC is the largest, double-blind trial of thiopurines to prevent postoperative recurrence in CD. MP modestly reduces the frequency of clinical postoperative recurrence of CD. This was significant amongst smokers, but not in non-smokers. Adverse events did not differ between groups.