P085 Altered proportions of myeloid and plasmacytoid dendritic cells in children with inflammatory bowel disease
M. F. Elshal1, 2, 3, 4, A. M. Aldahlawi2, 3, 5, O. I. Saadah*6, 7, J. P. McCoy8
1Facuty of Sciences, King Abdulaziz Uinversity, Biochemistry Department, Jeddah, Saudi Arabia, 2Inflammatory Bowel Disease Research Group, King Abdulaziz University, Jeddah, Saudi Arabia, 3Immunology Unit, King Fahd Medical Research Centre, Jeddah, Saudi Arabia, 4Sadat City University, Molecular Biology Department, Genetic Engineering and Biotechnology Research Institute, Cairo, Egypt, 5Faculty of Sciences, KIng Abdulaziz University, Biological Sciences Department, Jeddah, Saudi Arabia, 6Faculty of Medicine, King Abdulaziz University, Paediatric Department, Jeddah, Saudi Arabia, 7Inflammatory Bowel Disease Research Group, King Abdulaziz Uinversity, Jeddah, Saudi Arabia, 8National Heart, Lung, and Blood Institute, National Institutes of Health, Flow Cytometry Core, Bethesda, MD, United States
Background
Chronic inflammatory bowel diseases (IBD), including ulcerative colitis (UC) and Crohn's disease (CD) are thought to occur because of loss of balance between effector and regulatory T-cells. As dendritic cells (DCs) play a pivotal role in priming T-cells, this work is designed to investigate circulating DC subsets in children with IBD and to explore their correlations with effector T-cell subsets, regulatory T-cells (Treg), and routine inflammatory biomarkers.
Methods
The frequencies of blood CD11c+ myeloid (mDCs) and CD123+ plasmacytoid DC (pDCs) subsets, as well as T-helper CD4+CD25+Foxp3+ Treg, CD4+ IL-17+ (Th17), CD4+ IFN-γ + (Th1) and CD4+IL-4+ (Th1), were estimated by flow cytometry in 23 patients with Crohn's disease (CD), 14 with ulcerative colitis (UC) and 14 healthy volunteers (HCs). The clinical and inflammatory markers were also investigated.
Results
IBD patients showed decreased pDCs and mDCS compared with healthy controls; however, pDCs were significantly lower in CD (Figure 1). The ratio of mDCs/pDCs showed significant increase in CD compared with UC and HCs. Treg cells were found significantly decreased in the patients with UC and CD compared with healthy controls (both at p < 0.01). The percentage of Th17 was found significantly increased in CD (p < 0.05) compared with UC patients and healthy subjects (p = 0.014). UC and CD patients had significantly (p < 0.01, p < 0.05) higher Th17/Treg ratios compared with healthy controls. mDCs/pDCs ratio showed significant positive correlations with ASCA-A, ASCA-G, and Th17 (r = 0.438, p < 0.05; r = 0.411, p < 0.01, r = 0.535, p = 0.001 respectively) (Figure 2).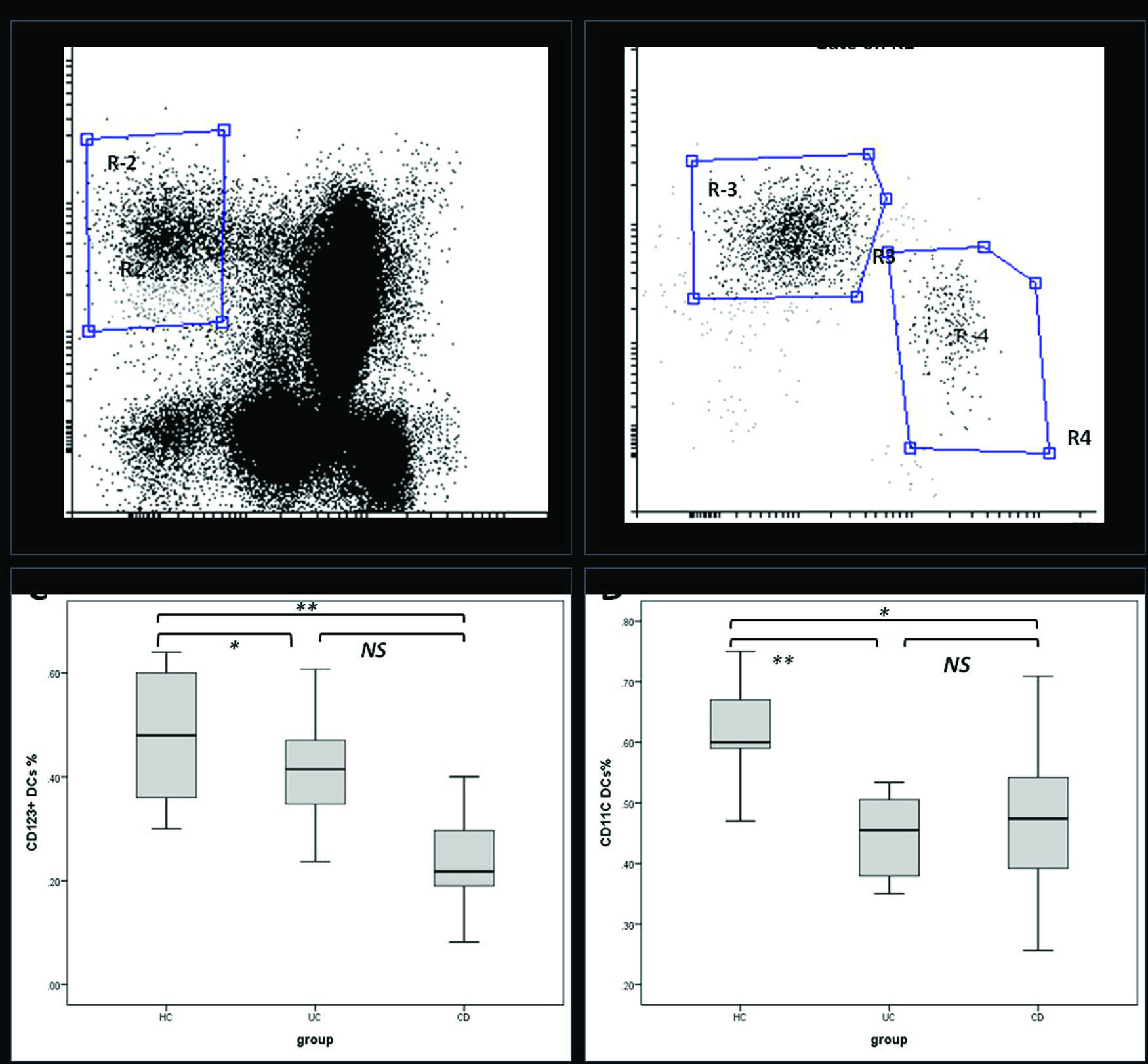 Figure 1. Determination of blood DC. MNC were labeled with HLA-DR, CD11c, and a cocktail of mAb specific for line markers CD3, CD19, CD14, CD16 (lin) and analysed by flow cytometry.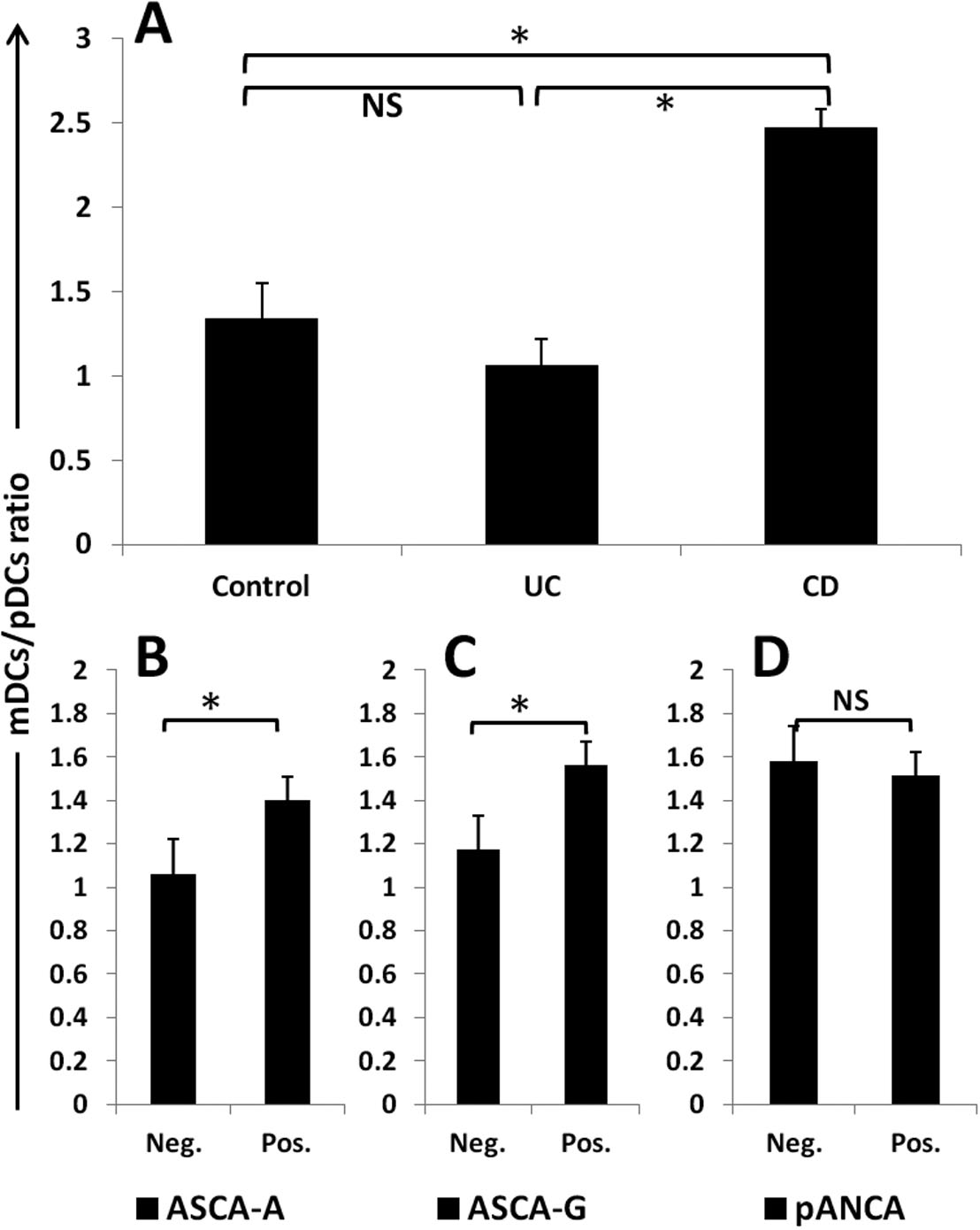 Figure 2. Percentage of circulating myeloid and plasmacytoid dendritic cells in positive and negative patients for antibodies against the yeast Saccharomyces cerevisiae (ASCA) and against neutrophils (pANCA).
Conclusion
Our study demonstrates that the mDCs/pDCs ratio is deregulated in paediatric IBD, and was found associated with reduced Treg cells and increased effector Th17 T-cells, suggestion that dendritic cell subsets play a role in the pathogenesis of paediatric IBD.