P133 Usefulness of magnetic resonance enterography on medical decision making in patients with inflammatory bowel disease after a 1-year 
follow-up
L. Ramos1, M. Carrillo Palau1, I. Alonso1, A. Hernandez Camba*1, N. Hernandez Alvarez-Buylla1, A. Márques2, L. Goya2, A. González-Palau2, E. Quintero Carrion1
1Hospital Universitario de Canarias, Gastroenterology, La Laguna, Santa Cruz de Tenerife, Spain, 2Universidad de la Laguna, School of Medicine, La Laguna, Santa Cruz de Tenerife, Spain
Background
Magnetic resonance enterography (MRE) is an imaging technique recomended to determin and confirm the site and activity of Crohn's disease (CD) in the small bowel, and to discriminate penetrating disease and complications. MRE diagnosis allows to optimise medical treatment in inflammatory bowel disease (IBD) patients. The aim of this study is to evaluate the effect of MRE on medical decision making in IBD patients and to determinate the maintenance of this decision over time.
Methods
Consecutive MRE studies performed in patients with confirmed or suspected CD between January 2011 and August 2014 were included in a single tertiary centre. Medical records were retrospectively reviewed. MRE indication and demographic and IBD data were collected at time of MRE. Three months after MRE, medical decision (conservative approach with maintenance therapy, significant change in medical therapy, or surgery) was assessed. After 12 months of follow-up, the treatment chosen after MRE was reviewed.
Results
In total, 223 MRE studies were performed on 199 patients (93F; mean age 39 years ± 14 years). Indications for MRE were assesment of small bowel involvement in 16 (7.2%) patients with indeterminate colitis (IC) and 8 (3.6%) with suspected-IBD patients or evaluation of severity and extension of the disease in 199 (89.2%) CD patients. Only 1 patient with suspected-IBD (F/34 years) had extense involvement of small bowel on MRE, confirming the CD diagnosis. Five patients with IC (5/16; 31%) changed the diagnosis to CD. In 124/224 (55.3%) of patients with CD, MRE determinated a change on medical decision: 33 patients (26.6%) received a steroid course; and 77 (62.1%) patients modified maintenance treatment because of MRE findings. Of them, 64 (51.6%) underwent 'set up' treatment with immunosupresant (IS) (n = 31), anti-TNF agents (n = 18), or anti-TNF escalation (n = 8). In addition, 13 (10.5%) patients underwent 'top down' therapy because of stop IS (n = 7), anti-TNF (n = 3), or anti-TNF de-escalation (n = 3). Surgery was indicated on 14 (11.3%) patients after MRE. After 1 year of follow-up, the medical decision was maintained in 72% (136/189) of patients.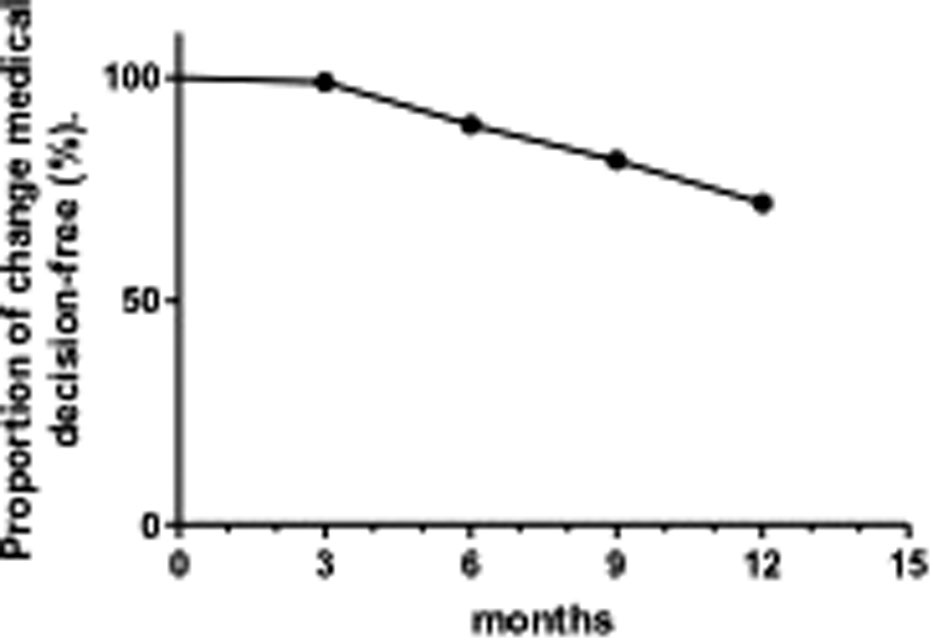 Figure 1.
Conclusion
MRE is a very helpful tool for the medical management of CD patients with CD paients. It provides major information to optimise treatment of patients with CD in the long term.