P139 Gut bacterial DNA translocation is an independent risk factor of flare in the short term in patients with Crohn's disease (ADATHEC study)
O. Juanola1, 2, A. Gutiérrez3, P. Zapater1, L. Sempere3, M. García4, R. Laveda5, A. Martínez5, M. Scharl6, J. M. González-Navajas1, P. Piñero1, R. Wiest7, R. Francés*1, 2
1CIBERehd, Instituto de Salud Carlos III, Madrid, Spain, 2Dpto. Medicina Clínica, Universidad Miguel Hernández, San Juan, Spain, 3Servicio de Medicina Digestiva, Hospital General Universitario de Alicante, Alicante, Spain, 4Servicio Digestivo, Hospital Universitario de Elche, Alicante, Spain, 5Hospital Clínico Universitario de San Juan, Alicante, Spain, 6Division of Gastroenterology and Hepatology, University Hospital Zürich, Zürich, Switzerland, 7Department of Gastroenterology, University Clinic for Visceral Medicine, Inselspital, Bern, Switzerland
Background
The translocation of bacterial genomic fragments into blood is a frequent event arising in up to 40% of patients with Crohn's disease (CD). We aimed at evaluating bactDNA presence in blood of CD patients in remission as an independent risk factor of flare at 6 months.
Methods
We conducted a prospective, multicentre study on CD patients with CDAI < 150. The primary endpoint was time-to-relapse, as evaluated by CDAI >150 in the following 6 months. BactDNA in blood, the NOD2 genotype, and serum cytokine levels were determined at baseline.
Results
In total, 288 patients were included. BactDNA was detected in 98 patients (34.0%). A variant-NOD2 genotype was identified in 114 patients (39.6%), and 40 (14%) relapsed during follow-up. The mean CDAI score and faecal calprotectin at relapse were 193 ± 38 and 314.60 ± 64.5, respectively. Further, 32 patients out of 98 with bactDNA fragments in blood (33%) vs 8 patients out of 190 without bactDNA (4%, p = 0.001) presented a flare-up. Relapse during follow-up was also significantly different according to the group of therapy (no IS/no anti-TNF 14.4%; IS 12.4%; anti-TNF 18%; IS + anti-TNF 32.3%, p = 0.004). The survival analysis of time to first relapse according to bactDNA presence in blood and to the group of therapy is shown in Figure 1. In the Cox proportional hazards multiple regression analysis, both variables remained independently significant (bactDNA HR 8.75 [4.02–19.06] 95% CI, p = 0.001; IS + anti-TNF HR 5.43 [1.86–15.89] 95% CI, p = 0.002).
Hospitalisation, surgery, switch of treatment, initiation and escalation of anti-TNF therapy, steroids initiation, and increased faecal calprotectin levels at 6 months were associated with bactDNA at baseline. A logistic regression analysis showed bactDNA as an independent and significant predictive factor of hospitalisation (OR 11.9 [3.4–42.3]; p < 0.001), steroids startup (OR 8.5 [2.7–27.1]; p < 0.001), and switch of treatment (OR 3.5 [1.6–7.7]; p = 0.002) at 6 months.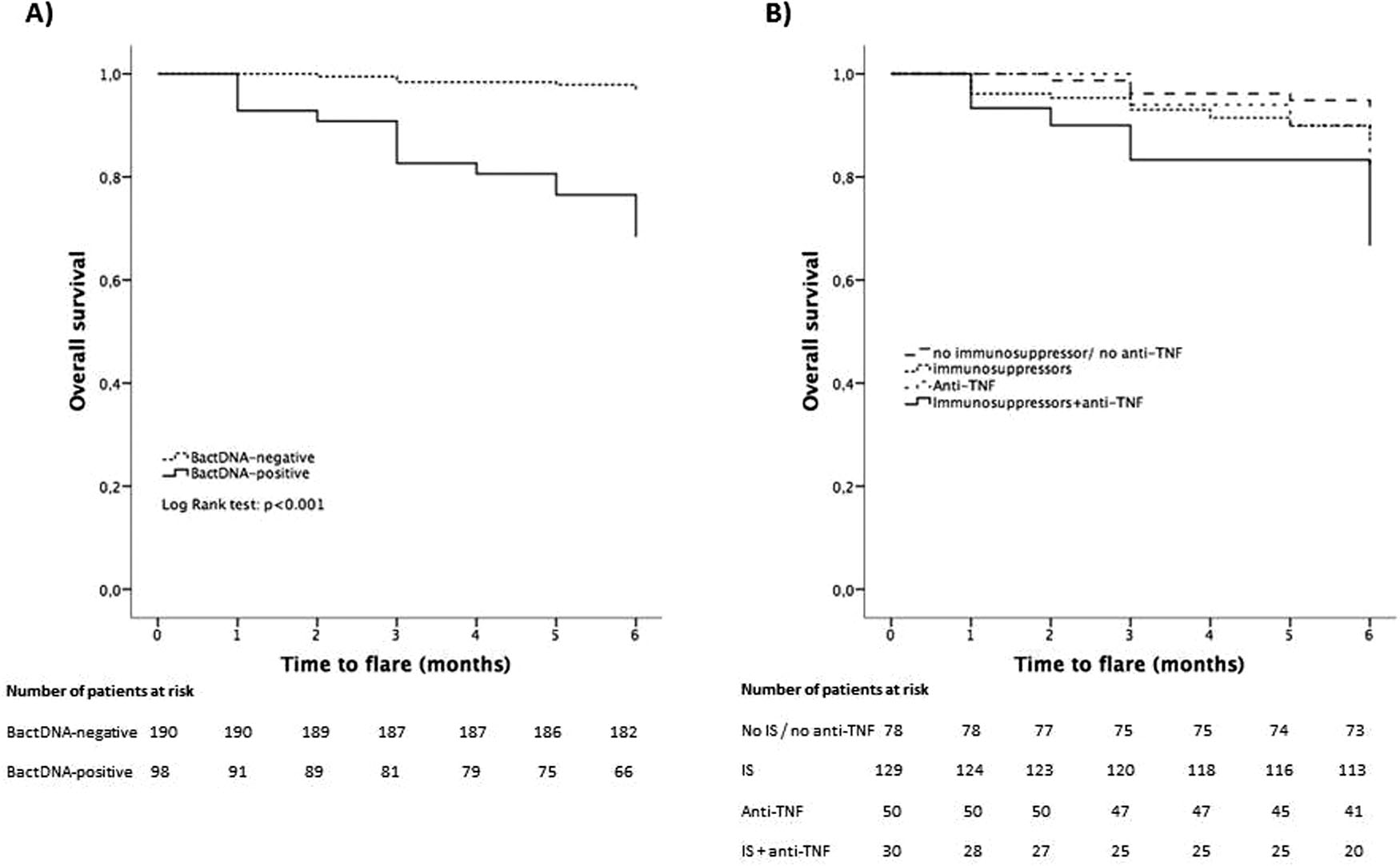 Figure 1. Overall survival Kaplan–Meier curves at 6 months in CD patients according to baseline bactDNA translocation (A) and group of therapy (B). BactDNA, bacterial DNA; IS, immunosuppressor.
Conclusion
BactDNA is an independent risk factor of relapse at 6 months in CD patients. BactDNA is also independently associated with an increased risk of hospitalisation, switch of treatment, and steroids initiation.