P145 Migraine is the most frequent extra-intestinal manifestation in patients with inflammatory bowel disease
X. Moisset1, 2, G. Bommelaer3, 4, M. Boube3, L. Ouchchane5, M. Goutte3, 4, M. Dapoigny3, R. Dallel2, A. Guttman5, P. Clavelou1, A. Buisson*3, 4
1University Hospital G Montpied, Neurology Department, clermont-Ferrand, France, 2Clermont Université, Université d'Auvergne, Faculté de chirurgie dentaire, Neuro-Dol; Inserm U1107, Douleur Trigéminale et Migraine,, clermont-Ferrand, France, 3University Hospital Estaing, Gastroenterology Department, Clermont-Ferrand, France, 4UMR 1071 Inserm/Université d'Auvergne; USC-INRA 2018, Microbes, Intestine, Inflammation and Susceptibility of the host, Clermont-Ferrand, France, 5University Hospital G Montpied, Biostatistics unit, clermont-Ferrand, France
Background
Inflammatory bowel diseases (IBD) are systemic, chronic inflammatory conditions that could lead to different types of pain. We aimed to assess the prevalence and the main characteristics of pain, especially migraines and pain with neuropathic characteristics (NC) in IBD patients.
Methods
Overall, 203 consecutive patients completed previously validated self-administered questionnaires. The first part was about the identification of migraine and repeated the third edition of the International Classification of Headache Disorders' diagnostic criteria for strict and probable migraine. A short form of the headache impact test (HIT-6 ≥ 56) was used to define major effect on daily life necessitating treatment evaluation. The second part was a self-reported DN4-interview questionnaire regarding the characteristics of pain (DN4 ≥3 = neuropathic pain characteristics). The hospital anxiety and depression scale (HAD) was used to evaluate mood and anxiety. Control groups were retrieved from large French nationwide cohorts using exactly the same questionnaires for migraine1 or pain with NC.2 The comparisons were adjusted for age and gender. Associated factors were investigated using multivariate analysis. IBD characteristics were completed by the IBD physician blinded from the pain questionnaire results.
Results
In our cohort, 75% of the patients experienced pain in the previous 3 months (Figure1).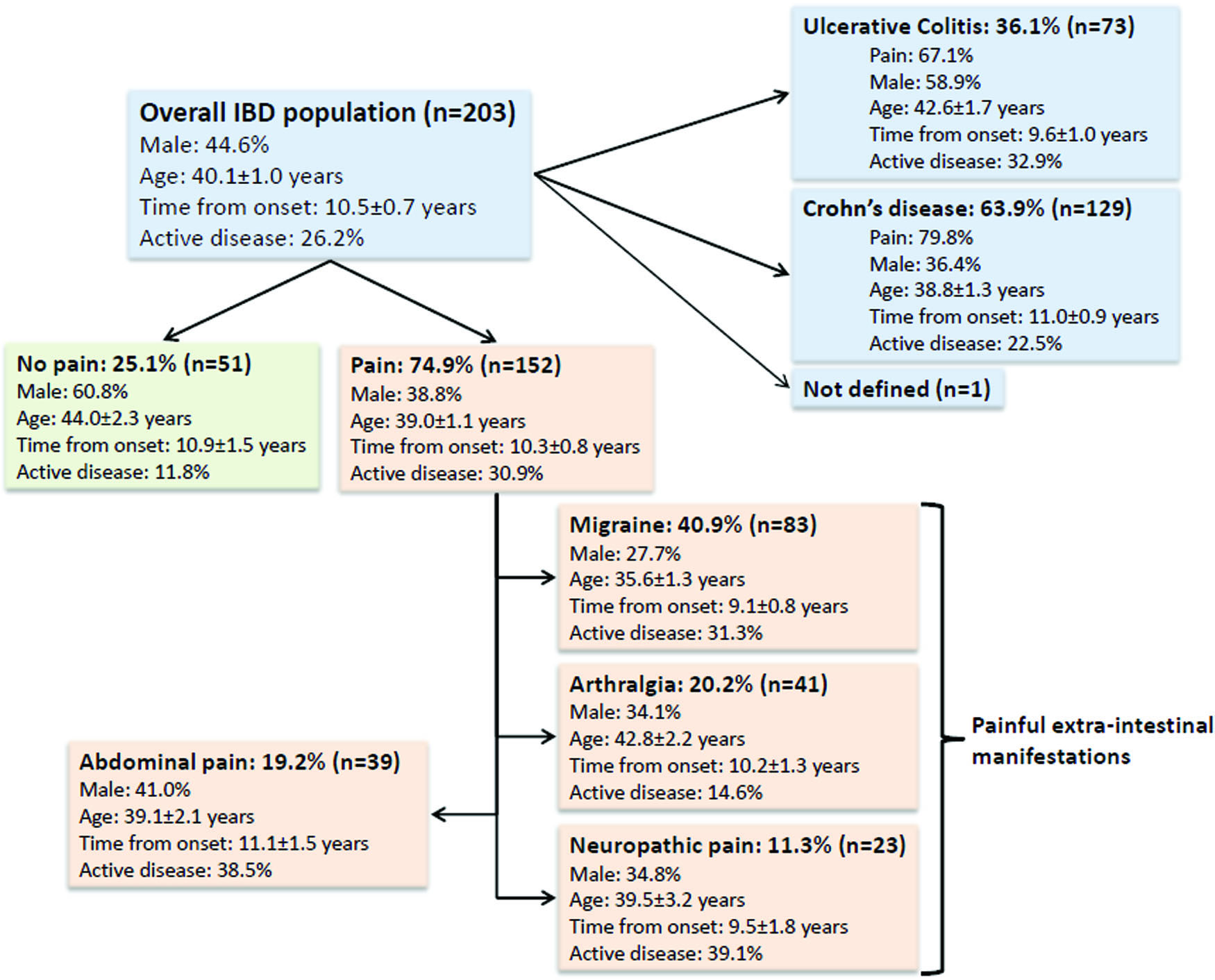 Figure 1. Main characteristics of the whole cohort and of major sub-groups. Disease activity defined as SCCAI > 2 or CDAI > 150.
Migraine prevalence was 2-fold higher in IBD patients compared with the general population (41% vs 21.3%, p < 0.001). Migraine was associated with younger age, female gender, and higher depression scores. Although migraine effect was very important for 30% of the patients (61/203), specific therapeutics was prescribed in only 7.9% of cases (16/203). Chronic pain with NC was more frequent than in the general population (11.3% vs 6.9%, p = 0.012) and was strongly associated with the presence of extra-intestinal manifestations (p < 0.001), especially arthralgia.
Conclusion
Migraine prevalence is strongly increased in IBD patients and highly decreases patients' quality of life. A systematic screening for migraine, which we consider as IBD extra-intestinal manifestations, should be done by IBD physicians in daily practice, and then specialised consultation should be proposed to provide adequate therapeutics. Pain with NCs, requiring specific therapeutics, was more frequent in IBD and seemed to be related to arthralgia.
References:
[1] Lantéri-Minet M. Migraine and probable migraine: results of FRAMIG 3, a French nationwide survey carried out according to the 2004 IHS classification. Cephalalgia 2005;25:1146–58.
[2] Bouhassira D. Prevalence of chronic pain with neuropathic characteristics in the general population. Pain 2008 136:380–87.