P190 Colonic neuroendocrine carcinoma in ulcerative colitis: a case report
D. Chaaro*1, M. F. Guerra Veloz1, M. B. Maldonado Perez1, L. Castro Laria1, F. Argüelles Arias1, P. Hergueta Delgado1, E. Rodriguez Zarco2, A. Vallejo Benitez2, F. J. Pellicer Bautista1, A. Caunedo Álvarez1
1University Hospital Virgen Macarena, Gastroenterology and Hepatology Department, Seville, Spain, 2University Hospital Virgen Macarena, Pathology Department, Seville, Spain
Background
High-grade neuroendocrine carcinoma of the colon and rectum are extremely rare, accounting less than 1% of all colorectal malignancies. Few cases have been reported in association with inflammatory bowel disease (IBD).
Methods
We report a case of neuroendocrine carcinoma arising in extended ulcerative colitis (UC).
Results
A 45-year-old male with a 20-year history of extensive UC came up as an outpatient after 5 years without medical monitoring. He had a symptomatic iron deficiency anaemia. Surveillance colonoscopy showed signs of inflammatory activity in rectal mucosa, cap polyposis in sigma, and at 25 cm from the anal margin, a sessile polyp of 25 mm, with an indurated, ulcerated, and stenotic area very friable, not allowing the passage of the endoscope more than 30 cm from the anal margin. Biopsy was performed.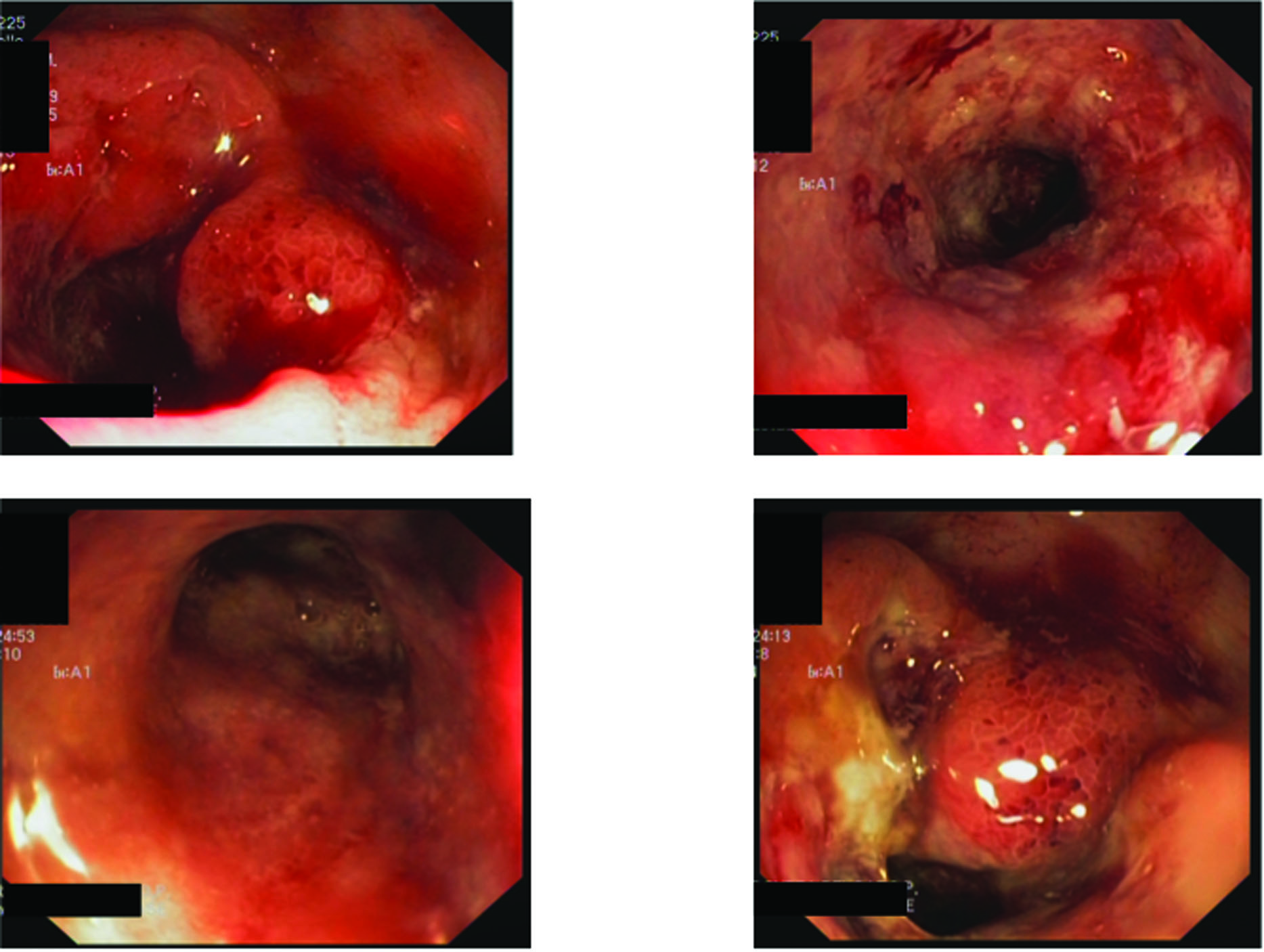 Figure 1. High-grade neuroendocrine carcinoma: endoscopic view.
Histological examination of the stenotic area showed a high-grade neuroendocrine carcinoma. Inmunohistochemical staining was synaptophysin, chromogranin, and MUC-2 positive.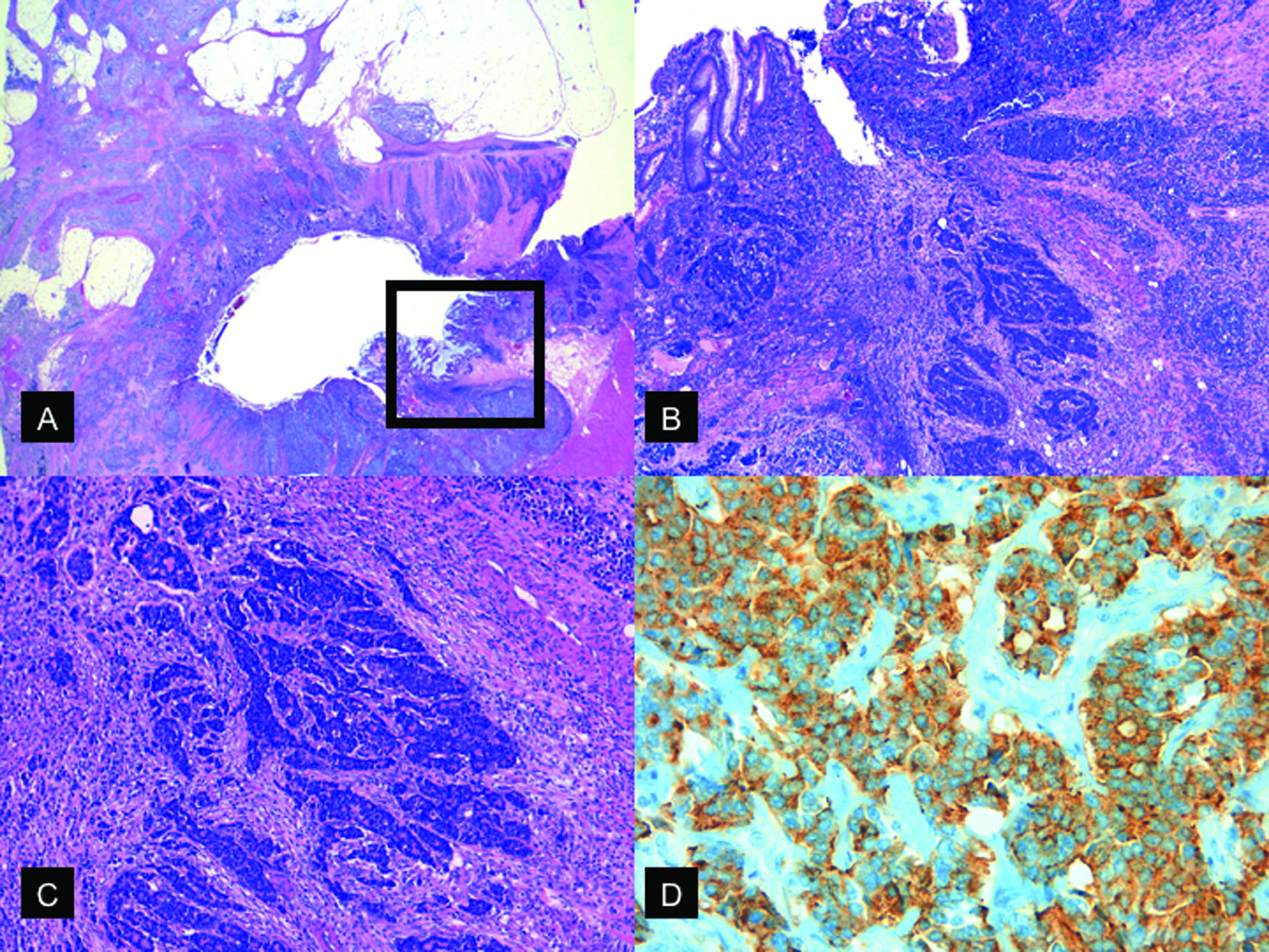 Figure 2. A: Neoformation and focal ulceration from peri-intestinal to adipose tissue. B/C: Solid organoid growth pattern. D: Chromogranin A+ immunohistochemical analysis.
A staging computed tomography scan showed no further spread of the tumour. The patient underwent a total panproctocolectomy and was treated with adjuvant radiotherapy and chemotherapy.
Conclusion
Patients with IBD have an increased risk of colorectal malignancies. Adenocarcinoma is the most common type, but other types of epithelial and non-epithelial tumours have also been described in inflamed bowel, such as lymphomas or sarcomas.
Neuroendocrine tumours are rare tumours with a poor prognosis, almost 70% of cases occur with metastatic disease with an average survival of 10 months. Treatment is mainly surgical. Chemotherapy alone or in combination with radiotherapy has not shown much improvement in survival by now.
Neuroendocrine carcinoma has been reported rarely associated with IBD. It is believed that there are increasing numbers of neuroendocrine cells in the inflamed mucosa, so it has been suggested that long-standing inflammation is directly responsible in the development of this kind of neoplasia.
Few cases have been reported in the literature of this association, requiring further investigation to establish if there is a real association between both pathologies or it is an incidental finding in IBD patients.