P210 Telemedicine for inflammatory bowel disease patients with MyIBDcoach: description of the myIBDcoach trial
M. de Jong*1, 2, A. van der Meulen-de Jong3, M. Romberg-Camps4, M. Becx5, T. Markus6, J. Maljaars3, N. Mahmmod5, W. Hameeteman1, A. van Bodegraven4, E. Keulen4, J. Wilbrink4, D. Jonkers1, 2, A. Masclee1, 2, M. Pierik1, 2
1Maastricht University Medical Centre+, Department of Internal Medicine, division of Gastroenterology and Hepatology, Maastricht, Netherlands, 2Maastricht University Medical Centre+, NUTRIM – School for Nutrition and Translational Research in Metabolism, Maastricht, Netherlands, 3Leiden University Medical Centre, Department of Gastroenterology and Hepatology, Leiden, Netherlands, 4Zuyderland Medical Centre, Department of Gastroenterology and Hepatology, Sittard-Geleen, Netherlands, 5St. Antonius Hospital, Department of Gastroenterology and Hepatology, Nieuwegein, Netherlands, 6CCUVN, Woerden, Netherlands
Background
Given the increasing incidence of IBD, the shortage of gastroenterologists in The Netherlands and the importance of continuous care and patient empowerment for people with IBD we developed a telemedicine tool: MyIBDcoach. It enables continuous home monitoring of IBD and optimises disease knowledge and communication between patient and healthcare provider. MyIBDcoach is suitable for all IBD patients, regardless of disease severity or medication use. Besides disease activity, medication adherence, side effects, and infections, myIBDcoach monitors malnutrition, disability, quality of life, life-events, stress, anxiety, and depression. To increase patient empowerment, it contains e-learning modules and facilitates communication between patient and healthcare worker. It also registers patient-reported outcomes as efficacy endpoints. A prior feasibility study showed high satisfaction and compliance of patients and healthcare workers with myIBDcoach. To study the efficacy of myIBDcoach, a large multicentre randomised controlled trial (RCT) was initiated. Primary endpoints are the number of hospital visits and patient-reported quality of IBD care. Secondary endpoints include complications, quality of life, medication adherence, and self-efficacy.
Methods
The myIBDcoach trial is an ongoing RCT with a follow-up period of 12 months, conducted in 2 academic and 2 non-academic centres in The Netherlands. IBD patients, aged 18–75 years, visiting the outpatient clinic of the participating hospitals were eligible for inclusion. Exclusion criteria were lack of Internet access, insufficient proficiency of Dutch language, or hospital admission because of IBD disease activity < 2 weeks before inclusion. Using dedicated software, patients were randomised to the intervention group (use of myIBDcoach) or the control group (routine follow-up). The intervention group only needs to visit the outpatient clinic when necessary, but at least once a year. Questionnaires sent at baseline and after 12 months cover satisfaction with IBD healthcare, quality of life, medication adherence, and self-efficacy.
Results
Between August 2014 and May 2015, 911 patients were included in the trial. Baseline characteristics are shown in Table 1.
(P210) Table 1 None of the parameters differs significantly between groups.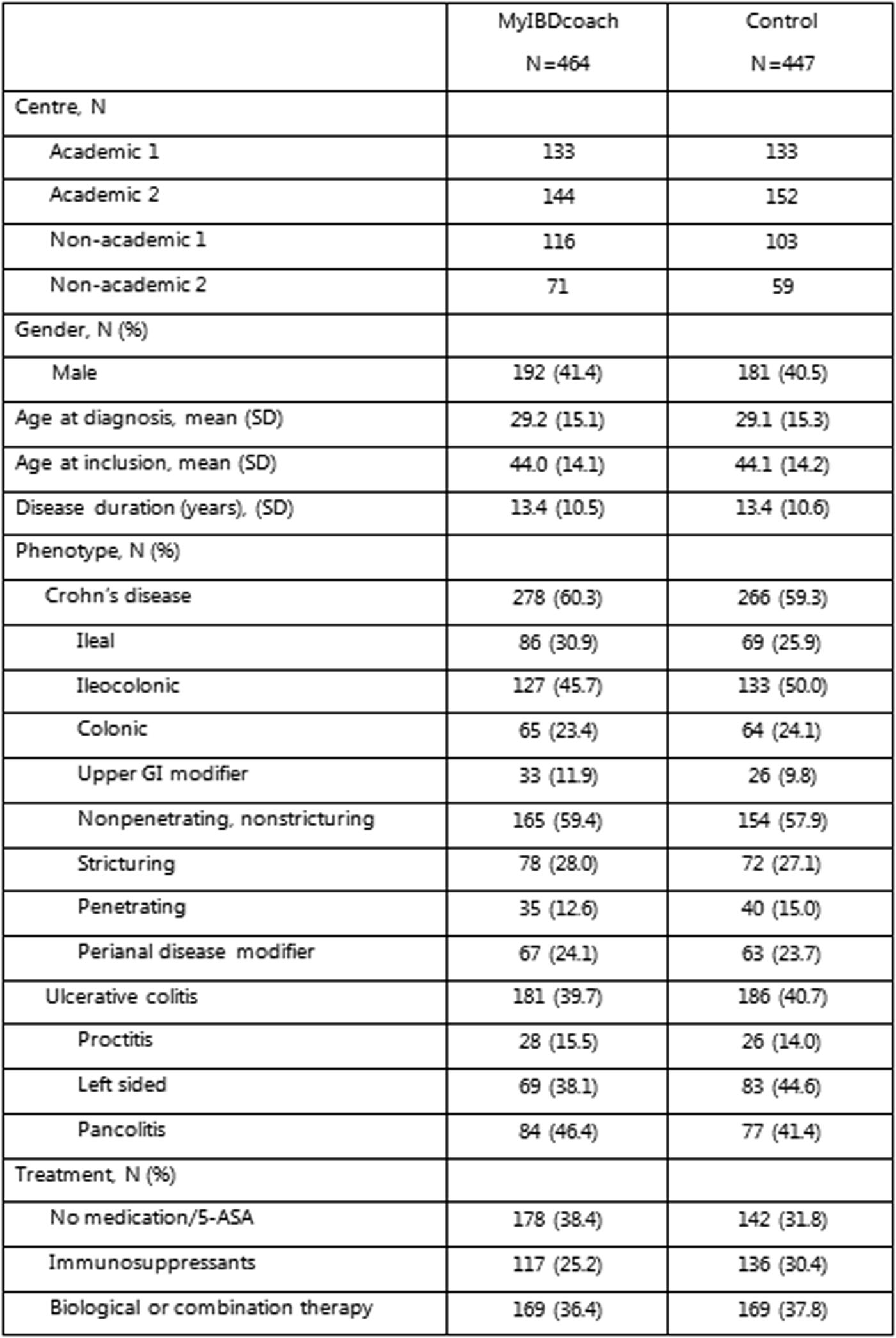 Conclusion
MyIBDcoach is a telemedicine tool developed for all IBD patients. The myIBDcoach trial evaluates the continuous and personalised approach of myIBDcoach against standard care. The myIBDcoach trial is ongoing and will be completed in May 2016. The results of the trial are warranted for further implementation of myIBDcoach.