P270 Association of macro/micro nutrients with endoscopic disease activity in patients with inflammatory bowel disease suggests possible protective role for dietary components
A. Mohammadi*, O.B. Kelly, S. Maltais, R. Milgrom, M. S. Silverberg
Mount Sinai Hospital, Toronto, Canada
Background
Little is known about the contribution of specific macro/micro nutrient profiles to the course and behaviour of inflammatory bowel disease (IBD). This study aimed to determine the association of specific dietary components with endoscopic disease activity in a well phenotyped IBD population.
Methods
Patients with confirmed IBD attending for endoscopic evaluation were invited to participate. Patients undergoing colonoscopy completed a 4-day food record diary before the procedure. Endoscopic activity was evaluated using the SES-CD (simple endoscopic score for CD) and Mayo endoscopic sub-score for UC. Endoscopically active disease was defined as SES-CD > = 4 or Mayo score > = 1. Dietary intake was converted to nutrient components using the ESHA Food Processor Software (Salem, Oregon, USA). Laboratory parameters including CRP were obtained on the day of colonoscopy. Other pertinent information collected included disease duration, Montreal classification for location and behaviour, current treatment, previous surgery, smoking status, extraintestinal manifestations, and family history.
Results
Included in the analysis were 82 IBD patients (54 % male, mean age 33.9 years): 44 with CD and 38 with UC. There were 36 patients (19 CD and 17 UC) in endoscopic remission (inactive), and 46 patients (25 CD and 21 UC) with active endoscopic disease. The mean ± SD reported intakes of macro/micro nutrients significantly associated with disease activity in the whole IBD cohort and those particular to CD and UC are summarised in Table 1.
Table 1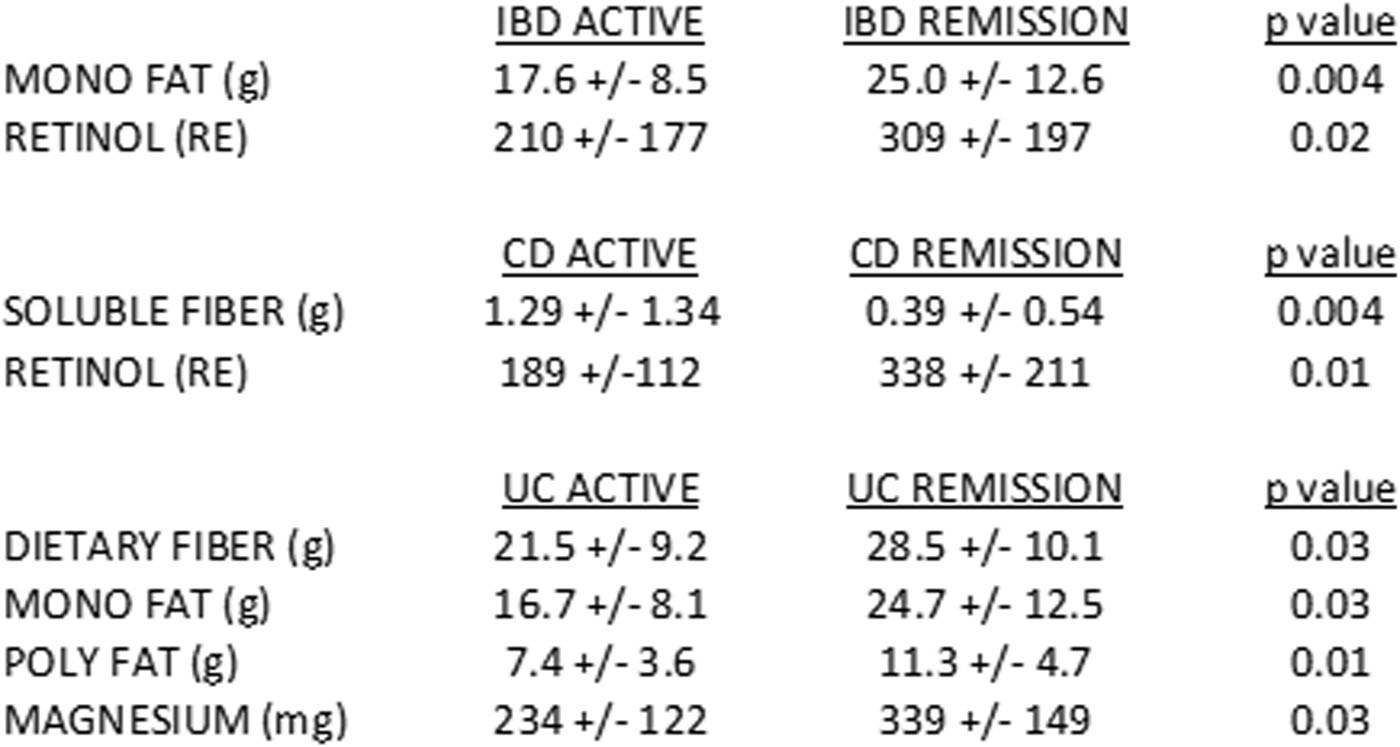 There was no difference in mean caloric intake (p = 0.3), or mean total food weights (p = 0.5) comparing groups with active and inactive disease.
Conclusion
Dietary content substantially varies between IBD patients. A higher intake of monounsaturated fats, retinol, dietary fibre, polyunsaturated fats, and magnesium is associated with endoscopic remission. Interestingly, soluble fibre intake is higher in CD patients with endoscopic activity; this could be due to patients changing their diet during periods of increased disease activity to include fibre that is soluble because it may reduce symptoms of diarrhoea. In summary, the composition of the diet may affect disease course and endoscopic activity, but further prospective studies are required to confirm these findings.