P286 Long-term follow-up of polypoid dysplasia and assessment of peri-polyp biopsies of flat mucosa in patients with inflammatory bowel disease-colitis
N. Krugliak Cleveland*, D. Huo, F. Sadiq, A. Sofia, J. Marks, D. Rubin
University of Chicago Medicine, Inflammatory Bowel Disease Centre, Chicago, Illinois, United States
Background
Improved technologies and a recent consensus statement state that dysplastic polyps in IBD-colitis may be removed without immediate surgery, but the evidence for this practice is of low quality. An unaddressed issue is the utility of a prior recommendation is to sample the flat mucosa around dysplastic polyps. We assessed the outcomes of dysplastic polyps and peri-polyp biopsies in our IBD patients (pts).
Methods
We conducted a long-term follow-up of pts in our IBD registry with confirmed polypoid dysplasia who underwent polypectomy. In our centre, we routinely biopsy the flat mucosa surrounding polypoid lesions, and pathology is reviewed by 2 expert GI pathologists. We retrospectively reviewed the clinical, endoscopic, and pathologic data for these pts, with follow-up outcome of interest being the finding of neoplasia. Follow-up included all exams until the pt had surgery or until an advanced neoplastic lesion (high-grade dysplasia [HGD] or cancer [CA]) was identified. We assessed risk for subsequent neoplasia based on the presence/absence of dysplasia in the peri-polyp flat mucosa, and based on number and grade of index polypoid lesions.
Results
In total, 56 pts (68% UC) underwent 102 colonoscopies, in which 129 dysplastic polyps were identified and removed. Further, 503 biopsies of the surrounding flat mucosa were performed (average of 3.9 biopsies/polyp), of which 16 (3.2%) were dysplastic. Moreover, 34 pts (21 UC) had additional follow-up, which included 147 colonoscopies in median 1.7 years (range 0.02–15 yr). Index polyps in these pts included 25 LGD polyps (LGDp) and 12 HGD polyps (HGDp). Of the pts with LGDp, the probability of developing subsequent HGD or cancer was 18% by 1 year, 29% by 3 years, and 40% by 5 years. Of pts with HGDp, the risk of subsequent HGD/CA was 50% by 1 year, 60% by 3 years, and 70% by 5 years (HR = 7.0, standard error 4.8). (Figure 1) The total number of dysplastic polyps in the index colonoscopy (6 pts with 2 polyps, 4 pts with 3 polyps, and 2 pts with 4 polyps) was not associated with risk of HGD/CA (p = 0.36). The presence or absence of dysplasia in peri-polyp biopsies during index colonoscopy was not associated with risk of developing HGD or cancer (p = 0.19).
Conclusion
In this study of dysplastic polyps with follow-up, the index grade of dysplasia predicted the risk of subsequent advanced neoplasia. The very high risk of HGD/CA in patients with index HGD warrants low threshold for early surgery. Importantly, we found low yield and no predictive value of peri-polyp biopsies of the flat mucosa, and we recommend reappraisal of this practice.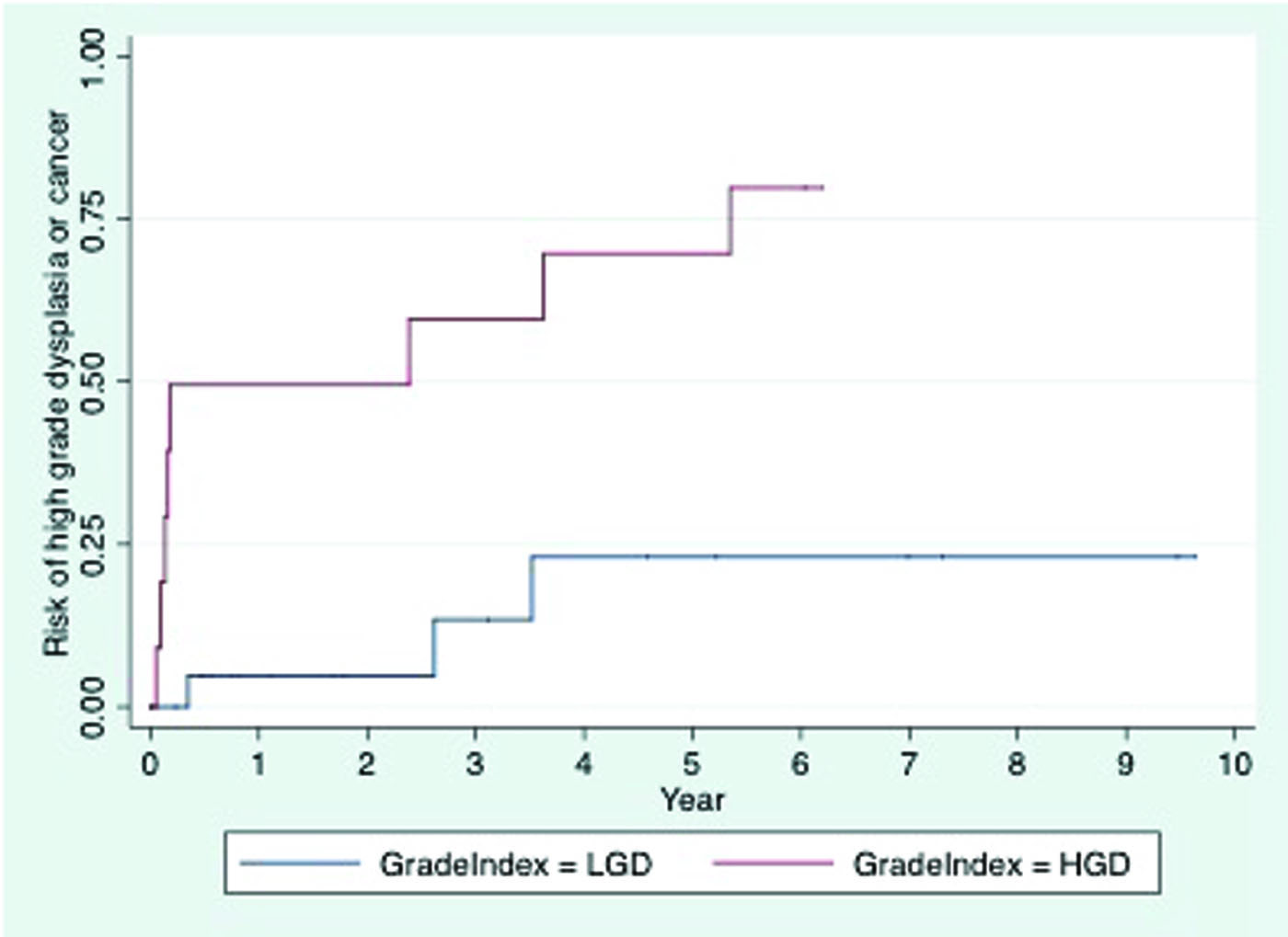 Figure 1. Risk of HGD or cancer based on index grade of polyp in patients with chronic colitis.