P287 Differentiating neoplasic and non-neoplasic raised lesions (polyps and pseudopolyps) in long-standing ulcerative colitis: results from a prospective systematic study using virtual chromoendoscopy with i-SCAN and the Kudo classification
A. Cassinotti*1, S. Ardizzone1, P. Fociani2, M. Nebuloni2, P. Molteni1, G. Maconi1, S. Carmagnola1, A. Dell'Era1, A. Massari1, R. de Franchis1, P. Gambitta3
1Luigi Sacco University Hospital, Gastroenterology Unit, Milan, Italy, 2Luigi Sacco University Hospital, Pathology Unit, Milan, Italy, 3Luigi Sacco University Hospital, Endoscopy Unit, Milan, Italy
Background
The colonic mucosal pit pattern is an aid to the differential diagnosis of colonic polyps in the general population. We analysed the accuracy of the Kudo classification of pit patterns as evaluated by virtual chromoendoscopy with iSCAN, in the differentiation of neoplasic and non-neoplasic raised lesions in long-standing ulcerative colitis (UC).
Methods
A prospective study was performed on consecutive UC patients with raised colonic lesions found during surveillance colonoscopy. Targeted biopsies of all raised lesions, as well as polypectomy of lesions suspicious for neoplasia, were performed. The Kudo classification of mucosal pit patterns (I-II = round/stellar, not suspicious for neoplasia, III-V = tubular/gyrus-like/irregular, suspicious; 0 = unclassified), as well as any other endoscopic feature (including disease activity), were used to predict the histology by i-SCAN. We determined the accuracy (ACC), sensitivity (SE), specificity (SP), positive (PPV), and negative (NPV) predictive value of i-SCAN in correlating diagnosis with histology.
Results
In total, 287 lesions (mean size 8 and range 2–30 mm) were analysed from 40 patients (mean age 59 years). We found18 lesions: neoplasic (6%); non-neoplasic lesions were hyperplasic (n = 25; 9%), and inflammatory polyps/pseudopolyps (n = 244; 85%). Table 1 shows the correlation between pit patterns and histology. Of the lesions, 14% were unclassified according to Kudo. Discordance between Kudo and histology was significantly associated with markers of disease activity, such as fibrin cap and Mayo score, as well as with pit-pattern heterogeneity (p < 0.05 each). The ACC, SE, SP, PPV, and NPV of i-SCAN using the conventional Kudo classification were 69%, 67%, 69%, 13%, and 97%, respectively.
The performance of i-SCAN significantly improved after the addition of specific endoscopic features (fibrin cap and pit-pattern heterogeneity) in a new modified Kudo classification (80%, 94%, 80%, 24%, and 100%, respectively).
Table 1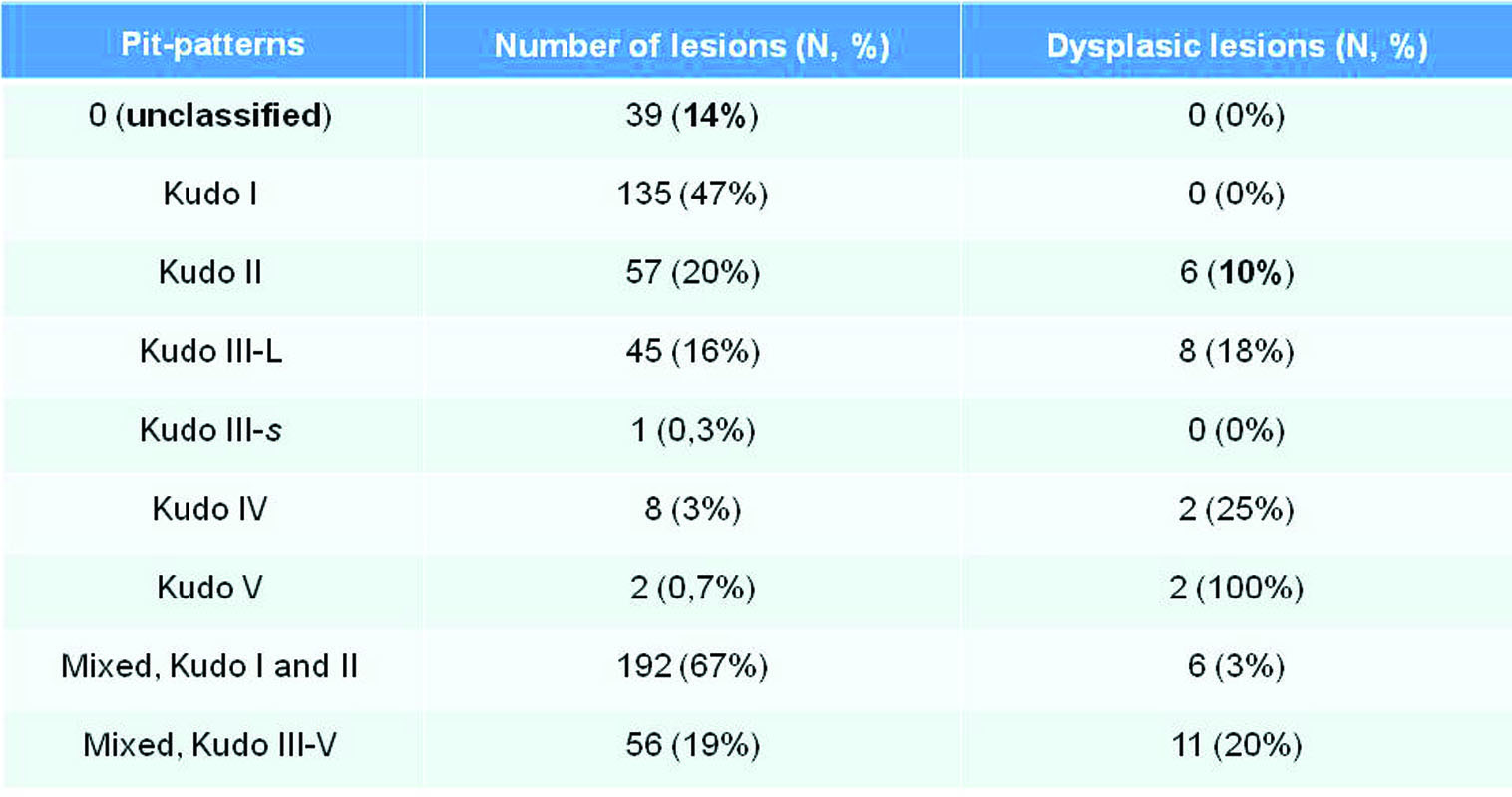 Conclusion
The conventional Kudo classification of pit patterns is unsatisfactory in differentiating raised lesions in IBD. i-SCAN can help to predict the histology of raised lesions in UC and to guide sampling lesions, but artefacts from concomitant inflammation can decrease its accuracy. Further endoscopic criteria can improve the diagnostic performance of i-SCAN in a new classification that requires prospective validation.